About Stuti Saria:
Stuti Saria is a 17-year-old author based in Delhi. She is a student of GD Goenka Public School and aspires to study in an Ivy League college. Besides her love for the English language, she also has an entrepreneurial zeal. She believes in 'soul over appearances' and would be found absorbed in a novel during her free time. Stuti derives a significant proportion of her happiness from traveling and exploring new places. From writing a note for someone to handling team-based projects, she puts her best efforts into everything. According to her, one should be 'a flower that blooms in all weathers'.
LiFT: Tell us about your book, the journey of writing it and its content.
Stuti: My book, 'Spectacles and Weed' is based on the lives of two contrasting characters and how their crossing each other's paths change their lives. It is about the turbulences associated with love and friendship and also seeks to address the very prevalent question of today's time- should you date your best friend?
The 3 years that I've spent writing the book have been extraordinarily spectacular and have helped me reach my fullest potential. From staying up late at night, surviving merely on coffee, writing while traveling on a plane, jet-lagged, to typing "how to overcome a writer's block" on the google search bar in the middle of a movie, everything that I did during these three years has helped me bloom through life. I've spent entire days looking for cover pages and even nights editing the manuscript. The journey has involved almost everything- from handling stress and meeting deadlines to not having panic attacks every time something goes wrong. But most importantly, I've learned how to juggle between tasks without losing my mind.
LiFT: When did you realize that you want to be a writer and what's your inspiration behind it?
Stuti: I was nearly 13 years old when my journey of creative writing began. I started with quotes, which I contributed to an Instagram page, 'Little Letters Linked'. Sometime later, I thought of doing something big. So I began writing Spectacles and Weed. Honestly, I had no clue about how the story would eventually unfold when I wrote the first few pages of the book.
I believe that all of us have something hidden inside of us that even we fail to see. For me, it was writing. Spectacles and Weed has made me understand that it's so much important to see these hidden parts of ourselves and be what could possibly be our best versions because these parts are what make us feel alive the most. All in all, my inspiration behind being a writer is the fact that writing lets me express myself and drives me to be who I really am. It lets me put forward my emotions and feelings on a paper when I'm not in a space to express them orally.
LiFT: What do think about the literary world and what are your expectations from it?
Stuti: I think that the arena of literature has lately confined itself to romantic prose. Sometimes I wonder about the fancies of the Shakespearean era and contemplate the lost glory of poetry. Most of the poetry today is increasingly inclined towards prose. My expectations are that the members of the literary world would begin recognizing the importance of non-romantic s and try to embrace the glories of them.
LiFT: How much do you think marketing or quality of a book is necessary to promote a particular book and increase its readers?
Stuti: Honestly, I'd never buy a book that I've not heard of or read about. I thus believe that spreading the word about a new book is extremely important and perhaps the only way to increase readers and boost sales. In simple terms, if they don't know about it, they wouldn't want to buy it. However, it is very important to control the amount of information that you send out because it shouldn't be a spoiler; at the same time, a strong hook is very, very important.
LiFT: What is the message you want to spread among folks with your writings?
Stuti: One key take away for my readers is that you don't necessarily fall in love with everybody who makes you happy. There's a thin line between loving someone and falling in love; sometimes, crossing that line can wreck a relationship.
Other messages would be about the importance of human association- how people can help you deal with the turbulences of life and about how overrated falling in love is.
LiFT: What do you do apart from writing?
Stuti: Besides that of a writer, one of the most important roles that I assume is that of a learner. Being a high school student, I'm constantly exposed to new situations, thoughts, and ideas- an exposure that brings out the best in me and inspires me to expand my horizons and sharpen myself. In my idle time, you'd find me engrossed in a novel. I'm also very inclined towards bunking parties for watching cricket matches. I've also been a part of the founding team of a gardening startup, 'PhoolVari', as a part of the TiE Young Entrepreneurs programme. Coming from a socially active family, I've also kept myself indulged in community service. I regularly volunteer at medical camps and marathons.
LiFT: What are the activities you resort to when you face a writer's block?
Stuti: I like to travel when I face a writer's block. Travelling, I believe, helps me deal with it because it lets me wander in my thoughts in places that are completely new to me. It lets me have my peace of mind and allows new ideas to emerge from within. Alternatively, I like resorting to reading when I'm in such a situation. A reader's perspective of a book is so much different from that of a writer. I like to think of myself in the capacity of a reader for a while and let the writer inside myself begin her search for new thoughts.
LiFT: What are your future plans?
Stuti: Presently, I'm a high school student so much of my attention has been concentrated towards my college admissions. I am applying for a major degree in Economics with a minor in English. Although I do wish to get into the field of economic research, I do not want my writing to take a backseat. While in college, I'd be writing on weekends and during breaks. I've planned to begin writing my next novel soon after March 2020.
LiFT: What are your suggestions to the budding writers so that they could improve their writing skills?
Stuti: I believe that everybody has his/her style of writing that is unique only and only to him/her. There's no right or wrong path to follow. Certain fundamentals, of course, play an important role in determining the strength of the appeal that your writing makes. My only suggestions for budding writers would be- keep your writing style consistent and avoid taking extremely long breaks while you're working on a piece because doing so tends to break the rhythm. And editing, of course, also plays an important role. You might also want to proofread your work to eliminate ideas that go out of the way.
Click here to get Stuti's "Spectacles And Weed" from Amazon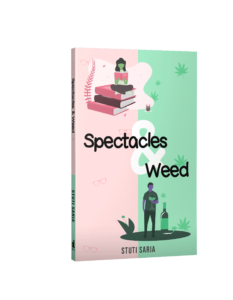 Total Page Visits: 4739 - Today Page Visits: 4