About Mohommad Amaan:
Mohommad was born in Amroha, Uttar Pradesh in a well-educated and belongs to the business-oriented family, he wants to be a psychiatrist cum motivational speaker to guide the next generation about life by sharing my experiences. he loves to travel alone to explore the different places and people.
He loves to spend most of the time with his family members and friends. He is a 16-year old student.
LiFT: Tell us about your book, the journey of writing it and its content.
Mohommad: UNTIL HE WAS EIGHTEEN is a book about challenges, school time love, betrayal, heartbreak, loneliness and many other issues which are experienced.
LiFT: When did you realize that you want to be a writer and what's your inspiration behind it?
Mohommad: After reading the novel Life Is What You Make It By PREETI SHENOY, I  realized that I can also be a writer. I am able to write a book and can try to inspire the people around me. After that my elder brother motivated me to write a book and I start writing it.
LiFT: What do think about the literary world and what are your expectations from it?
Mohommad: Literature is one of the most important features of this world because it helps many people to come across their dreams and so many things that they want to do in their life.
I always have hope from literature and the literary world because nowadays it is becoming popular day by day and helping many people by readings.
LiFT: How much do you think the marketing or quality of a book is necessary to promote a particular book and increase its readers?
Mohommad: Marketing and quality really matter but if the content of the book is best then readers more attracted to your book and they love to read the good content.
I actually think that great content attracts the readers, not just good quality.
Inspite of all this, the marketing of a book is very very important.
LiFT: What is the message you want to spread among folks with your writings?
Mohommad: I just want to say that there are many problems in everyone's life but what we need to do is to face them with full hope and determination. Youth is just aiming to be successful in spite of actually being successful. So I just want to say that don't waste your time in showing off anything just do whatever you want and try to make your name to be remembered.
LiFT: What do you do apart from writing?
Mohommad: I am the student of class 11th with the biology stream. I do many things like reading novels, play video games, play with children, travel alone, listen to music, inspire the people and also love to play football. Some times I help my mom while she is working or doing housework.
LiFT: What are the activities you resort to when you face a writer's block?
Mohommad: Yes, sometimes it may happen but in this situation, I use to write more means whatever comes in my mind I write after that I read and find from those written words and I get what I want to write and what I want to say because for improving yourself first you have to do a mistake and after that, I will be more easy to improve and work harder over it.
LiFT: What are your future plans?
Mohommad: I want to publish more book, I want to be a motivational speaker, travel the whole India first and then foreign. I have many plans for my future and I will try to accomplish all of them.
LiFT: What are your suggestions to the budding writers so that they could improve their writing skills?
Mohommad: I am also not that much good but what I learn from the elder ones is that if you want to be a writer then write that thing first that comes in your mind no matter whatever it is, and after every word try to improve more and more.
Click here to get Mohommad's "Until He Was Eighteen" from Amazon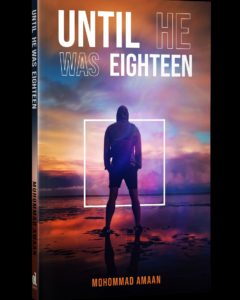 Total Page Visits: 2287 - Today Page Visits: 2