LiFT: Please tell us something about yourself Sougand Akbarian?
I'm from Iran. I have completed my Master in English language, Translation Studies. I am an Iranian bestseller translator of Indian literature in Iran into Farsi (Persian) language and debut author in India by SouganDilli in English language. I have been to India many times and especially to Delhi as a traveler and interpreter, that is the reason I decided to write my travelogue in English language based on my Delhi travel.
LiFT: Tell us about your book, the journey of writing it and its content.
Sougand: Actually, as I had many India travels and translating books of Indian literature and Indian author into Farsi in Iran, I thought with myself why I should not write my own story in Delhi.
That was the time I decided to write Sougand life and love story at Delhi in the name of SouganDilli, with a D in common! That itself has a story inside the book. And from here I get the chance to say thanks to my dear Indian awesome publisher, Mr. Chandra Kant Jaisansaria or my CK bhai ji from Damick Publications that by my first sample chapters, he trusted me and made my dream come true as SouganDilli.
LiFT: When did you realize that you want to be a writer and what's your inspiration behind it?
Sougand: To be honest, by being a translator, you are already a hidden writer in the format of a translator to convey the feelings and content from the source language to the target language with loyalty. The point about me is that I just changed my style from the translator of Indian literature in Iran to the author of Indian literature in India.
The main and the most important inspiration behind my life and my career is my God on the earth, my life's teacher, my best friend, my mom. All the credits go to her because the day I told her about SouganDilli idea, she supported me and she always does, because she wants to see the best from me, as a strong girl.
LiFT: What do think about the literary world and what are your expectations from it?
Sougand: As we are in 21st century and 2020, still we all as authors, writers, translators, and publishers have a long way and responsibility on our shoulders to make the perfect literary world by International Literary World, because literature itself is a language of heritage and civilization, just the manner of expression is different by different languages. By International Literary World, I mean that is one and a united world to support all the nations' literature and their languages and their wings that are authors, writers, translators, and publishers. So I hope someday we can achieve this goal to make this society a global and unique family for every nation without any barrier.
LiFT: How much do you think the marketing or quality of a book is necessary to promote a particular book and increase its readers?
Sougand: In this age that we live, marketing is mostly e-marketing by different social media and its platforms. So wherever we are we can do e-marketing by any device in our hand with a click to make the book known globally. And about book quality, it should have at least the minimum one that makes paperback readers interested, and keep the book in good form to be at the library for years.
LiFT: What is the message you want to spread among folks with your writings?
Sougand: The relation between readers and authors is permanent, because if you write as an author but you do not have any reader, then what is the use of that? So authors should respect their readers and their ideas. The message I hope to be able to convey is, does not give up, be strong because if you can think about something, be sure you have its capacity to achieve that. Writing as a translator and an author was my dream, and now I achieve that, so if you want, you can do definitely.
LiFT: What do you do apart from writing?
Sougand: Writing is the main part of my profession as an author or as a translator, but to make it perfect and doing that in the best way, reading is what I do besides writing to help me as an author and also I get a good choice to translate. Besides that learning new languages is my passion.
LiFT: What are the activities you resort to when you face a writer's block?
Sougand: I just give myself a break and me time. Because when you are an author, you should go with the flow of your mood. Having a cup of coffee next to flute music with the fragrance smell of Incense stick. Love yourself, believe yourself because now if you are not in the mood to write and in writer's block , because in fact you are gaining the power to do jot down your pen strongly.
LiFT: What if your story will be adopted as a movie? Whom would you want to work as a director or actor in it?
Sougand: I really love to see SouganDilli as a film one day and I myself love to be the Sougand of SouganDilli, But if that is after me so I have Shweta Tripathi and Sanjana Sanghi in my list as Sougand role.
The best two directors that I have my two favorite movies from them are Neeraj Ghaywan (director of Masaan) and Mukesh Chhabra (director of Dil Bechara).
And for Devraj role in SouganDilli, there is a long list of my favorite actors like Vicky Kaushal, Ayushman Khurana, Ashim Gulati, Pavail Gulati, Kartik Aaryan, Vijay Devarekonda, and Siddharth Suryanarayan.
LiFT: What are your future plans?
Sougand: To be a known Iranian translator and author of India literature and have an influence at least a small one for readers and young female translators and authors. I hope I can see myself in a place that most of my dreams and wishes come true as a translator and an author and also I hope I can make a deep connection between my passion that is translating and writing, and traveling.
LiFT: What are your suggestions to the budding writers so that they could improve their writing skills?
Sougand: First of all and before anything, do not give up. Read a lot, write and ask for readers' ideas. Try to have a style in a specific genre for yourself because by that your name will be known. Do not just think, bring your thought in words format on paper then you can elaborate it and give details to that.
And from here wishing all the budding writers, all the best.
Click here to get Sougand's book from Amazon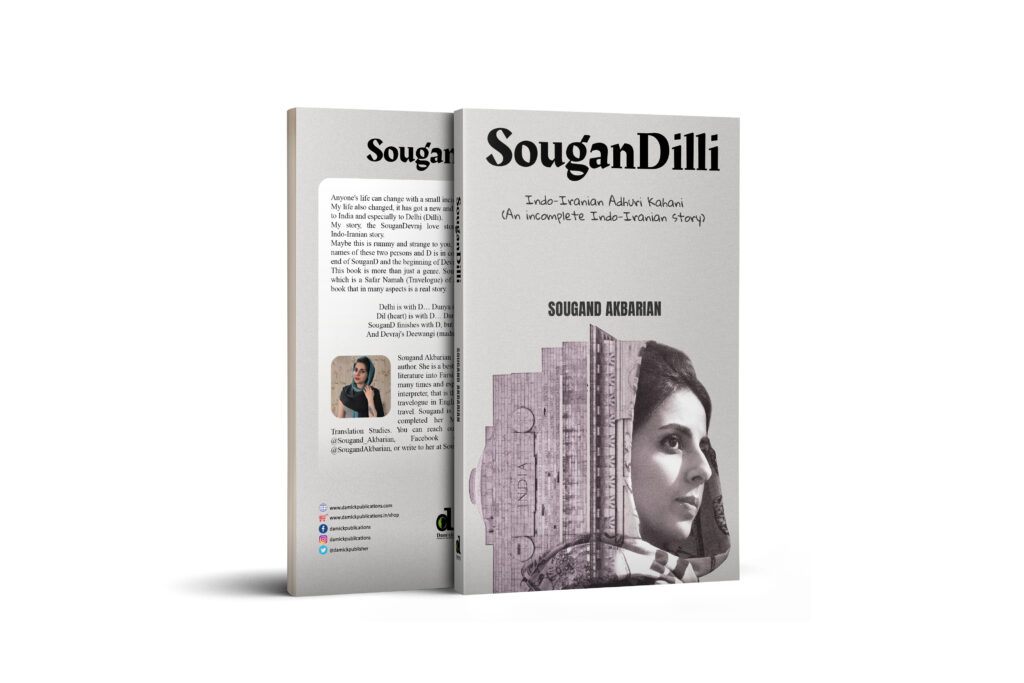 Total Page Visits: 2010 - Today Page Visits: 1