About Tripti Mittal
Tripti Mittal was born on 5th March, 1983 in Delhi in a middle class family. She has completed her post graduation (M.Sc) from Delhi University and then she has done PH.d ( Maths) from Udaipur. By profession she is working as an Assistant Prof. (Maths) in University.
Tripti Mittal has a keen interest of reading and writing hindi and urdu poems. Her poems has been published in various anthologies and magzines. She has performed in various open mic and her videos are available on you tube also. Many people encouraged her to bring her first book " MISRA (मिसरा)" in front of you.
Apart from that she is fond of making paintings and various art forms and run a small online business of art gallery named "Kamlikacreation".
LiFT: Tell us about your book, the journey of writing it and its content.
Tripti: "मिसरा (MISRA) " is a urdu word means "a line of a verse Or urdu poetry". As the name suggests this is just a beginning of my journey to touch your hearts through a beautiful collection of poems, ghazals, nazm and shayari. I always believe in spreading love among people, keeping this thing is mind I have kept the base of my poems love, care, affection.
In my beautiful journey from a professor to a poetess my family members, my loving daughter and few students encouraged me a lot and showed me new ways to showcase my talent.
In the end I can only say, read my book to understand emotions more affectionately
"कभी फुरसत से पुकारना मेरे नाम को तुम
एक सदी है मेरे दामन में लम्हों में कहाँ ढूँढ पाओगे"
LiFT: Why you chose this title?
Tripti: To decide the title of the book is really a big task for me. I want it something like that which reflects my journey and efforts I have put in it to show the different shades of emotions. I don't want a poetic title for my book, I want a name which reflects my writings. Then comes " "MISRA (मिसरा)", the beginning, the power to complete and express more.
LiFT: When did you realize that you want to be a writer and what's your inspiration behind it?
Tripti: I used to write earlier also in my graduation days but never featured it. Few years back I saw social media platforms for poetry, this thing started making me restless to feature my work. I started casually featuring up my writeups on social platforms. My family members and students started encouraging me to keep on writing and posting it. Few students gave me ideas for anthologies and open mic shows also. This is how I kept motivating to reach the hearts of various people and bring that book in front of you.
LiFT: Where do you see yourself ten years down the line in the world of literature?
Tripti: I saw myself between wonderful poets and performing. People are loving my thoughts and have large number of young readers.
LiFT: How much do you think marketing or quality of a book is necessary to promote a particular book and increase its readers?
Tripti: The first and most important thing which attracts a reader is the title of the book. But I also felt that they must be aware that a book with title "MISRA" do exist in the market. In this world of competition marketing and promotion to gather the attention of people is most important. Rest is done by content and word of mouth. One should not stop promoting and showcasing your talent.
LiFT: What is the message you want to spread among folks with your writings?
Tripti: I just want to say different people have different situations and emotions. Try to understand that.
Every coin has two faces so does emotions and feelings has.
LiFT: What do you do apart from writing?
Tripti: By profession I am an Assistant Professor of Maths working in a University. I am also running a small online business of making paintings and various art forms on orders by name "kamlikacreation". You can say a woman entrepreneur of an online art gallery.
LiFT: What are the activities you resort to when you face a writer's block?
Tripti: Frankly speaking when a writers mind gets blocked is something like that u want to speak but you are not able to find words for that.
At that time I listen music, make paintings and spend time with my daughter.
LiFT: Are you working on your next book? If yes, please tell us something about it.
Tripti: Of course I am, as I said earlier it is just a beginning.
LiFT: What are your suggestions to the budding writers/poets so that they could improve their writing skills?
Tripti: Every writer or poet has a unique way of expressing their thoughts. Read or listen them, try to understand their feelings and emotions. You will definitely able to express yourself gracefully.
Click here to order Tripti Mittal's Book – MISRA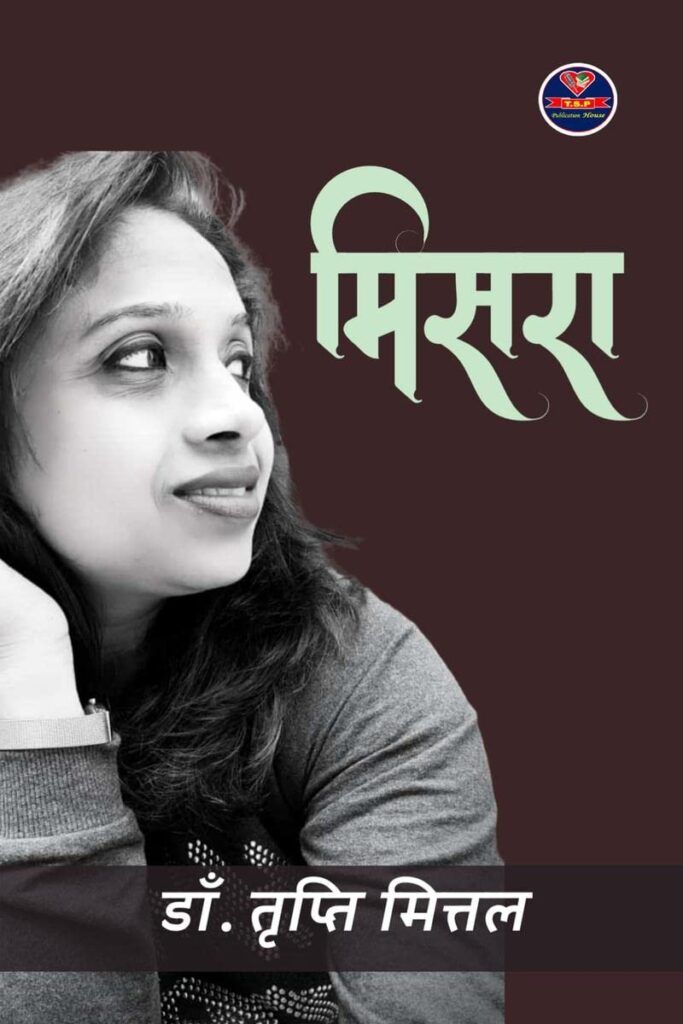 Total Page Visits: 158 - Today Page Visits: 1