About Nigama RV
Nigama RV comes from a family of writers. From a young age, she's been soul-bound to fantasies and developed a love for literature in any genre: Poetry, Dark Fantasy & Romance, Paranormal, Thriller and Sci-Fi to name a few. As long as it has a tinge of romance and adventure, she wants to read it. She opines books as images of writer's imaginations and loves a good HEA.
She swears her husband, Manish Mishra is muse for all her writings especially poems. He brings out the best and the worst in her.
Her obsession is her pastime with her cute Li'l niece, Laasya. She's addicted to chocolates and Pizza, and a forever believer in a carpe diem.
LiFT: Tell us about your book, the journey of writing it and its content.
Nigama RV: Echo is a collection of poems… it's about feelings of emotions a person goes through in his lifetime.
LiFT: Why you chose this title?
Nigama RV: The title means my heart beating in his heart and that's echoing in mine.
LiFT: When did you realize that you want to be a writer and what's your inspiration behind it?
Nigama RV: Never really thought about it. I love words and I love writing. Ever since I started learning words I guess I'm drawn to books that's how the journey started. Inspiration behind it is of course my family. I belong to a family of writers. Literature is a big part of our day today life.
LiFT: Where do you see yourself ten years down the line in the world of literature?
Nigama RV: Haven't thought about it really, all I wanna do is write and if my work helps anyone in anyway that's the biggest achievement for me.
LiFT: How much do you think marketing or quality of a book is necessary to promote a particular book and increase its readers?
Nigama RV: No matter what the book is about, marketing and promoting are key to reach out to the audience. You just need to know your audience to promote.
LiFT: What is the message you want to spread among folks with your writings?
Nigama RV: Life isn't easy but that doesn't mean u give up. Try until you can and give your best that's all is ever needed.
LiFT: What do you do apart from writing?
Nigama RV: Travel with husband most of the times.
LiFT: What are the activities you resort to when you face a writer's block?
Nigama RV: Read a book from totally different genre or binge watch some show.
LiFT: Are you working on your next book? If yes, please tell us something about it.
Nigama RV: One poetry — Halo, will be publishing it soon
Novel — Destiny Awaits, Paranormal Romance.
LiFT: What are your suggestions to the budding writers/poets so that they could improve their writing skills?
Nigama RV: Listen to ur muse, always. They will never let u down.
Click here to order Nigma RV's Book – Echo — Beat of The Heart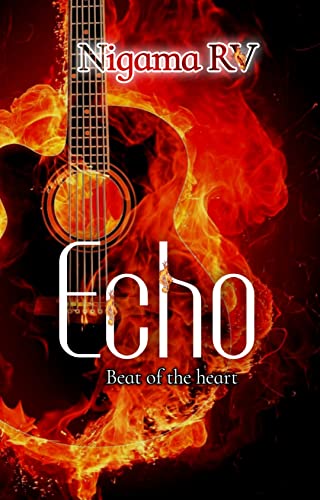 Total Page Visits: 191 - Today Page Visits: 1