About Shakthi Thanigaivel
Shakthi is a Designer and a Poet who predominantly works on Interface Design for Applications and Software. He is a Computer Science undergraduate at VIT Vellore and looking to pursue a master's degree in Human-Computer Interaction, His Debut Poetry Book Release "The Eternal Search for Heartfelt Love" was one of the Hot new releases in the Amazon Poetry Category and he has been awarded " Rabindranath Tagore Literature Award " for his work as well.
LiFT: Tell us about your book, the journey of writing it and its content.
Shakthi: I used to write poems on my Instagram page before and never imagined getting them as a book first. Thanks to a friend who sent me a link about this writing challenge through which I got this published. Love is a universal emotion that everyone can interpret and understand with ease and all of us have different perspectives and experiences. That is how I decided to write poems on love and hence this book came along as well.
LiFT: Why you chose this title?
Shakthi: In the limited time, I've been on this planet so far, I was able to detect one constant emotion that all of us crave. We look out to have a certain level of comfort, a shoulder to cry on, and a trustworthy companion. But as we look further into it, I was able to see that happiness and peace are something that can bring an eternal satisfaction in living, and love is something that provides us with both. It need not be just with some other person but self-love achieves that too and finding that is something rewarding and it takes time and patience to get to it. Hence why I decided to stick with the first title "The Eternal Search for Heartfelt Love".
LiFT: When did you realize that you want to be a writer and what's your inspiration behind it?
Shakthi: Since my childhood days, I have been highly fascinated by poems that have deeper stories to tell. Over the years, as I kept growing with newer experiences, newer perspectives did start to come my way and it was surreal for me, the first time I realized that though some people may share a particular moment, we all carry different values and different perspectives from the same moment. That was the day I knew that storytelling through words is the one thing I am never letting go of.
LiFT: Where do you see yourself ten years down the line in the world of literature?
Shakthi: Well, I just entered this world, it's new and exciting for sure. Storytelling has been a major privilege for me to do and it's quite surreal for me to be where I am right now. So I'd say time will answer that.
LiFT: How much do you think marketing or quality of a book is necessary to promote a particular book and increase its readers?
Shakthi: No matter what field it is, marketing is extremely important in this digital era especially, and of course quality of the book goes hand in hand with that. Great content with the right marketing strategy can do wonders in selling your copy. But No amount of Digital marketing can beat what word of mouth can do for your book.
LiFT: What is the message you want to spread among folks with your writings?
Shakthi: Well, I have got a lot of messages left in me to give, but through my first book, I wanted the readers to know that it is okay to be where you are at. Harder times will pass eventually and you will find happiness and love in yourself in the process and that is enough as well. You don't have to carry the burden that someone has to love you because you have yourself. When you find someone you love after you start loving yourself, everything changes and it will make more sense to you.
LiFT: What do you do apart from writing?
Shakthi: So Professionally I am a User Interface and User Experience Designer at Saptang Labs, Chennai. Anything that keeps my creative juices running, I love to do that. But yea, Interface and Interaction Design is my Profession. Recently got hooked on Travelling, so might as well travel as much as possible in the upcoming days.
LiFT: What are the activities you resort to when you face a writer's block?
Shakthi: Sometimes when we just try to force ideas and try extracting too much, it exhausts our creativity, and end up having dry ideas or none. I'd just take my bike for a ride to the beach and walk for a while getting some fresh air and watching the ocean, it soothes and eases the mind.
LiFT: What if your story will be adopted as a movie? Whom would you want to work as a director or actors in it?
Shakthi: Given my stronghold on the subject of romance, I'd choose the two masters Gautham Vasudev Menon and Mani Ratnam who have the unique capability to adopt the romantic storyline and present it very beautifully with their magical essence. Yeah, I'll choose them and I'll love to see Dulquer Salmaan and Nithya Menon in the lead roles.
LiFT: Are you working on your next book? If yes, please tell us something about it.
Shakthi: It is too fast to give away anything at the moment, I have a plot for a romantic novel in my mind which is still in the budding stage. So let time decide what's gonna be the outcome for that.
LiFT: What are your suggestions to the budding writers/poets so that they could improve their writing skills?
Shakthi: As a newbie to the field of writing, I am not in the position or even qualified to be giving suggestions to budding writers as I am one of them as well. Although, never hesitate and always be ready to experiment with those deeper imaginations that you've always kept inside yourself and have fun while writing them.
Click here to order Shakthi Thanigaivel's Book – The Eternal Search for Heartfelt Love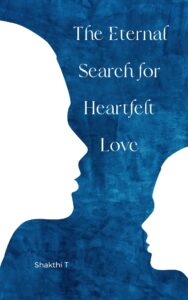 Total Page Visits: 160 - Today Page Visits: 1