About Romila:
Romila started writing at the age of 13 when most of the people of her age during the 90's had other boring interests in life. She turned Blogger at 20, professional Writer at 25 and an Author at 32 for the first time. She is a published author of 17 books and co-author of 50 anthologies. She edited, conceptualised and compiled 8 books. She has published a considerable number of non-fiction pieces, articles, essays and reviews at various online and offline portals – Deccan Chronicle, Times of India, Femina, Elle, Pratiyogita Darpan, Competition Success Review, Competition Refresher, Civil Service Chronicle, Careers360, Outlook, WomensWeb, Blogchatter, Blogadda, Blogmint, Paycheck India, ShepeopleTv, Youth Ki Awaaz, The Remnant Archive, The Blahcksheep, HydRawZine, Yours Truly and LitGleam. Today she wears many hats: Writer – Blogger – Reader – Poetess – Author – Book reviewer, Editor – Columnist – Entrepreneur – Program Head – Teacher – Masterclass Guru – Guest Speaker. She owns, edits and publishes a magazine (digital and hard copy) on literature and art called "Unicorn" launched in July 2020. She is also Programme Head (India) of Ukiyoto Publishing, a traditional global publishing house based in Hyderabad. In the past she has worked with brands such as Pantene, Godrej, Xiomi, Epigamia, Pepsi, Dabur, Jabong, Garnier, Micromax, Kinley, Borosil, Australia Tourism, Singapore Tourism, ITC Kitchens of India, Tresemme, Apollo Hospitals, Airtel, Colgate, SBI, Ambipur, Nivea, Kellogs, Coca cola, HDFC, IDBI Federal, Gilette to name a few as their features writer. She is a poetess whose poetry is written in a minimalistic style with many of them being only a few lines long—a style she admired from social media. She is a friendly, helpful and happy person and she accepts bouquets and brickbats at her work. She provokes thoughts for deeper reflections in the reader through her words, whether it is in a poem, article or stories. She likes to share ideas with like-minded people in the real as well as virtual worlds and loves to spread happiness around her. She writes to enjoy the little things in life, for one day she will look back and realise they were big things. All her scribblings, which she wishes to someday be able to remember with a few laughs all the way. She writes to be alive. It draws her into the moment. Writing helps her to make art out of everyday, ordinary moments. She writes because she can, and because she loves to write, and to see her words being read by the world.
LiFT: Tell us about your book, the journey of writing it and its content.
Romila: My new book "A Bowl of Soul Curry" released on 30th October 2021 globally on paperback, hardcover and digital versions. I started writing fiction out of curiosity in the year 2012 and this current book is a collection of stories I wrote in 10 years and poems were written from January to October 2021. I enjoy writing so the journey of writing a book has always been smooth for me. I am Program Head of a global traditional publishing house and it is a blessing for me that the process of publishing is very easy for me and I really never faced any difficulties in publishing a book. My book is not a novel and it is not a typical anthology but it has short to long stories. My characters are flawed, imperfect and fully human. You will find my prose pieces and poetic work relatable, close to home, alive and happy. Story after story, you will realise how moments, encounters, ends and beginnings, accidents and struggles, departures and homecomings, life and death, actions, twists, love, fate, relationships, hatred, pushes my characters out of their predicted path and how they take an entirely new journey. My curries will bring you joy, tears, and make you experience a plethora of emotions all packed in one book. It was a delight for me to write and will surely be one for you to read.
LiFT: Why you chose this title?
Romila: The title happens to be one of the stories and I would say please read it and you'll know the reason behind having that particular story as the title. I want some suspense to be there.
LiFT: When did you realize that you want to be a writer/poet and what's your inspiration behind it?
Romila: I am an accidental writer, purely a destiny's child. I was never inspired or pushed to write. As a child reader, I used to wonder 'how people write books'? I was 13 when I started to write for a school event and just one win and many failures thereafter got me to my present position. I never looked back, I always took a forward step despite my work getting rejected at many places. Honestly speaking there was no realisation point or any inspiration for me though I enjoyed reading Ghalib, Gulzar saab, Amrita Pritam from an early age.
LiFT: Where do you see yourself ten years down the line in the world of literature?
Romila: 10 years is a long time from today, I really don't have any long term plans but one thing is for sure I will be doing something related with writing for sure. If not a full time author, may be teaching writing or still continuing with my present work as an Editor of my literary magazine.
LiFT: How much do you think marketing or quality of a book is necessary to promote a particular book and increase its readers?
Romila: Marketing or the quality of a book are both very important in promoting books and getting readers. Book marketing helps the book to become visible in the literary world. Quality of the book helps to increase the sphere of influence. There is a handsome chance that the book will attain popularity on a big scale.
LiFT: What is the message you want to spread among folks with your writings?
Romila: Dreams are important, everyone can be successful as it is important to thrive on the hope of fulfilling desires with the potential we've all been blessed with. Through my words/writings I wish to encourage readers to use their inner strength towards their goals, use your voice and proudly write your story.
LiFT: What do you do apart from writing?
Romila: Writing is what I am made up of. If not writing, my other activities are linked with it like editing, proofreading, mentoring, teaching, guiding or working on activities of my magazine. As I am also Program Head of a global traditional publishing house I deal with projects which come on my table for publishing.
LiFT: What are the activities you resort to when you face a writer's block?
Romila: It is very rare for me to face a writer's block as my mind and diary is always full of thoughts and musings to write about. But I do take creative breaks and that's when I read books by other authors on different genres, I go shopping, I binge watch movies or web series, click random pictures for my Instagram feed, talk to friends or sleep.
LiFT: Are you working on your next book? If yes, please tell us something about it.
Romila: At the moment I am not working on any book formally though I have some ideas jotted down and maybe towards the end of 2022 or early 2023, I may start my work on it. It is too early to talk about it. But whenever I plan it, I'll surely make a grand announcement.
LiFT: What are your suggestions to the budding writers/poets so that they could improve their writing skills?
Romila: Develop a habit of reading.
Do an extensive in-depth research on the topic you wish to write
Create an outline, think about your readers
Use simple vocabulary if you are the beginning stage of writing, always keep a dictionary handy
Check your spellings and grammar, edit and proofread it properly
Practise writing every day along with reading
If possible enrol at writing workshops
Try to share your work with someone who can guide you and correct whatever mistakes you may have made in grammar or spelling and in the way your paragraph text has been structured.
Writing is like a life skill. No matter which field you are in, having good writing skills will always help you.
Click here to order Romila's Book – A Bowl of Soul Curry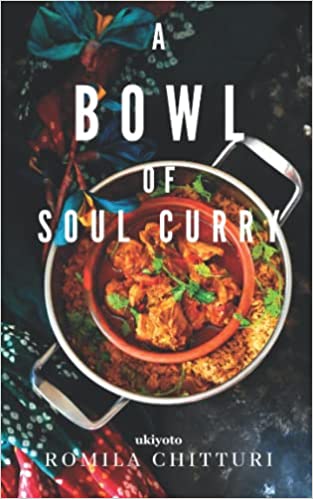 Total Page Visits: 521 - Today Page Visits: 2