About Radhika Deolekar
Radhika an intelligent and successful educator as well as homemaker has been writing since childhood. A positive and simplistic individual herself, the same qualities are depicted in her poems and writings, thus, easily resonating with everyone's life and experiences. She strives to convey through a sweet and melodious mélange of words, her optimistic outlook towards the meaning of life, love and happiness through something as familiar as a smile.
LiFT: Tell us about your book, the journey of writing it and its content.
Radhika: In our life, we all have one special smile that means everything to us. This collection of poetic lines revolves around the themes of beautiful perception, soulful love, abundant happiness and meaning of life. These poetries come with many lighter shades of emotions depicted through smiles. They are the Smiles that will take you miles on a mesmerizing journey of memories of the past and keep you hopeful for the sweeter moments of future. Enjoy a wonderful dip in the ocean of the realization created of your own joys and tears through smiles.
Smiles of my loved ones have inspired me to carry a gratifying perspective and always added more meaning to my life. I wish to share the same good feelings and positive vibes to the readers through these lines. However difficult the road maybe, a smile can take you for miles.
LiFT: Why you chose this title?
Radhika: All that is beautiful, happiness which every heart is looking for, love that happens to illuminate every soul and the existence of life is expressed in something as simple and as special as Smile. And the book is about one such special smile which abundantly includes everything. So, I selected the title of the book as 'Everything In A Smile'
LiFT: When did you realize that you want to be a poet and what's your inspiration behind it?
Radhika: Since childhood my father had inculcated the habit of reading in me. Not only reading but he always asked me to reflect on what I read. Gradually this love of reading and reflecting led me to writing of my own thoughts. Intially I shared it with my family and close friends. The response and feedback I received motivated me to go ahead and present my simple positive perspective to the world. I would say a smile from special ones has been the inspiration to begin with my first book which is the collection of poetries on Smile.
LiFT: Where do you see yourself ten years down the line in the world of literature?
Radhika: I am confident and sure about the good work that I would like to share. Which is based on simple value system that I have inherited and evolved. It has given me wonderful approach towards life to live at its best. I see myself with some good amount of work in literature be it through poetry or anthologies. I would like to be known for my good work than anything else.
LiFT: How much do you think marketing or quality of a book is necessary to promote a particular book and increase its readers?
Radhika: Marketing is important as it will help book to introduce and reach maximum readers. And quality of book will help to sustain the same or increase the number of readers. Hence both are equally important for a promotion of the book.
LiFT: What is the message you want to spread among folks with your writings?
Radhika: With simple living an high thinking life can be explored and lived at its best. Life is a beautiful experience and we can enhance and elevate it with our concious living. Not getting stuck in things that do not matter. And moving ahead with positive outlook we can make life really big!!
LiFT: What do you do apart from writing?
Radhika: I am a home maker. I have a wonderful consort and a loving family. I love to take care and be there for my family and friends. Otherwise apart from writing I just indulge myself in reading.
LiFT: What are the activities you resort to when you face a writer's block?
Radhika: I read or I talk to someone from my close circle. I go for a walk in solitude listen o some music and this helps me to overcome the block.
LiFT: Are you working on your next book? If yes, please tell us something about it.
Radhika: Yes. "To Young Minds … With LOVE!"
A rare collection of short stories that emphasise the importance of life skills such as Gratitude, Persistence, Mindfulness and Resilience: which form the basic essentials to survive and thrive in life. You'll gain new insights, and an enlightened vision that will give you clarity to evaluate and progress in life. Perhaps even find a piece of yourself in these stories.
This unique anthology is the conscientious attempt made by Shivangi Reja and Radhika Deolekar collaborating with the sole intention of raising compassionate and reflective perspective towards every big and small things around. So, one thing is certain: these stories will have a long-lasting impact on young readers minds.
While this book is intended for young students, it will attract the attention of all the age groups. Both children and adults will be captivated by the inspiring and heartfelt stories. This book will allow your mind to explore and wander and unleash your inner child as you travel to a place of introspection.
LiFT: What are your suggestions to the budding writers/poets so that they could improve their writing skills?
Radhika: I would suggest just be true to yourself and write with the intentions for the good of everyone in your mind.
Click here to order Radhika's Book – Everything In A Smile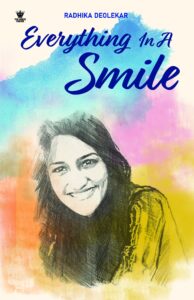 Total Page Visits: 214 - Today Page Visits: 1