About Noel:
Imprinting emotions in someone's heart is the art that Noel P T has been tailing for the last six years. He is a thinker who believes in the fantasy of reading from blank pages and making it visible to his readers. Despite being a computer science engineer, he is keen on English literature and intends to create a universe for avid readers.
LiFT: Tell us about your book, the journey of writing it and its content.
Noel: The book "Orchids for Jennie Frost" is a profound poetic experience of romance tinged with a shade of pain which is evenly narrated using prose and verse. This book has two different sides, for a normal reader, it appears to be a gripping story of love with sweet and cheery romantic moments, whereas for an avid reader who digs deep into the plot, it appears as a conflict of the autumn against the spring, as a battle of the roses against the orchids, and as a clash of the time against the love.
Talking about the journey of writing this book, I traversed a long way before I reached to its final draft. From year 2017, I started noting down key ideas to develop a storyline out of it, and in the beginning of 2019, I started writing the first draft being sure of where to conclude it. From there, it took two and half years to complete the final draft because it was quite time-consuming process to pen down each line poetically that would make the readers parallelly dive into multiple meanings at the same time.
LiFT: Why you chose this title?
Noel: I believe the title "Orchids for Jennie Frost" creatively speaks the idea of this novel. Beyond a simple meaning of gifting orchid flowers to a girl named Jennie Frost that people would imagine after hearing this title at first, there is more sense to it once the reader completes reading the entire novel, and this second meaning will be etched in the hearts of its readers. Moreover, it also talks about a longing of the protagonist Joy Clive to give orchid flowers to Jennie Frost, which would be quenched or not, you will be knowing only after you complete reading the novel.
LiFT: When did you realize that you want to be a writer/poet and what's your inspiration behind it?
Noel: It was a slow process which started back in 2015. I used to post some random thoughts on my Facebook account. When I kept on posting the raw thoughts that whirled around inside my head, I started getting quite good responses from my friend circle. As next step, I started writing short stories which were also encouraged by my friends at first, then even got into a small group of unknown people. Then one day when I started writing my seventh short story, it went on without a break filling up pages, and interestingly after few days, I realized it had to be a novel.
LiFT: Where do you see yourself ten years down the line in the world of literature?
Noel: I can't exactly picture my position in the world of literature 10 years from now, that's something which I cannot predict because it will depend on many factors, but just one thing is sure that I will be doing my level best. I shall keep on penning down more gripping stories, and I will be always around with my literary works one after another.
LiFT: How much do you think marketing or quality of a book is necessary to promote a particular book and increase its readers?
Noel: I feel that both marketing and quality of book are important to the same extent. Imagine if I market a book with the poor content by investing a lot of money into it, it won't win a single reader's heart, and also imagine if I don't market a book with the best content, it will only remain confined in my own bookshelf without reaching people. So, summing up these two points, I can say that marketing and quality of book are the two crucial factors on which the sales of a particular book depend.
LiFT: What is the message you want to spread among folks with your writings?
Noel: The main message that this particular novel gives out is all about the time. It showcases the present time or current moment as your only chance, so people should never delay to act, not only in case of expressing love, but it goes same regarding any matter in life. I hope this message is effectively conveyed through the storyline of my novel.
LiFT: What do you do apart from writing?
Noel: Well, after completing my engineering, I was fully focused on writing this novel because it needed my full attention to reach its shore. I couldn't even think of anything else while I was in between the work of this novel. Now that it's completed and published, I will be moving to other plans apart from writing.
LiFT: What are the activities you resort to when you face a writer's block?
Noel: Actually, till now, I never came across something called writer's block, but of course there are some moments when I don't find mood to write, and that's easily sorted by listening to blissful instrumental music or by waking up early at the morning just to write being in that quietude.
LiFT: What if your story will be adopted as a movie? Whom would you want to work as a director or actors in it?
Noel: If this story gets adopted as a movie, I think Greta Gerwig would be appropriate as the director of it. Although Taylor Swift is a singer, I would love to see her playing the role of Jennie Frost, and Robert Pattinson would do good for the role of Joy Clive.
LiFT: Are you working on your next book? If yes, please tell us something about it.
Noel: Yes, I have started working on it and have written first three chapters, but now, as I have got some other things in life to deal with, I will be continuing it only after this year. Next book will be having a completely different concept although the genre will again be romance.
LiFT: What are your suggestions to the budding writers/poets so that they could improve their writing skills?
Noel: A famous author once said that whatever you write, stays between you and your paper until you send it for publishing, so be free with it, and I totally agree with these words, every writer or poet should write without worrying that what if it turns into a nonsense.
I would suggest you to think more than you read. While reading a book, think of all possible meanings that the author has meant by each sentence, in this way, you can enhance your thinking capacity which would ultimately improve your writing skills. I would like to give one additional tip, do set a deadline for yourself to complete each chapter and then for the entire book, because without a deadline, there is a high chance of delaying it unnecessarily with a false hope of completing it someday.
Click here to order Noel PT's Book – Orchids for Jennie Frost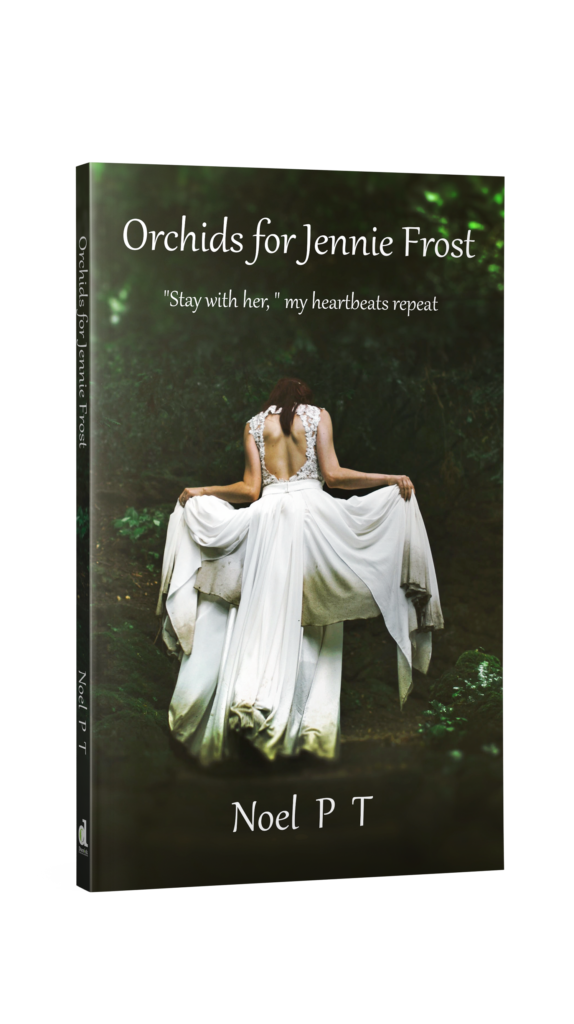 Total Page Visits: 2799 - Today Page Visits: 1