About Sucharita Parija
Sucharita hails from Odisha's silver and millennium city, Cuttack. She was born into a family of academicians. Her father was a pediatrician, and her mother was a faculty of Physics. Sucharita graduated in Architecture from the College Of Engineering and Technology, Bhubaneswar. She was a gold medalist in Master in Computer Applications and the recipient of the prestigious Commonwealth Educational Media Centre for Asia (CEMCA) award.
Nowadays, Sucharita resides in the national capital New Delhi with her husband and daughter. Her debut book "Estrenar: Beginning of a new journey" was published in 2021 by StoryMirror Pvt Ltd. Her second book, "Merak," was released in November 2022 by Book Leaf Publication. In addition, she already has 3 anthologies to her credit. Plus, she built her website: https://streaksofsuchi.com, in 2020 during the first lockdown.
LiFT: Tell us about your book, the journey of writing it and its content.
Sucharita: The book is a collection of forty poems divided into two segments. It has forty illustrations matching each poem's title, with notes after the verses.
The first segment of the book deals with women and their struggles. For example, women's freedom is not a fashion but a necessity. Furthermore, the lack of support in everyday life affects a woman badly. In addition, some themes include a modern mother's hardships, a woman's identity crisis from birth to death, love oneself in the first place, and self-reflection.
The second segment contains abstract thoughts based on various components of life. They can be cluttered minds, friendships, and pain. In addition, there are topics like love can even happen at 50, forbidden romance, deceptions, infatuation, horror, covid drama, fear of death, the Palash tree, and other soul-stirring poems. Finally, there are two satires: one is about losing weight in everyday life, and another revolves around an educated woman unable to make perfect round flatbreads.
The journey of writing the poems was full of adventures. Many days had passed without composing a single verse, and other times, lyrics were written on the back seat of a car or while cooking. The dishes were burnt as I had forgotten to switch off the gas stove. Yet, it was a unique experience without a single dull moment.
The contents or titles are taken from past incidents, present surroundings, or hidden emotions in life. It is an amalgamation of sorrow, joy, heartbreak, failure, blessings, hidden trauma, etc.
LiFT: Why you chose this title?
Sucharita: I had decided to go for an unusual title for my book, not a repeated one. I had zeroed down on a few titles from around the world. But, finally decided to go with Estrenar. Estrenar is a Spanish word that means "The First Time." The title suited my debut book perfectly as I entered a new field. It was also a new beginning in my literary journey. So, it was a suitable title for the book: "Estrenar: Beginning Of A New Journey."
LiFT: When did you realize that you want to be a writer and what's your inspiration behind it?
Sucharita: I had never aspired to be a poet or a writer, though I had contributed significantly to various magazines in three languages in my school and college days. The first lockdown was when I realized it. After that, I had a lot of free time to go to write. By God's grace, I have never struggled with my words. They just rained freely in the form of ideas from above by the blessings of the Almighty.
I had multiple influencers in my everyday life. Yet, I was not motivated entirely by a single person. For example, I love the works of Robert Frost and Rumi t. o some extent. But they are not my inspirations. So, it's not wholly arrogance but, in my words: "I am the sole motivator in life. I am my best friend yet deadly enemy."
LiFT: Where do you see yourself ten years down the line in the world of literature?
Sucharita: I try my best to live day by day and not plan for the future. But unfortunately, the future can be very unpredictable at times. So, sometimes, designing and executing spoil the present moment and bring disappointments. So, many a time, I refrain from too much planning. Even I do not like to spell out my vision or future plans.
LiFT: How much do you think marketing or quality of a book is necessary to promote a particular book and increase its readers?
Sucharita: Nowadays, social media has made everyone a poet or a writer. But, for me, marketing is the most prominent feature of a book's success. The quality of the book comes into the scene after marketing. Readers should learn about the author and the book through vast marketing, then they would be attracted to the book. But, if the quality is not superior, the author may not manage her/his stand in the literary world for long.
LiFT: What is the message you want to spread among folks with your writings?
Sucharita: I strongly feel about children's education, especially the girls in my country. Therefore, I sponsor a few girls' education in my little way. Through my writing, I would be happy to change the lives of at least a few girls or women of today. The message would be, " She was born to write, and nothing can stop her in her mission to change the world."
LiFT: What do you do apart from writing?
Sucharita: I am a consultant apart from writing.
LiFT: What are the activities you resort to when you face a writer's block?
Sucharita: The day has not come yet in my life. But, suppose I face writer's block, I would definitely use a few techniques. The prayers and meditations keep me grounded and calm in my chaotic daily life. So, I would meditate earnestly and pray to clear my cluttered mind. Then, I might take a short break to rejuvenate myself. Reading is my passion; I would read new genres of books.
LiFT: Are you working on your next book? If yes, please tell us something about it.
Sucharita: My second book, " Merak," is already on the stands now. It is also a collection of twenty-one poems. Some other projects are in the pipeline.
LiFT: What are your suggestions to the budding writers/poets so that they could improve their writing skills?
Sucharita: "If you strongly believe in yourself, nothing can hinder your progress in any field. Failure or success are relative terms in one's life. But, never hesitate to enter a new arena in life. One sincere advice to the budding poets/ writers of the literary field is to read books if you want to write. Do read books of any genre, listen attentively to speeches, yet write down from your heart. Write and write to make your writings better." This is the message I want to deliver to budding authors. "If I could, then you can definitely achieve it."
Click here to order Sucharita's Book – Estrenar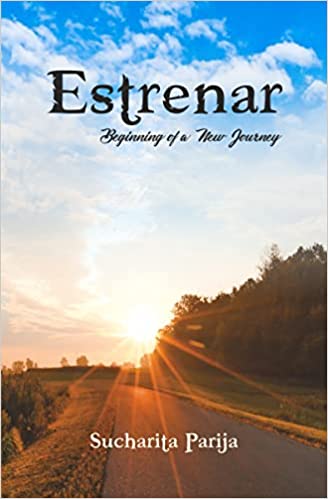 Total Page Visits: 188 - Today Page Visits: 1