About Subhankar Ghosh
Despite facing many challenges and obstacles, Subhankar Ghosh has shown incredible determination and resilience in his journey through life. Starting his career at the young age of 18, he worked at an ice cream parlour in Agra, earning a modest salary of just 1500 per month. However, this humble beginning did not deter him from dreaming big and striving for more.
Subhankar's ambition led him to venture into the call center industry in Chennai. It was here that he learned the intricacies of customer service and honed his communication skills. With each experience, he grew more confident and determined to explore new opportunities.
The airline industry beckoned Subhankar next, and he embarked on a new chapter in his career by working in both Chennai and Mumbai airports as ground staff. The fast-paced nature of the job and the continuous interaction with people from all walks of life only fueled his passion for providing excellent service and meeting the needs of others.
Currently, Subhankar Ghosh holds a position in senior administration as a Government employee. His hard work and dedication have earned him respect and recognition from his colleagues and superiors. He is known for his unwavering commitment to his work and his ability to handle tasks efficiently and effectively.
Beyond his professional life, Subhankar is a self-professed workaholic who is always seeking to expand his knowledge and skills. He has a voracious appetite for reading and writing, using these mediums as avenues for personal growth and self-expression. Whether it be fiction, non-fiction, or self-help books, Subhankar is always eager to delve into new ideas and perspectives.
Subhankar's experiences in life have shaped him into the person he is today – someone who is not afraid to overcome adversity and pursue his goals with unmatched determination. He serves as an inspiration to others, reminding them to never give up on their dreams and to constantly strive for personal and professional growth.
Overall, Subhankar Ghosh's story is a testament to the power of hard work, resilience, and a passion for continuous learning. Through his experiences and achievements, he has proven that with dedication and perseverance, anyone can overcome the challenges life throws their way and achieve success.
LiFT: Tell us about your book, the journey of writing it and its content.
Subhankar: Writing my maiden novel has been both a thrilling and challenging experience. As I embarked on this literary journey in 2010, I initially approached my writing as a simple journal, documenting my thoughts and ideas. However, as I delved deeper into the art of novel writing, I quickly discovered the importance of crafting captivating dialogues and developing captivating characters.
The heart of my novel revolves around the lives of two individuals, Shobhit and Kirti. From the very beginning, they never fathomed receiving love from each other, but silently yearned for it. Shobhit, a passionate and determined person, found himself enamored with Kirti. However, he was fully aware of the challenges that lay ahead in capturing her heart. Conversely, Kirti, too, found herself falling in love with Shobhit, but knew deep down that their love was destined to be unattainable.
As I began to unravel their intricate stories, their emotions and desires became palpable on the page. Throughout the writing process, I faced numerous challenges. Crafting a compelling storyline that keeps readers engaged was no easy feat. I found myself constantly revising and refining my ideas, carefully sculpting each scene to strike the perfect balance between heart-wrenching moments and moments of euphoric joy.
The process of writing allowed me to explore the depths of love, to dissect its complexities, and to understand its power to shape our lives.
As I put the final touches on my novel, I can't help but feel a sense of pride and accomplishment. Writing this book has been a transformative journey, one that has taught me patience, perseverance, and the power of storytelling. The characters I have created have become a part of me, and their stories will forever linger in the hearts of readers.
Now, it is up to the readers to embark on their own journey as they dive into the pages of my maiden novel. Will Shobhit and Kirti's longing for love be fulfilled, or will their paths diverge? The answers lie within the woven words of my novel, waiting to be discovered by those who dare to venture into its pages.
LiFT: Why you chose this title?
Subhankar: It simplifies the intensity of the story.
LiFT: When did you realize that you want to be a writer and what's your inspiration behind it?
Subhankar: I realized my passion for writing when I recognized that every person has a unique story and purpose in life. I understood that these stories could be captured and shared with the world, offering valuable lessons and insights.
I knew that I possessed the ability to weave words together in a way that would captivate and engage readers. I also recognized that I had a story that only I could tell, one that had the potential to be truly fascinating and inspiring.
The driving force behind my decision to write this novel is my desire to demonstrate to the world that with hard work and determination, dreams can be turned into reality. I hope to inspire others to pursue their goals and never give up.
Above all, my greatest inspiration is my daughter. I want to be a role model for her, showcasing the importance of chasing one's dreams and never settling for less. I want her to understand that with dedication and perseverance, she too can achieve anything she sets her mind to.
LiFT: Where do you see yourself ten years down the line in the world of literature?
Subhankar: In ten years from now, if I am an amateur writer who has published my maiden novel, I would like to see myself as an established and respected author. I hope to have written and published several more novels, each building on the success and recognition of my first book. I would love to have a dedicated fanbase who eagerly anticipate my new releases and look forward to attending book signings and literary events. I envision my novels being widely read and critically acclaimed, with my name being mentioned among the top authors in my genre. Additionally, I would like to have expanded my writing career beyond novels, exploring other mediums such as screenplays or adapting my books into movies or TV series. I would also love to have the opportunity to collaborate with other talented writers and creatives on exciting projects. Overall, I hope to be living a fulfilling and prosperous life as a writer, with my passion for storytelling continuing to drive me forward.
LiFT: How much do you think marketing or quality of a book is necessary to promote a particular book and increase its readers?
Subhankar: Marketing and quality are both crucial for promoting a book and increasing its readership. A well-executed marketing strategy helps create awareness and generate interest, while the quality of the book ensures reader satisfaction and positive word-of-mouth recommendations.
LiFT: What is the message you want to spread among folks with your writings?
Subhankar: The message I want to spread among folks who read my work is that you don't have to be a great observer or a great narrator or great in anything. Everyone can do whatever they wish for, if they believe whatever they are doing is coming from their heart. Then only they can strive for betterment and eventually, excellence.
LiFT: What do you do apart from writing?
Subhankar: I actually don't get time to do anything, as I have to report to my work at 7 in the morning. So, anyone can imagine what time I get up in the morning. However, if I manage to get some time out of my already busy schedule, I like to read and watch. I read, so that I get the detailed knowledge of stuff and watch videos on youtube to get the technical training of anything, which is useful.
LiFT: What are the activities you resort to when you face a writer's block?
Subhankar: First of all, I set a timer for a specific amount of time, say 10-15 minutes, and I write continuously without worrying about grammar, punctuation or coherence. I just let my thoughts flow and see where it takes me.
Secondly, I dive into books or articles in my genre or other genre that interests me. Reading provides inspiration, new perspectives and ideas.
If all this doesn't work, I simply take a break and step away from writing anything. I engage myself in some different activity like cooking, taking a walk, or some OTT watch.
LiFT: What if your story will be adopted as a movie? Whom would you want to work as a director or actors in it?
Subhankar: If my story be adopted as a movie, my preference would be Karan Johar or Aditya Chopra as director, as I grew up watching their lovely romantic movies. I would also like Kartik Aryan or Rajkumar Rao, or Ayushman Khurrana, or Shahrukh Khan for that matter, to play the lead role in male.
For Female lead, my first preference would be Kiara Advani. Disha Patani and Srabanti Mukherji from Tollywood can also match the lead role of my story.
LiFT: Are you working on your next book? If yes, please tell us something about it.
Subhankar: In my next novel, I will explore the theme of friendship with a twist of suspense. The story will revolve around a group of friends who find themselves caught up in a mysterious and dangerous situation. As they navigate through the twists and turns, their bond will be tested, and secrets will be revealed. Expect a thrilling and gripping tale filled with intrigue, complex characters, and unexpected twists.
LiFT: What are your suggestions to the budding writers/poets so that they could improve their writing skills?
Subhankar: Suggestions include:
Read books, articles, visit the library or other bookstores. This may help you to get ideas about what to write and how to proceed.
One also has to keep practicing writing, so that it can improve their vocabulary and grammar checks. When one starts writing and revise what's written, they themselves find mistake and improve it. It gradually increases their writing skill and speed of forming sentences in their minds.
And lastly, write with intention. Clarify the purpose of writing and have a clear message or goal in mind. Writing with intention helps you stay focused and deliver a stronger piece of work.
Click here to order Subhankar's Book 'Stay.. With Me'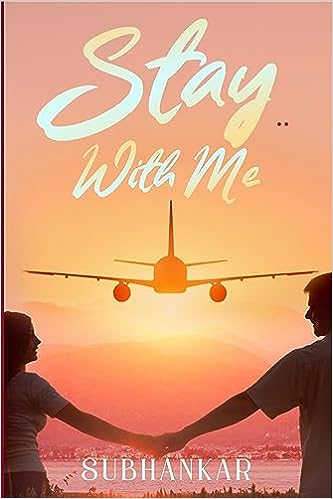 Total Page Visits: 101 - Today Page Visits: 1