About Sneha:
Sneha is a writer by night and an IT professional by day. She was born in Bhatapara, Chhattisgarh. Her writings typically focus on the ironies of lives and phases of relationships; hoping that her writing will give words to those who have gone through and felt like what she did. Writing for her is a passion and medicine too. She wants to remain a seeker of peace and knowledge. Apart from her interest in writing, she is a proud parent of more than 100 plants & trees and more than 20 furry friends. She loves to get engrossed in the beauty of imagination. Her love for sketching and painting adds meaning & impact to her poems. she believes that LOVE is the most powerful emotion on this planet earth, and anything and everything is achievable with the right state of mind. She had been taking art workshops for free for those who really want to nurture the artist in them but were not able to afford the course. She currently works in an IT firm in Bengaluru and lives with her husband and daughter.
LiFT: Why you chose this title?
Sneha: My poems and verse are inspired by daily life, things which we experience, and which we feel. there is so much to learn from life, and I believe being a woman, we have a different view to see things than others. My book I am the moon is a collection of poems and prose that talks about the challenges we go through, the surprises life gives us, the ups and downs, and the different phases of our thoughts and perception.
We all go through good and bad times in our lives exactly the way the moon goes through different phases. the moon is a source of inspiration available for all of us every day without any cost, it inspires us how to stay calm and composed on the days when life is going through dark phases; and how to shine bright on the days when life favors you.
LiFT: When did you realize that you want to be a writer and what's your inspiration behind it?
Sneha: I think I was born with a silver pen (not a silver spoon) hahaha 😊 writing is food for my soul, I am drawn to it. how beautiful your emotions look when they are in the form of words, you can read what you felt, and this wonderful aspect has always strengthened my bond with writing. I am the kind of person who is attracted to stationery shops more than jewelry shops. I love to soak myself in writing and anything which helps me in writing. I try to give the maximum amount of time to my writing schedule amidst the other responsibilities & priorities of life.
LiFT: What is the message you want to spread among folks with your writings?
Sneha: How important is healing to live, and moving from somehow surviving to living a more content, purposeful life? she wishes to tell her readers that they are not alone, and we all are much more than flesh and bones. We feel the same emotions at some other point in time, splashing a handful of poetry on the emotional injuries works wonders. It works and it always did to make you feel lighter and better.
LiFT: What do you do apart from writing?
Sneha: Well, a lot of things which make me feel alive like gymming, painting, stitching, art workshops, and spending time with animals & birds.
LiFT: Are you working on your next book? If yes, please tell us something about it.
Sneha: Yes, another anthology by end of this year 🙂
LiFT: What are your suggestions to the budding writers/poets so that they could improve their writing skills?
Sneha: In the world we can shape our life the way we want, the technology has all the resources to make it possible; in modern times where you can know anything at any time on the tip of your finger, first know who you are and what you are. look within. Ask yourself. just because someone said selling novels is easier than poetry, don't start writing novels, just because someone said the market of Hindi books is not good, don't stop writing in Hindi. you are the best when you are you; never stop believing in yourself.
Know what's your true calling, and most importantly, know what you are not. Don't believe in who you are not.
Be true.
Be you.
Click here to order Sneha's Book – I Am the Moon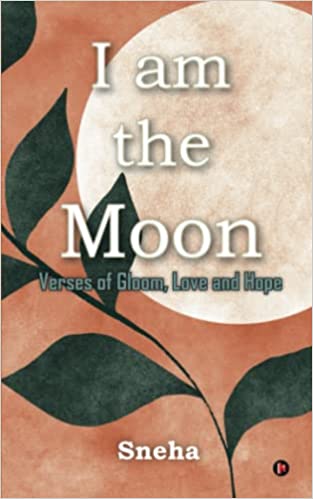 Total Page Visits: 355 - Today Page Visits: 1