About Snehal Karia:
Dr. Snehal Karia has been involved in education and training since the last 3 decades. An engineer by profession, he has been involved in IT as well as holistic brain development program involving cognitive skill development in children. He has a massive experience in managing franchise networks in USA, Canada, India, as well as Sri Lanka and currently manages the operations of UCMAS India – world's largest Abacus & Mental Arithmetic education network with close to 2,000 training centres across 25 states. The fact that writing has always been his passion, he started formal form of writing in the year 2020 and recently published his first book.
LiFT: Tell us about your book, the journey of writing it and its content?
Snehal: This collection of short stories are real life experiences of the author which are being expressed in plain and simple language. The purpose is to share these experiences and construe life lessons derived from these life changing situations. Over the last 3-decades, the author has seen life very closely and has had tough brushes with the ups and downs of his roller-coaster life. By sharing his personal views and preferences, the author has endeavored that these stories touch your heart and you relate to most of them. Having received much appreciation and accolades from readers across the world on social media, the author finally decided to pen it down in a keep-sake book so that it can benefit the readers. You will find topics on life, philosophies, business management, marketing, personal achievements, and tips on achieving success and growth in both personal and professional lives. Do not forget to bookmark the story on how to tame lady-luck and ensure that she keeps visiting you whenever you want or need her. The book will surely keep you inspired and the easy flow of relatable topics will keep you wanting more.
LiFT: Why you chose this title?
Snehal: This is the most apt title for this book as the book is all about deciphering life. All the short stories in this book are aimed to give the reader a direction as to how to tackle the different aspects of life.
LiFT: When did you realize that you want to be a writer/poet and what's your inspiration behind it?
Snehal: Writing has always been my passion. Used to always write blogs and articles. But the thought of writing a formal book came in year 2020 and since then have been writing. Inspiration has been my long experience and understanding of different aspects of life. Some near and dear friends and family members also added to that.
LiFT: Where do you see yourself ten years down the line in the world of literature?
Snehal: I hope people keep reading what I write and slowly I create a name in the world of literature. Getting a Bookers Award or the Pulitzer is surely on the wish list but am honestly not writing for awards. Recognition and some positive comments of appreciation is all that I seek.
LiFT: How much do you think marketing or quality of a book is necessary to promote a particular book and increase its readers?
Snehal: If the quality of the content isn't good then a huge marketing is surely required. But if the content is good and the word of mouth can spread then it's not. However, like I always say, unless people know you have a diamond with you, how will you market it or make a valuation of that diamond. So marketing and awards surely help in the long way.
LiFT: What is the message you want to spread among folks with your writings?
Snehal: Be honest. Authentic work and if written straight from the heart in a lucid and easy language surely will strike the chord with the readers.
LiFT: What do you do apart from writing?
Snehal: Business, play sports, listen to music, and spend time with loved ones.
LiFT: What are the activities you resort to when you face a writer's block?
Snehal: I take a break, consolidate my thoughts, and wait for the right frame of mind to start writing back. Nothing can be written in haste, it has to flow naturally.
LiFT: Are you working on your next book? If yes, please tell us something about it.
Snehal: Not really. Will let you know at the right moment. Thanks.
LiFT: What are your suggestions to the budding writers/poets so that they could improve their writing skills?
Snehal: Be lucid, and use simple language. No need house jargons or fancy vocabulary. Real life anecdotes and experiences always strike a chord. Be authentic and do not resort to plagiarism.
Click here to order Snehal's Book 'Deciphering Life – One Story At A Time'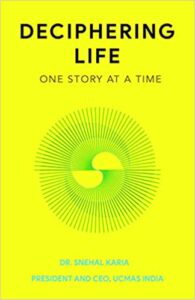 Total Page Visits: 524 - Today Page Visits: 1