About Seema Pradeep
A very loving and easy going, happy person, who values each emotion to the fullest.
LiFT: Tell us about your book, the journey of writing it and its content.
Seema: It is a book with emotional poems, all connected to everyday life, Being an emotional person, it was pretty easy to get them penned. It is my fourth book in two years and the journey has been amazing. Feeling like a proud author already and yes, still more to come from me.
LiFT: Why you chose this title?
Seema: I wanted to show different emotions, and what more can justify them. Like seasons emotions too change, they bloom, they shed, they freeze and they die, opening doors for another circle.
LiFT: When did you realize that you want to be a poet and what's your inspiration behind it?
Seema: I was in school, when I wrote my first little poem, just because I did not know what else to do on a math project. It clicked, everyone liked, and there I started. But as I grew up, writing became a hobby, and now it is my passion and life.
LiFT: Where do you see yourself ten years down the line in the world of literature?
Seema: That is a tough question. I wish i could write more and more, get into more hearts and, some awards and recognitions.
And of course to be a part of literature, in whatever ways I can.
LiFT: How much do you think marketing or quality of a book is necessary to promote a particular book and increase its readers?
Seema: It means a lot, writing and publishing is the first stage, and it is pretty focused on the author, but then when it has to reach the audience, marketing is the core. And to market a good book, it has to have the standard and quality to get noticed. After all, readers understand and they expect good things from every piece of writing.
LiFT: What is the message you want to spread among folks with your writings?
Seema: I am an emotional person, I carry emotions everywhere and it reflects in my books. And nothing can be put in paper beautifully, unless you feel it yourself.
LiFT: What do you do apart from writing?
Seema: I am a logistics professional, settled in Dubai, in love with my job.
LiFT: What are the activities you resort to when you face a writer's block?
Seema: I try to sleep or watch a movie. Looks weird, but I love noise when I need to focus on writing.
LiFT: Are you working on your next book? If yes, please tell us something about it.
Seema: My next book will be combination of poetry and short stories, and also I have a novel in my list.
LiFT: What are your suggestions to the budding writers/poets so that they could improve their writing skills?
Seema: Observe everything you see. A lot of things are around you, which can bring ideas and thoughts. And never stop, just keep going. It might look silly when you write your first piece, but believe me, there will be something in it, that will pull you through.
Click here to order Seema's Book – Summers and Spring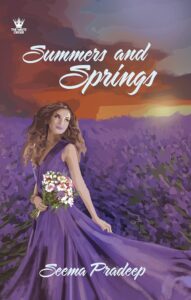 Total Page Visits: 86 - Today Page Visits: 2