About Sanika Chavan:
Author Sanika Chavan; an architect by profession with an avid experience in the real estate. She is a poetess and won accolades; one of her poetries is published by US Library of Congress in book "in the Quiet hours". Her inquisitiveness led her to spirituality at a very young age supported by familial upbringing. A trained Past life Regression Therapist since many years; healing herself in the garb of doing sessions for others. Feelings finding an expression through words have led to inception of this book". She demonstrates her tussles with life; traverses through various facets and her quest to understand the journey. During her challenging times books have been her guiding light and it is her humble attempt to "pay it forward". Miracles lie in trivial moments and choices which subtly lead to huge transformations. She further quotes; "Choose to let life happen to us; choice is the ultimate blessing bestowed to mankind".
LiFT: Tell us about your book, the journey of writing it and its content?
Sanika: Book just happened to me… feelings found expression and it is my humble attempt to share my experiences and learning process through life. Content of the book is my journey through life with all the struggles and joys and trying to embrace simplicity and clarity in thoughts with compassion.
LiFT: Why you chose this title?
Sanika: Literally so it is Mystory and the revelation of mystery that life is. The missing peace that we all yearn for and this missing leads us to embark on quest to resolve the mystery of life.
LiFT: When did you realize that you want to be a writer/poet and what's your inspiration behind it?
Sanika: I write poems since I was 16 years of age. Poems are based on my observations and witnessing. Few are romantic and tragic too.
Writing a book happened in recent past when one day it just started flowing and one day one chapter was how it traversed.
LiFT: Where do you see yourself ten years down the line in the world of literature?
Sanika: Have surrendered myself to the art and so am open to when're it takes me however I plan to publish my poems and also sequel to current book.
LiFT: How much do you think marketing or quality of a book is necessary to promote a particular book and increase its readers?
Sanika: Quality or content of book and marketing go hand in hand. It's like wheels of a cycle which balance each other and move it forward.
LiFT: What is the message you want to spread among folks with your writings?
Sanika: Embrace simplicity and let life happen to you.
LiFT: What do you do apart from writing?
Sanika: An architect by profession with an avid experience of 22 years in real estate industry.
LiFT: What are the activities you resort to when you face a writer's block?
Sanika: I let it be and Let it go… it comes back at right time with right words.
LiFT: Are you working on your next book? If yes, please tell us something about it.
Sanika: Yes sequel to the current book
LiFT: What are your suggestions to the budding writers/poets so that they could improve their writing skills?
Sanika: Surrender and let it flow. Too much of effort leads to garbling of words.
Click here to order Sanika's Book 'Mystory- The Missing Peace'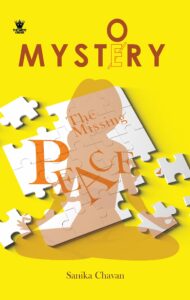 Total Page Visits: 246 - Today Page Visits: 1