About S.R. RAINE
S.R.RAINE was born and raised in a small town on Vancouver Island and currently lives in Surrey, BC. She works fulltime and enjoys spending time with family and friends near and far. She is the youngest of three children, a daughter, a sister and a proud aunt. She is very grateful for the family she has in her immediate life and she wouldn't be anything without them there for her. She is very thankful that she has a home, a safe community, a car, clean water, electricity, food and nature and the freedom to exercise her rights in a country like Canada. Hopefully it stays this way for centuries to come.
LiFT: Tell us about your book, the journey of writing it and its content.
S.R. RAINE: My book is about a group of university students that form a secret society and they all move back to their hometown of Rossdale. They are always on guard and on the look out for anything that is out of the ordinary while they were students. When they move back to Rossdale, things don't appear as they seem and as they dig deep into their hometown they also realize their own friendships may not be as strong.
I always felt I had something to say, when I was younger, I was a poor student and it took a lot of nudging to get me on a path. English is my second language and I was out casted while I was an elementary student because I was considered weak for being this way. When I was in high school, a group of friends and I were outside and one of them told me that she sees me writing. It stuck with me and I realized the meaning of her words when I completed my short story. This short story is one of the most difficult things in my entire life and I couldn't have done it with out the support of friends and family along the way. I was inspired by a family member, my first cousin's son, Vashal Singh is a strong proponent of personal development. His posts really inspired me to start writing. I was experiencing a tough time in my life and his posts on social media got me through it when I needed it the most. He never made me feel incomplete or doubted me as a human.
LiFT: Why you chose this title?
S.R. RAINE: I chose this title because I have always been fascinated by royalty and it's relation to Canada and India. The title is different and unique but so am I. The title and the book is an extension of me and my life experiences through all the people I have met in my life. Some of them actually mirrored characters in my book and I just recently connected with them so it was quite intimidating when this is reflecting back in your eyes.
LiFT: When did you realize that you want to be a writer and what's your inspiration behind it?
S.R. RAINE: I realized one night that I wanted to be a writer, I was lying in bed and reading a book and I thought I can do this too. I love to read, spend time in libraries and bookstores. I especially enjoy spending time in old bookstores and libraries and I get a thrill from anything that is ancient. Ancient Rome and India were a few themes in my book.
LiFT: Where do you see yourself ten years down the line in the world of literature?
S.R. RAINE: Complete this series in The Knighthood and hopefully it becomes either a movie or TV series.
LiFT: How much do you think marketing or quality of a book is necessary to promote a particular book and increase its readers?
S.R. RAINE: I have not been able to promote my book very well and I think I have done a poor job of marketing it to my audience. I think this plays a huge part of getting your work out there in the world for a successful outcome. Hopefully this interview might help me out.
LiFT: What is the message you want to spread among folks with your writings?
S.R. RAINE: Don't be scared or fearful when you have something to say. Usually it's because there is something that propels an individual from the inside to get your voice heard. Don't hold back but do it all within reason. Write and get all your thoughts out there and then find an editor that will assist you along the process of publishing your writing.
LiFT: What do you do apart from writing?
S.R. RAINE: I have a full time job, I enjoy spending time with family and friends. Anyone that knows me well enough, I am into current events because I like to be aware of my environment. I have dipped into learning astrology for the last twenty years to boost my confidence any time I am in doubt and looking for strength when I lose hope. I like to think of myself as a good cook even though my sister thinks I belong in an episode of Hell's Kitchen. I like to surround myself with people that inspire and enlighten me to do better in life. I am very thankful to all those that I have met along the way.
LiFT: What are the activities you resort to when you face a writer's block?
S.R. RAINE: I try and get outside and go for a walk in nature. I enjoy walking in the cool, crisp air and use nature as my imagination for a storyline or scene in a book. Mostly, I visualize my scenes as if it's a movie scene and this is the technique I used to complete my chapters in my book.
LiFT: What if your story will be adopted as a movie? Whom would you want to work as a director or actors in it?
S.R. RAINE: If my story got adopted as a movie or TV series, that would be a dream come true for me. Hopefully this might come true for me. I would want to work with Clint Eastwood as a Director or ask Rob Lowe. I would want a mix of Canadian and Punjabi actors in my book because these are the people that inspired my writing. I would be thrilled if Erin Karpluk and Neeru Bajwa would be in my narrative, I love these two women as actors and I think they would do well in my movie. My intention is to mix actors from Punjab and Canada to produce something for the world to see, that Canadian and Punjabi actors can compete successfully with Hollywood!
LiFT: Are you working on your next book? If yes, please tell us something about it.
S.R. RAINE: Yes, I am working on my next book. The Knighthood: Kingdom of Japi. My characters go to the lost Kingdom of Japi, India and trying their best to save the world. That's all I have for now, you will have to wait and see once the book comes out.
LiFT: What are your suggestions to the budding writers/poets so that they could improve their writing skills?
S.R. RAINE: If you have an idea or thought, get it out on paper. Don't hesitate and talk to as many writers and build a network for yourself so you don't give up. You need this for support, otherwise you won't accomplish your dreams of becoming a writer. Take classes to improve your writing.
Click here to order S.R. Raine's Book – The Knighthood at Barklaze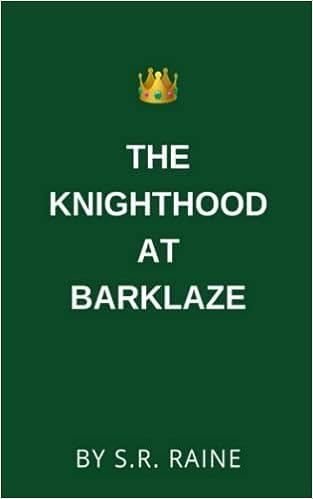 Total Page Visits: 82 - Today Page Visits: 1