About Ramu Kanamarlapudi
RAM (Ramu Kanamarlapudi) is one of the young emerging writers from India who has come from an engineering background, but still his way of understanding towards life is unique and his writing style is outstanding. His debut book "THE LIFE OF A LIFE" is a complete power pack to make a better and happy life, his goal towards live life to the fullest is defined in every aspect of life. He also believes that traveling is one of the greatest aspect of life to make it perfect.
LiFT: Tell us about your book, the journey of writing it and its content.
Ramu Kanamarlapudi: A book that talks about life and it's journey, this is not just book of writing but it's part of every single humans life, you will connect with your life in many aspects that are covered in this book. The origin of this book started with my life experiences and travel knowledge I have acquired till now.
LiFT: Why you chose this title?
Ramu Kanamarlapudi: This book talks about life of every single person in this world and explains how to live it to the fullest so I choose that Life of a life.
LiFT: When did you realize that you want to be a writer and what's your inspiration behind it?
Ramu Kanamarlapudi: It's been quite long time that I have a thought in my mind to write a book but it never came to reality. But in 2010 I started a small blog and fixed my title and laid the foundation for the book and again it was kept aside till 2023. In a way the journey till 2023 has ignited me to start my book seriously so the book came to live.
LiFT: Where do you see yourself ten years down the line in the world of literature?
Ramu Kanamarlapudi: My goal is to keep my thoughts in some place forever, my goal is to live life to the fullest if literature is part of it, then it will become part of it but not a mainstream of my life.
LiFT: How much do you think marketing or quality of a book is necessary to promote a particular book and increase its readers?
Ramu Kanamarlapudi: Initial stage of a book or for author marketing and other particulars are needed to reach maximum audience. If the content is connecting to audience later people only take it forward.
LiFT: What is the message you want to spread among folks with your writings?
Ramu Kanamarlapudi: I don't spread any message because life should not define or inspire from others, every individual should trust their institution and drive their life how ever they want.
LiFT: What do you do apart from writing?
Ramu Kanamarlapudi: I started my journey as author recently, but then my education, my passion and my life drove me towards a software engineer. Currently I'm working for an MNC company in Bangalore as a dev ops engineer. Apart from working I travel a lot to gain my knowledge about life.
LiFT: What are the activities you resort to when you face a writer's block?
Ramu Kanamarlapudi: I used to heard about writers block in media before I became a writer but I experienced it while writing it, I didn't do anything in specific to activate my thoughts I continued my life as it is and wait for the resume to happened.
LiFT: What if your story will be adopted as a movie? Whom would you want to work as a director or actors in it?
Ramu Kanamarlapudi: The sounds great to hear. I'm the hero of my life I myself will fill my life completely. Likewise I believe every individual is hero of their life no other actor can full fill completely.
LiFT: Are you working on your next book? If yes, please tell us something about it.
Ramu Kanamarlapudi: After my first book launch I started working on my second book which deals with motivational aspects. Currently ground level work is happening might take few more days to explain more.
LiFT: What are your suggestions to the budding writers/poets so that they could improve their writing skills?
Ramu Kanamarlapudi: Write what you wanted to!
Write how you wanted to!
Express how you wanted to!
It's not an exam to prepare and write the same answer.
Click here to order Ramu Kanamarlapudi's Book – The Life of a Life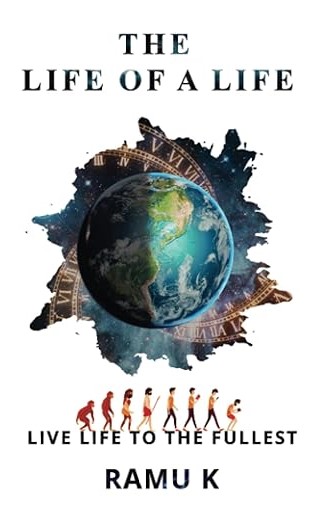 Total Page Visits: 97 - Today Page Visits: 2