About Radhika Deolekar
An Educator, Homemaker, Author and proclaimed Poet, Radhika has been writing since her teens. Her writing themes revolve around the notions of love, strength, courage and simplicity, that originate from her beliefs that she lives by, everyday. Her poems are thoughtful and represent her pleasant and simple personality. It is visible from her work as positive outlook put in beautiful words carrying versatile meanings and have an assertive and agreeable blend.
LiFT: Tell us about your book, the journey of writing it and its content.
Radhika Deolekar: Once beautiful inspiration offered a fresh broader and subtly comprehensive perspective on versatile aspects of women which has evolved as a pleasantly relatable collection of poetries.
The book "For Her" along with the wonderful illustrations walks you through different emotions and experiences. It strives to take you through the stages 'she' partakes through life and situations. The poetry for her, about her and to her, aims to appreciate her dignity of being herself in each walk of life… To admire the honour of her individuality and to acknowledge and to respect the part she assumes that aligns to her own purpose of life and the ones that she loves with determination and persistence.
LiFT: Why you chose this title?
Radhika Deolekar: This book is dedicated to all women around the globe. The value of women has now been distinctively and very positively recognised, as compared to the past. In the prevailing scenario, we see that the strongest actions for a woman are to love herself, be herself and shine irrespective of who believed in her. Hence, the title "For Her"
LiFT: When did you realize that you want to be a poet and what's your inspiration behind it?
Radhika Deolekar: I thank my father for instilling in me, good habit of reading and then reflecting on it. Since childhood I have been pondering and writing what came as reflection to my mind after what I read. Over the period I had good collection of such literary works with me. But it all awaited one right time when I happened to come across a beautiful inspiration and the key to the store of my silent words that got unleashed. Strong support from my family and friends got this dream transformed into a reality and I thank for the wonderful response from the readers that continue to inspire me.
LiFT: Where do you see yourself ten years down the line in the world of literature?
Radhika Deolekar: I believe in an ideology in which the primary objective of any person after achieving stability in life is to repay society in some way. Being in touch with one's inner self comes before everything else and the philosophy of embracing the good and the terrible that life offers us with grace. Are some of the ideas frequently served as the foundation for my thoughts and views and are reflected in my literary works. I wish to continue doing good amount of work where I can attain this purpose of my life of sharing to the world that with an attitude of simple living and high thinking based on a strong value system.
LiFT: How much do you think marketing or quality of a book is necessary to promote a particular book and increase its readers?
Radhika Deolekar: I think quality of book as well as its marketing are both essential and would carry the equal weightage. Without the potential marketing a quality book would never reach or increase its readers and go waste. Also the most efficient marketing techniques would fail to promote the book which would carry a deficit quality.
LiFT: What is the message you want to spread among folks with your writings?
Radhika Deolekar: I would say let us reflect life as a beautiful experience which can be explored, enhanced and elevated with our conscious living without being stuck with things that do not matter. By moving ahead with a positive outlook, life can be made really big !!
LiFT: What do you do apart from writing?
Radhika Deolekar: I love to take care of my Family. I like spending time with my friends. I like to spend time reading and with nature.
LiFT: What are the activities you resort to when you face a writer's block?
Radhika Deolekar: The activities that help me overcome a writer's block I resort to reading and gardening. I like going for walk in nature and talking to my near dear ones refresh my mind and motivate me.
LiFT: Are you working on your next book? If yes, please tell us something about it.
Radhika Deolekar: Yes! I am working on a book which is a collaborative project with my friend. It is a non fictional book. Everyone will agree on one childhood memory: simple narratives that are told which are relatable to our day to day memories and concluding morals connect to us differently. Reading a short narrative with an easy takeaway or important life lesson is typically preferred over a long novel. This is what drove us to move forward with a writing project like this. This book is a collection of descriptives that start with illustration that raises the curiosity and at the end of each narrative there is a poem that summarises its reflection with subtle and deep meaning. These narratives are based on real life incidents that the writer has witnessed. It can show profound assertive effects on the reader's mind. This instigated authors to further share this selective series for the contemplative minds all over the globe.
LiFT: What are your suggestions to the budding writers/poets so that they could improve their writing skills?
Radhika Deolekar: Reading is the best way to refresh your mind and improve your writing skills. Keep writing and expressing yourself well you never know what good difference you can make in someones life with the kind and uplifting words. We all need a motivation to keep us going and break from a daily routine and mundane life. And book can be the most healthy and best option of all.
Click here to order Radhika Deolekar's Book – For Her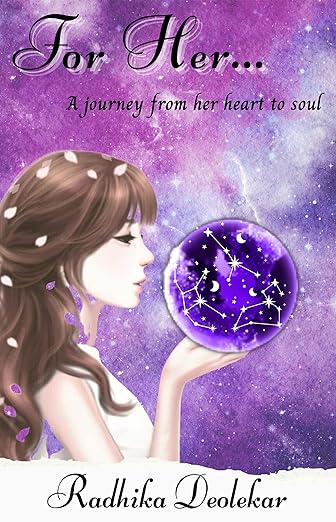 Total Page Visits: 62 - Today Page Visits: 2