About Masarrat A Shah
Masarrat Ahmad Shah has been an accomplished Author, Theater and TV actor, speaker, creative director, and podcaster. Masarrat works to capture a story that inspires him. Masarrat considers his relationship with society and write extensively about it. Layered by outdoor, travel, adventure, trekking, and car racing, subjects, Masarrat is known for images that are punctuated by untamed, powerful landscapes.
LiFT: Tell us about your book, the journey of writing it and its content.
Masarrat A Shah: This book is about my thoughts and ideas about the various aspects of Society and what we all saw during the Lock-down. How the mindset of the people changed and what were the areas of priority in life made us realize. Plus, have added a few of my personal stories.
LiFT: Why you chose this title?
Masarrat A Shah: As I mentioned what I observed and saw around me I summed all that from my perspective, how I see them and what is my take on all those situations. That made me decide on the title, My Perspective and Thoughts under Lockdown.
LiFT: When did you realize that you want to be a writer and what's your inspiration behind it?
Masarrat A Shah: I am always intrigued by the situations happening in society, with people, I do observe such events carefully, so one day I thought I should pen down what I see and feel about. What I see needs a perspective from my point of view which people should know because there are people who think like me and may agree with my point of view. So, I started writing articles, and then poems and this made me a writer.
LiFT: Where do you see yourself ten years down the line in the world of literature?
Masarrat A Shah: An established author and influencer, where I make my point and try to help and motivate others.
LiFT: How much do you think marketing or quality of a book is necessary to promote a particular book and increase its readers?
Masarrat A Shah: It is very important, unless and until proper marketing is not done how will people know that there is something in the market and a book which can be worth reading? Plus keep in mind the readers it is very necessary to attract the right readership. And the book I have written is across the ages can see my real self in it and also engage and find themselves too in my stories.
LiFT: What is the message you want to spread among folks with your writings?
Masarrat A Shah: I want to motivate people with my real-life stories and make the youth aware of the real situations around us and how to be ahead in their life decisions, let them know what is important in life and how to go about it.
LiFT: What do you do apart from writing?
Masarrat A Shah: I am working for IT MNC as an associate director. Have my podcast again its name is The Perspective. And am a Theater Actor.
LiFT: What are the activities you resort to when you face a writer's block?
Masarrat A Shah: Very good question and yes, I did face such block various times while writing the book. It was like I want to stop and just go away. But. I learned to get away from the book at that particular time. refresh me by going on a long drive gathering my thoughts back and with a fresh mind starting again. Actually, it was giving me new ideas and even new thoughts.
LiFT: Are you working on your next book? If yes, please tell us something about it.
Masarrat A Shah: Yes, I am thinking about the new book. But haven't started yet. It will be about my stories while making documentaries.
LiFT: What are your suggestions to the budding writers/poets so that they could improve their writing skills?
Masarrat A Shah: Well, the most important thing I want to share is to be clear about your subject. Write short chapters and then review them read them again and again from the reader's perspective and see how you can bring more life to them. And when I read from the readers perspective it actually brings more life. Work on quality aspect and word structure, keep it simple and crisp.
Click here to order Masarrat A Shah's Book – My Perspective & Thoughts during Lockdown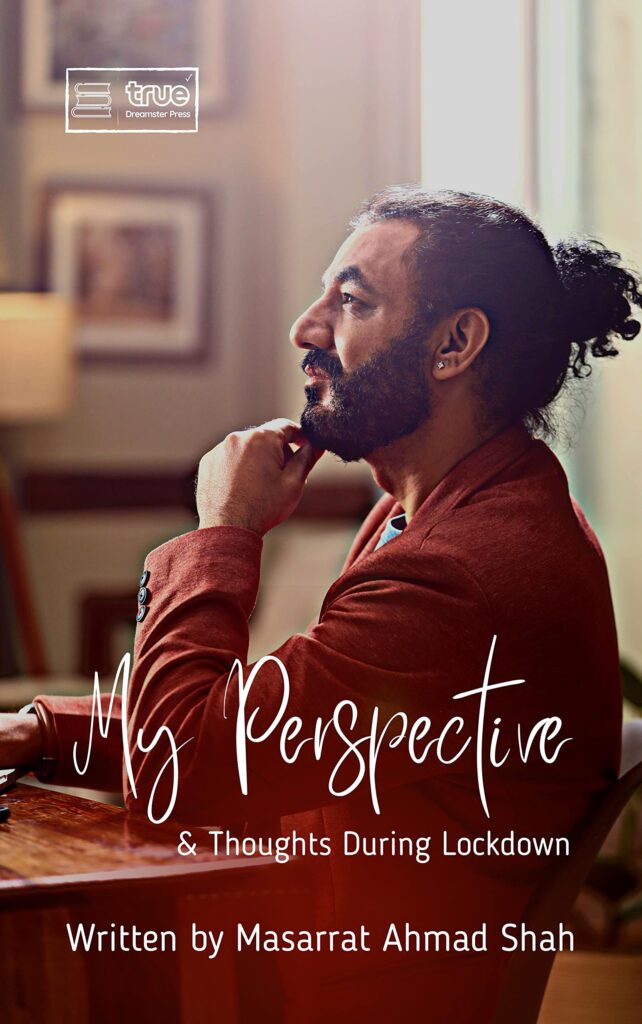 Total Page Visits: 147 - Today Page Visits: 1