About Kavita Bhatt
Kavita Bhatt is an IT consultant, a poet by passion. She has done her MTech from BITS Pilani and currently serving one of the renowned MNC as a technical architect. She hails from Uttarakhand and has authored "मनमुग्धा – एक सोच", "Pocket of Smile", "सच्चे पंख", "मौन-स्वर" and "Jewel My Unalloyed Thoughts". She believes that nature is the source of all poetic creations. Apart from writing, she is also interested in interior designing and gardening. She has also contributed to several national and international anthologies as co-author.
Recognition –
• Poet of the Year 2022, Indian Awaz foundation.
• Dr APJ Abdul Kalam, Emerging writer of the year 2022
• FoxClues India Prime Women Icon awards 2022.
• Glorious award 2022 for the most beautiful content award for 'Maun Swar'.
LiFT: Tell us about your book, the journey of writing it and its content.
Kavita: Our inner selves can be translated in various ways—through art, through music, through poetry. In this book, I have described how inner silence is willing to express itself whenever it feels like its existence is being dispersed. It revolves around the elements of silence that I observed in our day-to-day lives and tidbits around, such as silence in a dream to chase great heights, a deep silence in love, silence in the struggle, and many more examples of how powerful silence can be. The inner voice has its own root deep within our soul, orchestrating and singing a song and creating great chimes. There is no better medium than poetry to understand that rythm of the soul, which we call the inner self. 
LiFT: Why you chose this title?
Kavita: It was during COVID that I felt the silence of Mother Earth roaring and screaming in her full rage. There was a deep silence everywhere,we were having a deep internal conversation and realized the true essence of humanity. That inspired me to create this title, in which I felt the mother earth was completely silent, but she has her own voice to demonstrate how powerful a maun can be.
LiFT: When did you realize that you want to be a writer and what's your inspiration behind it?
Kavita: I began writing when I was 11 years old, inspired by two beautiful birds in the lap of nature, amidst the glittering Himalayas. But it was the year 2014 when I thought of taking my passion to readers through a wider channel.
LiFT: Where do you see yourself ten years down the line in the world of literature?
Kavita: I haven't set any goals yet, as I aspire to keep learning and exploring my potential. But I see myself writing more creative and interesting books and getting better as a poet.
LiFT: How much do you think marketing or quality of a book is necessary to promote a particular book and increase its readers?
Kavita: Quality and marketing are paramount to the book's success. Content quality is very much needed to gauge readers' attention, and once they read your work, it should be imbibed into their hearts forever, and they should have a willingness to read more of yours.
LiFT: What is the message you want to spread among folks with your writings?
Kavita: Love your passion and follow your heart. Live your dream to the fullest and stay positive.
LiFT: What do you do apart from writing?
Kavita: I am an IT consultant and a research scholar pursuing my PhD in medical imaging and data science. Apart from my profession and studies, I love to do gardening and interior design.
LiFT: What are the activities you resort to when you face a writer's block?
Kavita: I try to write short verses or just go with my usual random scribbling. Use your time wisely and read more instead.
LiFT: Are you working on your next book? If yes, please tell us something about it.
Kavita: My upcoming book is "Jewel My Unalloyed Thoughts" from Raindrops Publishing. "Jewel My Unalloyed Thoughts" is a compilation of verses seeking oneness with God and embellishing raw and pure thoughts through the beautiful twine of self-realization and peace. The confrontation with your known and unknown fears and how to combat them with willpower and determination There is a demigod and a devil who constantly fight and confuse us, leaving us vulnerable to self-doubt. This book takes you through a similar conversation in the form of poetry.
LiFT: What are your suggestions to the budding writers/poets so that they could improve their writing skills?
Kavita: Writing is a skill that can be learned. Keep reading and writing. Scribble a lot if you experience writer's block. Never let self-doubt reign; nurture your passion with all your heart. Don't be afraid of being judged; instead, take all criticism in stride and use it to improve your craft.
Click here to order Kavita Bhatt's Book – Maun Swar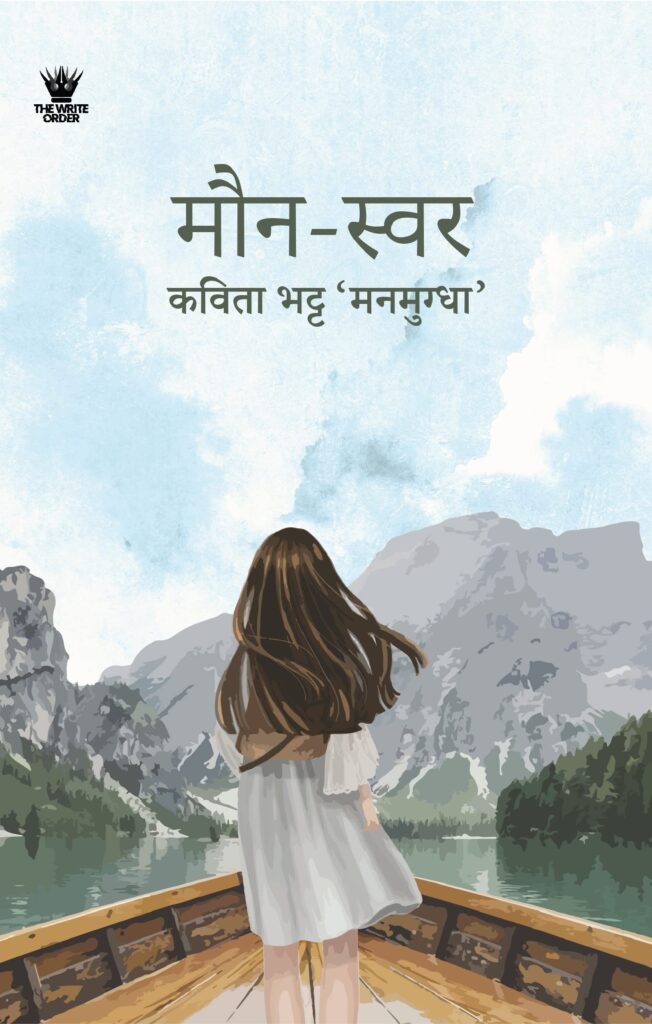 Total Page Visits: 324 - Today Page Visits: 1