About Dr. Kaushik Sridhar
Dr. Kaushik Sridhar wears many hats. He is a former professional tennis player, two-time TEDx speaker, global award winner, business executive, university lecturer, board member, professional coach and mentor, to name a few.
Since 2006, Kaushik has developed and implemented environmental, social and governance (ESG) programmes, strategies, and initiatives for some of the world's biggest brands, focussing on improving their financial bottom line and contribution to society, while reducing their overall environmental impact. In addition to his full-time roles, Kaushik has worked as an adjunct lecturer for Australia's largest universities teaching MBA courses on Corporate Governance, Corporate Sustainability and Leadership.
In 2020, he was named among the "40 Under 40 Influential Asian-Australians", and ranked #8 in Assent Compliance's "Top 100 Global Corporate Social Responsibility Leaders". In 2021, he was named the "ESG Thought Leader of the Year" at the ESG Summit and Awards.
He is widely published in Australian and international peer-reviewed journals and is a regular columnist for some of Australia's leading magazines and newspapers. He has also presented at over 50 industry and academic conferences in Australia, Asia and Europe to a combined audience of over 10,000.
He holds a PhD and MBA from Macquarie Business School in Sydney, Australia.
LiFT: Tell us about your book, the journey of writing it and its content.
Dr. Kaushik: In this book, you will read about my life and learn how and why traditional structures and ways of doing things have never really worked for me. Throughout my life, I've learned how to break away, make often frightening leaps, and forge my own path, flying by the seat of my pants! It's not always easy to run against the wind. You will encounter resistance. You will have doubts and doubters. You will need an inner resolve, one that can be cultivated and enhanced. Having grown up in India, Nigeria, the United States, and now calling Australia home, I have found that when it comes to forging your own path, there are no established rules. You have to make them for yourself. These ideas apply to life as well as business. This book will help you to learn how to back yourself. In developing my own rules, I've learned how to break away from expectations and unhelpful pressures and found that the only way to fly is by truly winging it!
LiFT: Why you chose this title?
Dr. Kaushik: The definition of "winging it": to do or try to do something without much practice or preparation.
I hadn't practiced my life journey and story to date, so I got up 39 years ago and just winged it! I also have a saying: "what's the worst that could happen?" Hence, the book title couldn't be more apt to describe my life journey and approach to anything that comes my way.
LiFT: When did you realize that you want to be a writer and what's your inspiration behind it?
Dr. Kaushik: For as long as I could hold a pencil, I've wanted to be an author. My parents would say "Kaushik, leave your footprint on the world," & and it made me dream about my legacy & creating something that touches not just the current generation but generations to come. This is it.
I needed this book – in every moment I lived through racism, physical and mental bullying, heartbreak and being boxed into blueprints that tried to tell me who I should be.
I needed this book – it lets you into these parts of my life I once never thought I'd live to share – but to share is to heal.
I needed this book – one I believe you will pick up and say "this changed my life."
LiFT: Where do you see yourself ten years down the line in the world of literature?
Dr. Kaushik: In the true fashion of 'winging it' I can't answer this question clearly; not because I don't want to write again but because I could be researching in Antarctica or driving a tour bus on Easter Island (and having no time to put pen to paper)!
Ten years from now, I see myself as a more complete person who has no regrets in life!
LiFT: How much do you think marketing or quality of a book is necessary to promote a particular book and increase its readers?
Dr. Kaushik: When a neutral party writes positively about you or your book, it carries much more influence than the recognition that comes along with paid placements, such as display advertising.
LiFT: What is the message you want to spread among folks with your writings?
Dr. Kaushik: This book will help you to learn how to back yourself. In developing my own rules, I've learned how to break away from expectations and unhelpful pressures and found that the only way to fly is by truly winging it!
LiFT: What do you do apart from writing?
Dr. Kaushik: Corporate Professional; University Lecturer; Business Coach/Mentor; Public Speaker.
LiFT: What are the activities you resort to when you face a writer's block?
Dr. Kaushik: I listen to music, either Psytrance or piano. One might think the genres are quite extreme but both provides an outlet depending on the mood I am in due to the block I face.
LiFT: Are you working on your next book? If yes, please tell us something about it.
Dr. Kaushik: Not at this stage but I can easily forecast another 2-3 in the coming decades!
LiFT: What are your suggestions to the budding writers/poets so that they could improve their writing skills?
Dr. Kaushik: 1. Be direct in your writing. Good writing is clear and concise.
2. Choose your words wisely.
3. Short sentences are more powerful than long sentences.
4. Write short paragraphs.
Click here to order Dr. Kaushik's Book – The Art of Winging It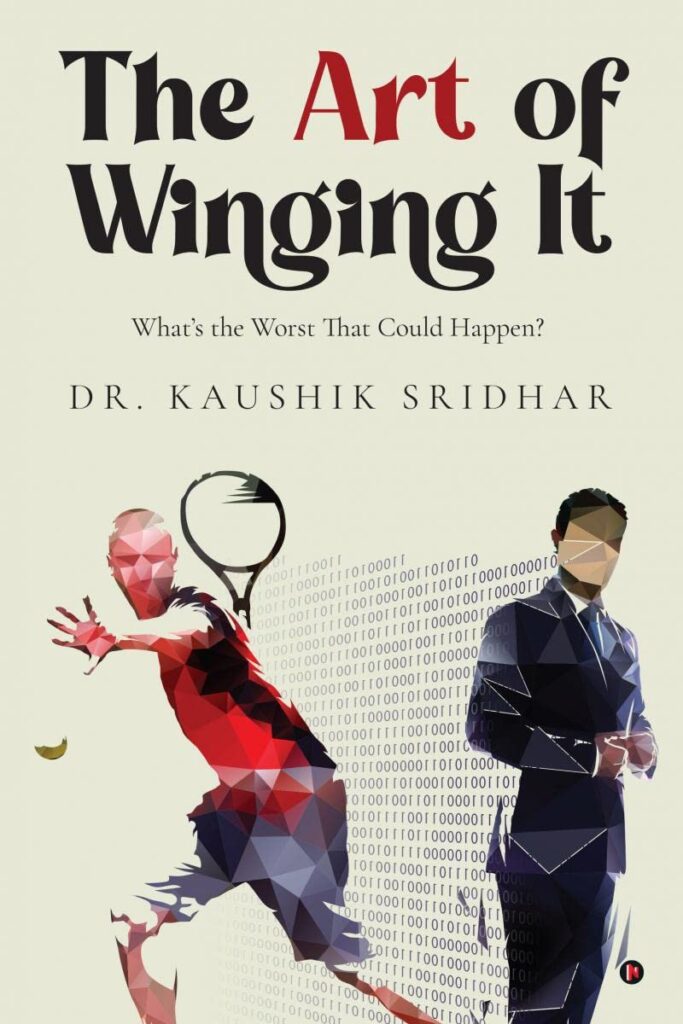 Total Page Visits: 96 - Today Page Visits: 1