About Boby Techi
Boby Techi belongs to the northeastern state of India, Arunachal Pradesh. Born in a small village called Sagalee, she did her early schooling in Shillong which was fundamental in shaping her love for writing and singing. She later went on to write her own songs. She has a Master's in Psychology and she expresses herself best through her writings.
LiFT: Tell us about your book, the journey of writing it and its content.
Boby Techi: Vulnerabilities consists of short poems and proses compiled from my writings over the years. I never wrote deliberately to be read, these writings were like my friend that guided me, gave me strength and healed me. I would write whenever i had a fleeting thought, whenever i felt overwhelmed, sad, angry, also when i felt pleasant, inspired, and touched. My writings are like a snapshot of the moments I experienced.
LiFT: Why you chose this title?
Boby Techi: Because this book is all about being vulnerable, facing your insecurities, coming to terms with grief, opening up old wounds and accepting yourself as you are.
LiFT: When did you realize that you want to be a poet and what's your inspiration behind it?
Boby Techi: Talking about inspiration i always wanted to write something of my own someday, but poetry never crossed my mind. My phone was filled with notes of my writing and one day i decided to atleast compile it in a notebook. And gradually i started thinking of organising it properly and publishing it. I juggled with this idea for several months sharing this thought only with my husband who supported it. Being an introvert it wasn't easy for me to decide to share my vulnerable self my insecurities with the world but for once i decided to not overthink and just go with it.
LiFT: Where do you see yourself ten years down the line in the world of literature?
Boby Techi: I definitely want to write more. But at the same time i dont want to pressurize myself. If it comes it will come naturally.
LiFT: How much do you think marketing or quality of a book is necessary to promote a particular book and increase its readers?
Boby Techi: Marketing and quality both are equally important especially for new writers as it lets you reach more number of readers but the content also has to stand for itself. Only one thing cannot guarantee success.
LiFT: What is the message you want to spread among folks with your writings?
Boby Techi: I just want to be honest and if people connect with that, they will decipher their own message or simply enjoy the book. The main motive is to make people connect with my words.
LiFT: What do you do apart from writing?
Boby Techi: I am soon to venture as a business owner. It is still under process so i cannot share the details yet.
LiFT: What are the activities you resort to when you face a writer's block?
Boby Techi: I leave writing. And i wait till it comes to me.
LiFT: Are you working on your next book? If yes, please tell us something about it.
Boby Techi: Kind of. I am compiling some new and old pieces and also writing more in the process. Revisiting my childhood as an adult is what I'm exploring right now. But its too early to say anything.
LiFT: What are your suggestions to the budding writers/poets so that they could improve their writing skills?
Boby Techi: Firstly don't think too much and don't be too deliberate with your writing. Also, read the works of the writers you like. I do most of my readings on Instagram where i get to explore new ways of expression and themes.
Click here to order Boby Techi's Book – Vulnerabilities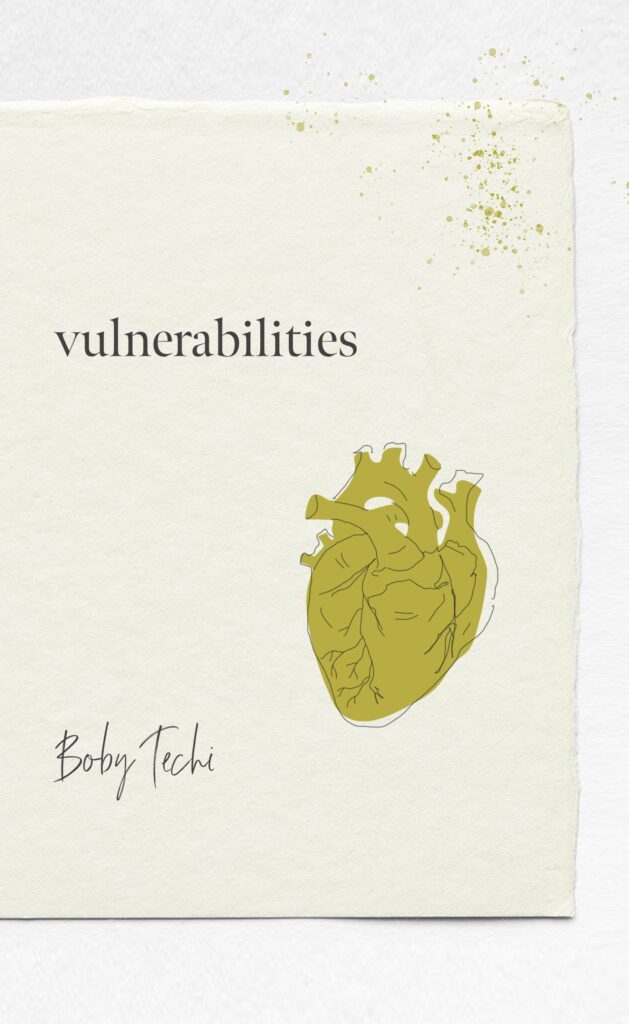 Total Page Visits: 126 - Today Page Visits: 1