About Aarohi Parakh
First time author and a dreamer since childhood, Aarohi hails from the City of Joy Kolkata, currently lives in the City of Dreams Mumbai (courtesy of her husband Karthik) but, her heart wanders in the mountains, museums, and cafes of the world. She believes that writing is a great platform for freedom of expression and can bring about change and impact in people's lives. Musings by Alphabet is her first step towards that and she hopes that readers enjoy this collection of poems, as much as she has loved writing them.
In her free time, Aarohi loves to cook (curate diabetic-friendly recipes for herself) and experiment with food, jam with her Musician husband, travel and read books. An avid multi-lingual cinema lover, she loves watching a new movie every week on the big screen.
LiFT: Tell us about your book, the journey of writing it and its content.
Aarohi: Musings By Alphabet is a collection of 21 poems curated from the lens of love, faith, loss and courage by the Author and the life lessons that came on the way! Number 21 in numerology signifies an invitation to celebrate life's milestones and to be ready for a new chapter. This book in many ways has been a transitional journey for me and thus, the selection of 21 poems from my entire collection has been zeroed upon. I have written these poems over a period of time and majority of them during pandemic. These were written on days when I particularly felt that what if this was my last day and I had only this day to express my feelings, and feel liberated.
LiFT: Why you chose this title?
Aarohi: There is no better way to learn, unlearn, and relearn than through life lessons and shared experiences. I strongly believe in the power of words and how they can move Mountains with their rythmic play. Thus, the title Musings By Alphabet – with the help of my life journey and the deepest emotions I have felt while writing these poems, I am hoping to connect and relate with one and all.
LiFT: When did you realize that you want to be a writer and what's your inspiration behind it?
Aarohi: For as long as I remember I have enjoyed writing since I was a kid, but I was afraid to share that part of me with the world. Pandemic however, changed things and life perspectives for me in more than one way. It inspired me to stop pushing the timelines for the things I have dreamt of. In 2018-19 at an office award event where I was being felicitated, I was asked about my dream, and my instinctive answer was to publish collection of my poems into a book. During the pandemic, when I was personally going through the feeling of not being able to see light at the end of the tunnel, I decided to make my dreams shine.
LiFT: Where do you see yourself ten years down the line in the world of literature?
Aarohi: Writing books, articles, op-ed especially related to practical life lessons and learnings which would hopefully inspire others and have an impact on their lives.
LiFT: How much do you think marketing or quality of a book is necessary to promote a particular book and increase its readers?
Aarohi: I believe in today's world quality and marketing of the book have to work hand in hand in order to increase the reader base of your book. Both are incomplete without each other. The content of your book has to be relatable and has to strike a chord with the readers, but through marketing you are in a better position to reach a larger base of readers.
LiFT: What is the message you want to spread among folks with your writings?
Aarohi: Life is too short for any regrets. It is better to take the plunge, fail, rise again than to have never tried at all. As I always say have the courage to start and the heart to finish.
LiFT: What do you do apart from writing?
Aarohi: I have recently taken a hiatus from my 9 year corporate work experience as a banker, and I am now planning to pursue a full-time Masters Degree in Counseling Psychology and practice as a Counselor. I am also a Certified Career Counselor.
I also love reading, listening to music (jamming with my musician husband), experimenting with different cuisines (because I am a foodie), and traveling. Sudoku is also something that I enjoy in my free time.
LiFT: What are the activities you resort to when you face a writer's block?
Aarohi: Cooking is therapeutic for me so I do that to divert and refresh my mind. Often reading helps me alot when I feel stuck in my writing process. It is a great source of inspiration for me.
LiFT: Are you working on your next book? If yes, please tell us something about it.
Aarohi: Yes. I want to expand the whole concept of life musings through different mediums and I am currently working on the same lines for my next book.
LiFT: What are your suggestions to the budding writers/poets so that they could improve their writing skills?
Aarohi: Only with practice can you get better. So write each day. Dedicate some time each day for writing (in any form that you prefer). Consistency will foster creativity.
Click here to order Aarohi's Book – Musings By Alphabet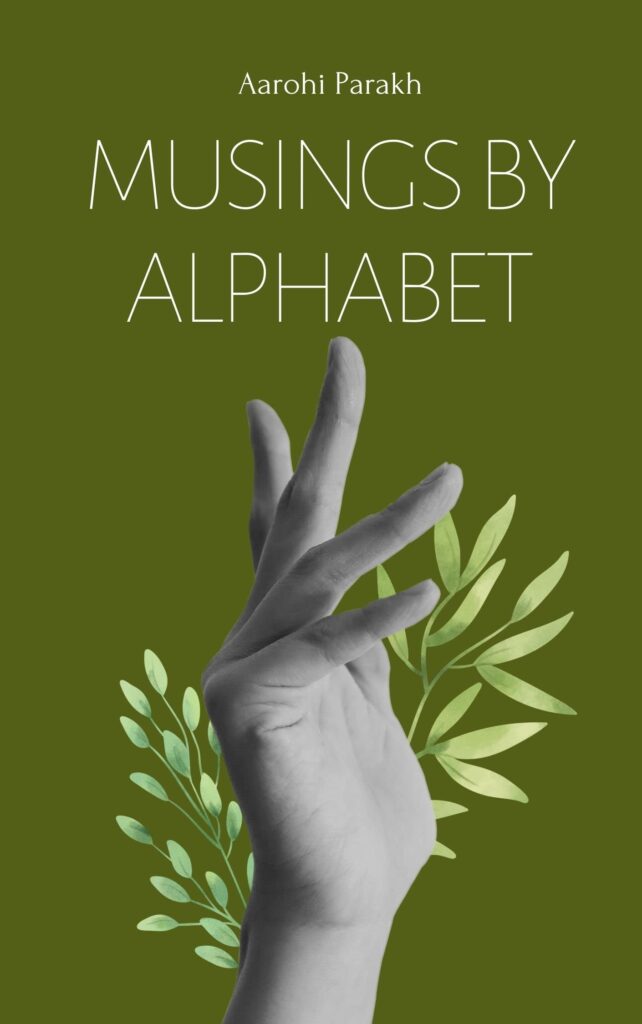 Total Page Visits: 128 - Today Page Visits: 1