Here's an exclusive interview with a contemporary young author, Baishali Deb who authored a fiction novel, "Down the Lane of Memories" by Damick Publications which is being admired a lot by its readers. Let's read what is her inspiration for writing it and a sneak peek into her life and know her views.
Damini Aggarwal: Hi Baishali, tell me something more about you. How and when did you start writing?
Baishali Deb: Hi, I was born in a Bengali family and brought up in Assam. I'm obsessed with sweets and I am a national Yoga competitor along with the national Table Tennis player. In an era, where extracurricular matters, my parents tried to enroll me in as many activities as they could. I completed my schooling from RMHS and KV Karimganj and currently, I'm pursuing my Graduation from RIPANS, Aizawl.
I started writing during my school days when I used to contribute for magazines, eventually which turned out to be my addiction and the reason was the series of "Famous Five" and "Secret Seven" by Enid Blyton.
Damini Aggarwal: Tell me about your book and your inspiration for writing it.
Baishali Deb: "Down the Lane of Memories" is my debut book and being a teenager, the inspiration behind writing it came from the peer group I'm surrounded with. Teenage is the period of one's life when one falls in infatuation or when one makes a wrong decision and eventually falls into the trap of depression. These are situations faced by almost every teenager, made me write the book.
Damini Aggarwal: How is your experience with your publisher?
Baishali Deb: My experience with my publisher was quite a good one. My book was published by Damick Publications and the way they dealt with the procedure of publishing the book and periodic updating of the book is truly appreciable. From the beginning, when the book is approved till marketing, they provide every possible support to an author.
Damini Aggarwal: What do think about the literary world and what are your expectations from it?
Baishali Deb:  Just look around, you will see a lot of aspiring poets and authors wanting to get published, but there are just a few who can stand amongst them. Quality of the content decides the book. Sometimes even when the quality of a book is good, the sales aren't good and literally it depends on how the marketing is done. My expectation from the literary world is the good quality of content which is in time getting rare with the passing days.
Damini Aggarwal: What are your plans for writing career?
Baishali Deb: So far, I have contributed many short stories for anthologies and have penned down a book "Down the lane of Memories".  My plans are to write another book and for more information, stay tuned to my Facebook and Instagram pages.
Damini Aggarwal: How much do you think marketing or quality of a book is necessary to promote a book and increase its readers?
Baishali Deb: Quality of a book is the priority for marketing, it decides the number of fans and readers that an author can have or else it is just like a bird without wings.
Damini Aggarwal: What are the activities you resort to when you face a writer's block?
Baishali Deb: Listen to music.
Damini Aggarwal: What is the message you want to spread among folks with your writings?
Baishali Deb: It gives immense pleasure when you can leave a message. Well, my message is writing relives pressure, be it a journal, a poem or a diary maybe it's momentary relief but believe me it is worth.
Damini Aggarwal: What do you do apart from writing?
Baishali Deb: Apart from writing, I am a student and I love to travel to new places, sometimes I like listening to music.
Damini Aggarwal: What if your story will be adopted as a movie? Whom would you want to work as a director or actors in it?
Baishali Deb: If my story ever gets adopted as a movie I would be extremely happy. I would like Karan Johar to direct and Ranvir Singh and Alia Bhat as the lead cast.
Damini Aggarwal: What importance do a pen and word keep in your life?
Baishali Deb: Well, for me pen and word play equal importance. Word is the lyrics for me and pen plays the music.
Damini Aggarwal: What are your suggestions to the budding writers that they could improve their writing skills?
Baishali Deb: You know, once I used to ask suggestions whenever I met an author and today I am honoured to share suggestions with you. Well, I'll say the same which I learned – "read a lot before you start writing".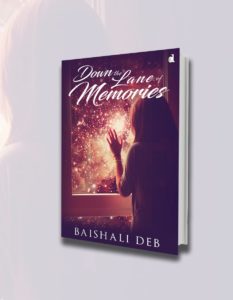 My book is available on Amazon.in, Flipkart and Damick Book Store.
Total Page Visits: 3135 - Today Page Visits: 1