About Sucheta Das
Born in Chandannagar, West Bengal and raised in Khardah, Sucheta is a vibrant poet. Raised in a middle class family she never stopped seeing dreams. Her only dream is to make a name in the field of being a successful author.
She loves to pen down her feelings in black and white. She loves to blog and explore the deep down emotions hidden inside the heart.
LiFT has been the breaking point in her author career where she can emerge as a vibrant image in front of the world and can make a difference.
LiFT: Tell us about your book, the journey of writing it and its content.
Sucheta: "Perceptions" is a captivating poem book that delves into the rollercoaster of life, exploring its highs and lows with a keen eye. Through eloquent verses, it paints a vivid tapestry of human emotions, touching upon love, loss, joy, and sorrow. The author's mastery in portraying various feelings leaves readers reflecting on their own experiences. Each poem takes readers on a poignant journey, navigating through the complexities of the human heart. "Perceptions" is a literary gem that embraces the essence of the human experience with raw authenticity and profound insight.
LiFT: Why you chose this title?
Sucheta: There are a lot of unsaid emotions which go on in the Human Heart. The Reason for choosing perceptions as my book title are the unsaid emotions of women who face life's most toughest challenges. There are certain traumatic situations in life when we cannot say what we feel despite having the urge to share. We feel claustrophobic and always have this suppression of keeping those feelings to ourselves. When someone says something negative to us we never retaliate but keep those to ourselves and move on. Perceptions talks about those feelings which should never be suppressed but definitely should be opposed.
LiFT: When did you realize that you want to be a writer and what's your inspiration behind it?
Sucheta: When I first worked as a Co-author for Spotwrite and True Dreamster Publications, it was then I felt the urge to turn this dream of mine into a reality.
LiFT: Where do you see yourself ten years down the line in the world of literature?
Sucheta: If everything goes as planned I definitely would see myself in 10 years being nominated as the best author award on the basis of my significant contribution in the world of literature but apart from dreams I would definitely down the line in 10 years would see myself as someone, from whose publications my readers will be inspired. That will be the D-Day for me when they will be able to connect with what I write.
LiFT: How much do you think marketing or quality of a book is necessary to promote a particular book and increase its readers?
Sucheta: Marketing or the quality of a particular book is very much important as it helps the authors get connected to a wider audience. It helps them to establish themselves profusely in the world of literature.
LiFT: What is the message you want to spread among folks with your writings?
Sucheta: The only message I want to spread through my writings is that Life is damn short to follow rules. Do what feels right. Keep your intuition true. Never beg for attention. Just do the damn thing that you want. What feels to be true and right to yourself do that right away. Life is short so in this timespan if you have someone to express your feelings to, say sorry, or establish yourself do that instant. Don't ever give yourself a second chance to think.
LiFT: What do you do apart from writing?
Sucheta: Apart from writing I do Service. I am Self Employed.
LiFT: What are the activities you resort to when you face a writer's block?
Sucheta: Activities that I resort to when I face a writer's block are:
1. Brainstorming
2. Talk to established authors from my circle.
3. Scribble Ideas.
4. Take some day off to establish myself as the main protagonist so that I can feel what I write.
5. Start imagining things.
LiFT: What if your story will be adopted as a movie? Whom would you want to work as a director or actors in it?
Sucheta: If my story would be ever published I would definitely want it to be directed by Shonda Rhimes.
And yes the actors and actresses who I would want definitely in that are:
Ellen Pompeo, Patrick Dempsey, Katherine Heigl, Jeffery Dean Morgan, Sara Ramirez, T.K. Knight, Isaiah Washington, Sandra Oh, Chandra Wilson, Justin Chambers, James Pickens Jr., Kevin McKidd, Kate Walsh, Eric Dane, Brooke Smith, Kate Burton.
These are all my most favourite and cherished actors and actresses. If ever my story comes out to as a movie, I want all of them to work. Just a Fan request.
LiFT: Are you working on your next book? If yes, please tell us something about it.
Sucheta: Yes I am working on my next book. It is on women empowerment. Rest is secret.
LiFT: What are your suggestions to the budding writers/poets so that they could improve their writing skills?
Sucheta: Suggestions would be, just be real and authentic. Don't overdo. Keep yourself as the main actor or actress and then see the magic.
Words would automatically weave in.
Click here to order Sucheta's Book – Perceptions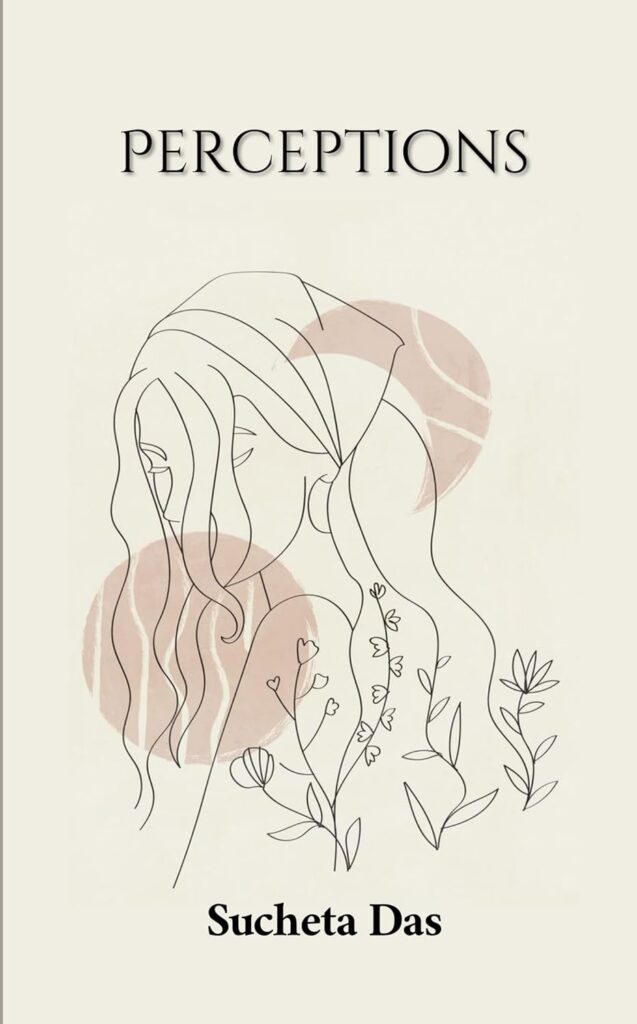 Total Page Visits: 46 - Today Page Visits: 2