About Sasikala:
Sasikala was born and brought up in an agricultural family background. Her passion for reading books molded her so much of what she is today. She is ardent lover of nature. Her love and care for pets is always endless and her love for organic farming stays intact. As she hailed from from agricultural family she always likes to endure her help for farmers and prays best for them. She is doing her P.hD in English Literature at Sri GVG Visalakshi College for Women, Udumalpet and she is currently working as an Assistant Professor in English at Sakthi College of Arts and Science for Women, Oddanchatram. Her motto of life is "LIVE AND LET LIVE".
LiFT: Tell us about the theme of the anthology and how did you get to know about it?
Sasikala: The Anthology "The Last Trip" is about the wings of emotions on the fresh and clear sky of memories that each one of us embossed in our hearts and minds. Certain trips gives a long-lasting footprint impressions on us for lifetime. This anthology will make a reader to travel through a trip of emotions that they have heard but never felt.
I came to know about this anthology through my longtime publisher friend.
LiFT: What inspired you to write for this particular anthology?
Sasikala: This particular poem for this anthology is being inspired by a treasured memories that has been unsettled deep inside my thoughts for a longtime and it is close to my heart.
LiFT: Where do you see yourself ten years down the line in the world of literature?
Sasikala: In next ten years, I want to see myself to hold a better position in writing, with more knowledge, skills and experience. I have made up my mind to invest my next few years in upskilling myself in writing a best version of book and contributing the poems and short short stories, with better version of me. Also, I would like to help girl students in all manners.
LiFT: What do you do apart from writing?
Sasikala: Other than writing, I like to spent time with my pets, like to travel to new places with an adventurous ride, like to go for a long drive and gardening variety of flower plants.
LiFT: Are you working on your own book? If yes, please tell us something about it.
Sasikala: Yes, my debut book is still unnamed and it's in a budding stage. It's about a story of a young girl who fights against the odds that is being plotted against her.
LiFT: What are your suggestions to the budding writers/poets so that they could improve their writing skills?
Sasikala: Practice really does make perfect! With practice I would suggest the writers to enjoy their writing with utmost happiness. It's not just a word that's being written or printed in a written statement. It's the soulful thoughts that are being poured out from the heart of the creator. Writers are artists who give life to a statue and never fail to give your best to give life for your writing.
LiFT: How did you get published for the first time?
Sasikala: I sent out my first poem to Damick Publications and the editor picked me up: I shall always be grateful to him. Throughout my journey this publishing house never fails me in guiding me, correcting me with the errors and motivating me in all possible ways.
LiFT: Do you find writing poems easy?
Sasikala: Not really at the beginning of my career! I found it quite challenging. My mind urged me to pour down my thoughts with words that I wanted to split up. After that I used to arrange the lines with the proper alignment. With the advice of the editor I started to mould the poem to bring in with its structure.
LiFT: Do you come from a literary background?
Sasikala: Not really! I am a proud first generation graduate. I love to read poems and other works of great writers. Once in a while I feel like sharing my thoughts which I couldn't share with any one. Later on I made it a habit of sharing my unspeakable feelings and thoughts in a form of writing pieces and that's how I started to write poem.
LiFT: How many books have contributed to and which one is your favorite?
Sasikala: I have written for 11 anthologies. I have contributed 12 poems and 2 short stories. All my anthologies were published by Damick Publications. My favorite anthology is "The Fear in Me".
LiFT: Who has been the biggest supporter of your writing?
Sasikala: People who cared for my growth and the haters who doesn't dare to seem my growth were the best pillar and supporter for my writing. Of course yearning of daily experience also supports me with my writings.
Click here to order Sasikala's Latest Anthology – The Last Trip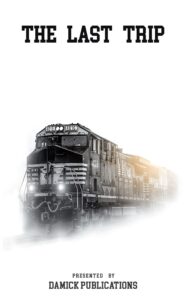 Total Page Visits: 482 - Today Page Visits: 2