About Harsh Sharma
Born and raised in a small-town-Haryana, Harsh Sharma finds the content of the day in the fragrance of books. He writes stories, poems, and shayaris based mostly on his experiences and chooses the 'how it should be' way to write them – imaginary and ideal. He is the author of 'The story of three voids' and 'The poetry of everything' and is a certified content writer. He watches meaningful cinema – a fan of it – when doesn't write. He has been honored with Spectrum budding writer award, 2020 by Spectrum publications, and Emily Dickinson 21st century award for his successful challenge-completion to write 21 poems in 21 days. He has also written for several anthologies one of which was in "world book of records for a book published just in 48 hours". Nevertheless, he is a new fitness enthusiast and believes in the energies, which he knows, never lie to him.
LiFT: Tell us about your book, the journey of writing it and its content.
Harsh: 'The story of three voids', my debut novel, is a pulpy fiction teaching the vitality of words in most parts and how our choices and the reactions in the heat of the moment can change the course of our lives. The journey of writing it was a merry-go round of emotions ranging from high inspiration to self-doubt and demotivation. I never intended, moreover didn't know how to write it in a linear way. I had a story and character sketches in my mind. On my low days, I chose to pen down the tragic moments in my characters' lives and happy days resulted into high-spirited scenes. Merging everything for the first draft was an exhausting task and it was worth it when the final product came into my hands. This is the story of Bhuvik, who along with battling his mid-life crisis, is also going through the after-effects of his failed marriage; Aadya, a small kid at an orphanage, who seems to be far ahead of her age, surprisingly and painfully; and Roshani whose pretense of living a perfect life is going well by plastering a smile on her face. A lot of 'whys' and 'whats' and 'hows' are answered in the story as it brings all the three strangers on the same track.
LiFT: Why you chose this title?
Harsh: The three protagonists of my story have an emptiness in their respective lives; a void that feeds on their soul and needs to be filled. We all, I believe, do have specks of unfulfillment, grudge, loneliness in our lives. One piece of the puzzle that we humans are is always missing until someone completes us. So, the idea of naming my story 'The story of three voids' sprouted with this thought.
LiFT: When did you realize that you want to be a writer and what's your inspiration behind it?
Harsh: Well, I always find it hard to answer 'when' because it was so natural a flow for me. Since childhood, I had always been a quiet, shy, introverted boy who didn't even use to speak when needed. I used to write poems in my rough notebook and hide them for god-knows-what reasons as if being artistic was a sin. As per the story my parents tell me, one of my distant relatives once read my poems when I was in class-4 and told my parents: "Never keep him from writing." It was the end of class twelve when I made an Instagram account and started 'sharing' my thoughts there for the very first time. When people whom I feel blessed with tell me that I was a born writer, I cannot think of myself as anything else. I think my inspiration for writing has always been the urge to write the unwritten. I always read stories, books and a lot of what-ifs jumble in my mind like "what if it was other way around," "what if the characters were the teachers I could offer to my readers" and so on. I always intend to write what 'should' happen in my stories instead of what 'actually' happens and there I might compromise relatability a bit. Sorry! 😉
LiFT: Where do you see yourself ten years down the line in the world of literature?
Harsh: Ten years is such a long, long time. I think I will be owning some bestsellers in my name and my readership would be occupied by genuine and loyal booklovers who, in the name of God, would shower their immense affection on my stories. I will be signing books for my friendly readers who would take a good chunk of time to discuss and analyze my plots with me. My writing would be matured and more emotionally intelligent with time and I will be recognized as a good writer who lives stories and then writes them. I don't think I want to be the 'face of Indian literature'. I want to be the 'literature of Indian face'.
LiFT: How much do you think marketing or quality of a book is necessary to promote a particular book and increase its readers?
Harsh: Marketing plays a vital role in the success of every book as writing it and publishing it perfectly is not enough. The book must reach its right audience. Marketing helps a particular book to reach a wider audience through social media, book fairs, events and grand launches. Though it is pricey, it is worth it. Thoughtful advertising has always increased sales of books and every single book demands a unique criteria being in a good marriage with its content. Of course, the quality of book comes on the table after. The content of your book is the most attractive thing a reader can find. There are avid readers, then there are first-time ones (beginners). If readers like your book and cannot stop themselves from sharing it with their circles and reviewing it wholeheartedly, then organic promotion comes into the role.
LiFT: What is the message you want to spread among folks with your writings?
Harsh: There's no particular message and tone I choose for my writings, but yeah, I want my readers to realize, through my characters and plots, that how minor changes can transform the courses of their lives in a better way. And also how smallest of things we overlook in our day-to-day lives can result into poisonous heap for us. As I said in my pre-pre-previous answer too, that 'what should happen' is my USP.
LiFT: What do you do apart from writing?
Harsh: I review books, which adds I read a lot, on my Instagram page named @harshreviewsbyharsh. I am a freelancer CDCW certified from Henry Harvin Education. I like to watch meaningful cinema, a lot, a lot of it. It doesn't have to be in a specific language. If it fancies my heart, it does. In the past year, I have developed a hobby of working out which eventually has become one of my precious habits. I run sometimes when I feel stressed. I don't have many friends. I have my people with whom I don't care about the places we hang out at. I LOVE music with the biggest of L, O, V, and E's possible ranging from retro to modern, English to Bollywood. (I don't shower without music! 😉) Sometimes, I sketch too, which is very rare these days – as rare as the downpour on a scorching sunny day. Sometimes, I cook, sometimes! I love to make ice-creams and some Indian cuisines like Namkeen Sevaiyaan, Poha and also Macroni, Pasta. My folks say I make the best chai and shikanji in the house. And, and, and, I post a lot on Instagram. I love to get praised, but then, who doesn't?
LiFT: What are the activities you resort to when you face a writer's block?
Harsh: To be very honest, whenever there is a writer's block, I become short of mind to resort to anything else. I almost lose interest in reading and other activities too which leads to horrible days. But recently, I have started working on it. I binge-watch web series and go for a walk in the park without my phone. I observe people and their activities, and every little thing around me – bad or good – without judging it. I listen to either soulful music or high-spirited. I avoid sad tunes at that time. I sit with my mom and watch random vlogs of villagers with her. And in a day or two, inspiration hits me now or then. Yes, this works for me.
LiFT: What if your story will be adopted as a movie? Whom would you want to work as a director or actors in it?
Harsh: Oh, my good gracious God, I love this question. I would be more than thrilled if it happens ever – a dream comes true moment for sure. You know what, when I was writing 'The story of three voids', I had a face for every character in my mind and it was none less than an Imtiaz Ali movie in my mind. So yeah, director, I would surely say, Imtiaz Ali – the most beautiful and drop-dead talented portrayer of emotions in Bollywood, at least for me. Actors I would like to say Kriti Kharbanda as Aashna, Suhasi Dhami (in curly hair) as Roshani, Samir Soni as Sanjeev, little Ruhanika Dhawan as Aadya and Mohammed Iqbal Khan as Bhuvik Mishra – this is the cast I always had in my mind from the very start.
LiFT: Are you working on your next book? If yes, please tell us something about it.
Harsh: Yes, I am on my way to my second book which is a romance fiction and which, I hope, you find surprising and beautiful. I cannot tell much about the book as I am constructing the parts around the plot currently. All I can say that this book is going to well up your eyes, surprise you at times and also teach you the truest meaning of companionship. A story without a kiss but about a kiss!
LiFT: What are your suggestions to the budding writers/poets so that they could improve their writing skills?
Harsh: I would love to suggest these ways, which worked for me, to my mates who are beginners at writing: 1. Read more and more. Read different genres and writers. Reading is inhaling, while writing is exhaling. It helps you strengthen your vocabulary and introduce you to new writing styles. Also, it makes your mind productive and innovative. 2. Write every day, no matter what. Write about your day in your diary or the learnings from it in your journal, if nothing else. Make it a practice in order to make it a habit. 3. Write as if you will be the one reading your work. If you don't like it, edit it, rewrite it. Give your best even in the texts you send every day to many people. 4. Observe what kind of your writings your readership is adoring the most and write that way more often. Make it your USP, though there's nothing wrong to try variations.
Click here to order Harsh Sharma's Book – The Story of Three Voids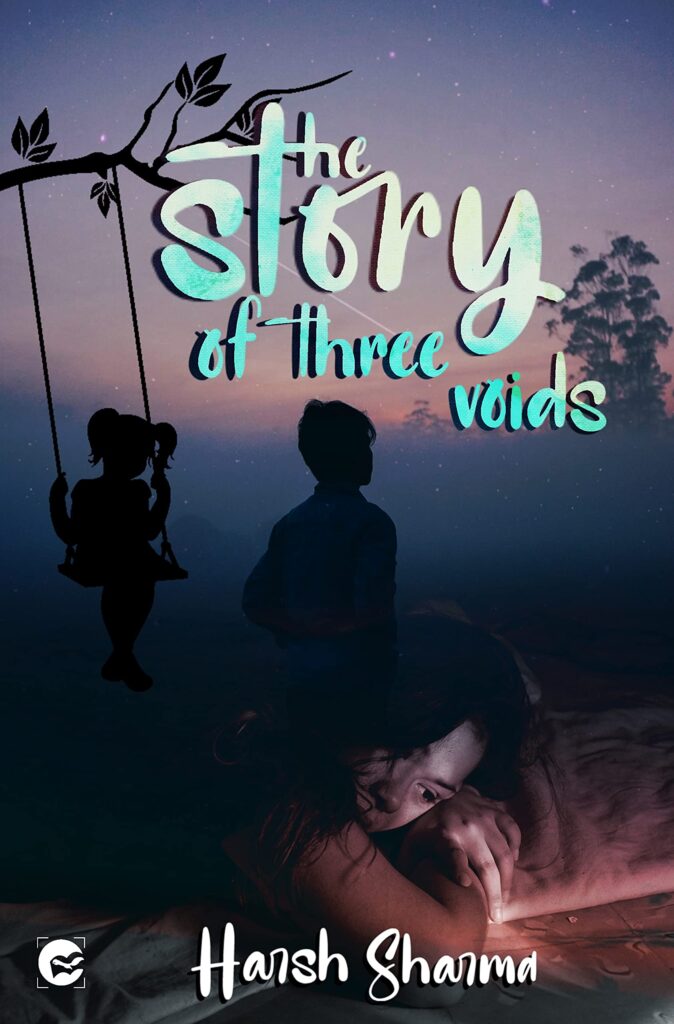 Total Page Visits: 175 - Today Page Visits: 2