About Gomathi Rao
Gomathi Rao is an Oil and Gas Professional with more than 30 years of experience. She is Chemical Engineer by profession and Writer by passion. She has taken on leadership roles in women forums, empowering and inspiring others with my expertise and knowledge.
She has authored, published and presented technical papers and articles in International and National forums.
Apart from her professional endeavors, she is passionate blogger, Author and an avid reader.
She is a proud mother and considers it as the most rewarding role of her life.
LiFT: Tell us about your book, the journey of writing it and its content.
Gomathi: The book was born as I felt a need for a re-look into the style of parenting the new age parents adopt in grooming their children. The continuous distressing news of suicides coming from the Educational hubs of the country like Kota made me very sad. The country is losing its bright young minds because of depression, competition and peer pressure.
Even globally new research findings suggest that students enrolled in "high-achieving schools," renowned for their strong and extensive extracurricular and academic offerings, are experiencing higher-than-average behavioural and mental health challenges
Parenting has never been more complex than ever, and there has been growing awareness of the importance of mental health for parents and children.. Children's sense of self-worth has become dependent on their achievements, leading to stress, anxiety and depression.
So I started researching on the topic of parenting and found that the styles of parenting discussed globally are more than six decades old and not very suitable for today's "Digital Era" as there are more complexities to deal with such as mobile addiction, free availability of uncensored content, internet bullying etc., It is reported that a whopping 37% of young people between the ages of 12 and 17 have experienced internet bullying adding fuel to the fire. The strategies and parenting styles used are no longer valid.
As we strive to nurture the next generation, we are responsible for equipping our children with the essential life skills they need to survive and thrive in the fast-changing world.
The book delves into ten critical principles of proactive parenting, emphasising the importance of adopting an "Evolutionary Mindset." This book provides practical, effective, and straightforward guidance on managing emotions, avoiding helicopter parenting, resolving conflicts, instilling purpose, leveraging positive reinforcement, nurturing critical thinking, embracing imperfections, discovering Ikigai, honing problem-solving abilities, and developing coping strategies. Before aspiring to be great parents, we must heal and reinvent ourselves to avoid passing on our traumas to the next generation.
Each chapter comes alive with inspiring real-life stories of world leaders, CEOs, young prodigies, and scientists, interwoven with the author's personal experiences.
Our journey begins with:
• Being Proactive and mindful
• Embracing Collaborative Parenting
• Leading by Example
• Instilling an Evolutionary Mindset in Parents
• Cultivating a Growth Mindset in Children
• Fostering Positivity.
• Power of purpose.
• Leveraging Positive Reinforcement Strategies
• Embracing Perfect Imperfections—It's OK to Be Imperfect
• Developing Problem-Solving Skills.
It is a wonderful book with new ideas and concepts for parents to imbibe and groom successful happy and mindful leaders. This book featured as one of the best sellers in New Release in US in relevant Category.
Let us embark on this journey together and pass on the legacy of positive parenting to future generations.
LiFT: Why you chose this title?
Gomathi: Raising Smart Children – A Mindful Guide on Proactive Parenting to raise Kind, Happy and Successful Leaders.
In today's world, it is not enough that the children be Intelligent. It is very much necessary that they be smart enough with good Emotional Quotient (EQ) in addition to the IQ which is not taught in any school. Hence the parents need to be proactive in grooming the children to be successful and happy future champions. This title succinctly depicts what the book has to offer to the reader.
LiFT: When did you realize that you want to be a writer and what's your inspiration behind it?
Gomathi: It has been a long dream to become a author. As I'm a working professional, this passion was in the back burner. But recently I felt that I need to share my experiences for the welfare of the society and with increasing distressing news about teen suicides in Kota and other educational hubs I felt this is the right time I should write and that's how the book was born. I researched a lot during weekends and made time for this to happen.
LiFT: Where do you see yourself ten years down the line in the world of literature?
Gomathi: I see myself as a prolific author who adds value to the readers life in times to come as it is my passion to write.
LiFT: How much do you think marketing or quality of a book is necessary to promote a particular book and increase its readers?
Gomathi: While quality of the book matters, marketing is the magic wand which can help your book reach readers. Aggressive strategy is needed to market your book as there is a flood of books on each topic and there is need to separate the wheat from the chaff.
LiFT: What is the message you want to spread among folks with your writings?
Gomathi: My aim of writing books is to provide guidance, support, and advice based on my experiences, global trends, life styles of successful people and bust the myths which are written about in non- fiction.
LiFT: What do you do apart from writing?
Gomathi: I have a full time 9-5 job and Im busy with my assignments.
LiFT: What are the activities you resort to when you face a writer's block?
Gomathi: I go for long walks in the morning which boosts my creative capability. I also use the most productive early hours in the morning to trouble shoot any writers block I counter.
LiFT: Are you working on your next book? If yes, please tell us something about it.
Gomathi: Yes, I have started contemplating on my second book but not yet decided on the Title.
LiFT: What are your suggestions to the budding writers/poets so that they could improve their writing skills?
Gomathi: The three mantras of successful writing is
– Consistency in writing
– Focusing on the essence of the topic and not getting digressed in other topics
– Adopt Simple and interesting way of putting chapters in book.
Click here to order Gomathi Rao's Book – Raising Smart Children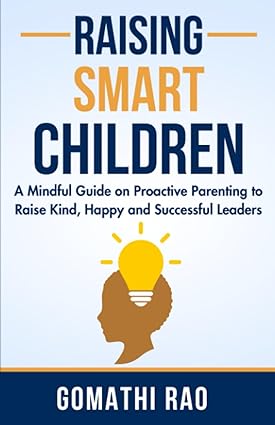 Total Page Visits: 50 - Today Page Visits: 2