About Ashima Syal
Ashima Syal is a passionate writer. She explored her passion for writing when she was in class 8. Growing up, she followed her passion. In 2019, she published her first book of poems titled " Canopy".
Her second book of poems titled " The Fragrant Fable" has also been published. Her poem on " The Himalayan Abode was featured in the Kumaon Literary Festival 2020. She has co- authored in fifteen anthologies.
Ashima has also conducted Creative Writing shops on Fuzia(dot)com
LiFT: Tell us about your book, the journey of writing it and its content.
Ashima: Canopy is a book of poems about life. Every poem carries the essence of an experience, a memory down the lane, and reflects the essence of people we meet and places we encounter in our lives.
The journey of penning down Canopy has been very intriguing. Every poem is supported by an illustration, which make canopy a pictorial poetry escapade. The content of canopy is inspired by real life observations and experiences.
LiFT: Why you chose this title?
Ashima: I chose the title Canopy because it is under the cover of life that we humans get to experience people, memories and places in a way that we carry the essence of it in our souls.
LiFT: When did you realize that you want to be a writer and what's your inspiration behind it?
Ashima: I started writing since I was in class 8 and since then there has been no looking back. I was never a talkative girl but when I expressed myself on paper, I realised that there is no one more talkative than me. I could express myself in the best possible way through the medium of writing and this itself was an inspiration for me to never give up on the journey of my writing.
LiFT: Where do you see yourself ten years down the line in the world of literature?
Ashima: Ten years down the line I see myself as a well established, and an internationally acclaimed writer.
LiFT: How much do you think marketing or quality of a book is necessary to promote a particular book and increase its readers?
Ashima: The era in which we reside today is an era impacted by technology. To be very specific, social media plays a very important role, taking this into account, marketing and showcasing a book helps to spread awareness about the book, the more it is marketed online, the more chances of it to reach out to the people.
LiFT: What is the message you want to spread among folks with your writings?
Ashima: As a writer I only aim to touch the hearts of my readers in a way that they are able to carry the essence of my poetry by being able to relate to it.
LiFT: What do you do apart from writing?
Ashima: Apart from writing I'm a lecturer. I teach business communication and professional ethics to the engineering students.
LiFT: What are the activities you resort to when you face a writer's block?
Ashima: Each time I face a writing block, I keep any five objects in front of me which are in my room, take my time observing them and then I use them as my writing prompts, and pen down one after the other the list of ideas generated from them.
LiFT: Are you working on your next book? If yes, please tell us something about it.
Ashima: Yes, I'm working on my new book, I'm yet to decide a title but it would be a coffee table book of poems.
LiFT: What are your suggestions to the budding writers/poets so that they could improve their writing skills?
Ashima: A suggestion to all the budding writers is that they should make it a point to write everyday. Writing can only improve if there is consistency and determination. One wise advice " Never give up on the pen".
Click here to order Ashima's Book – Canopy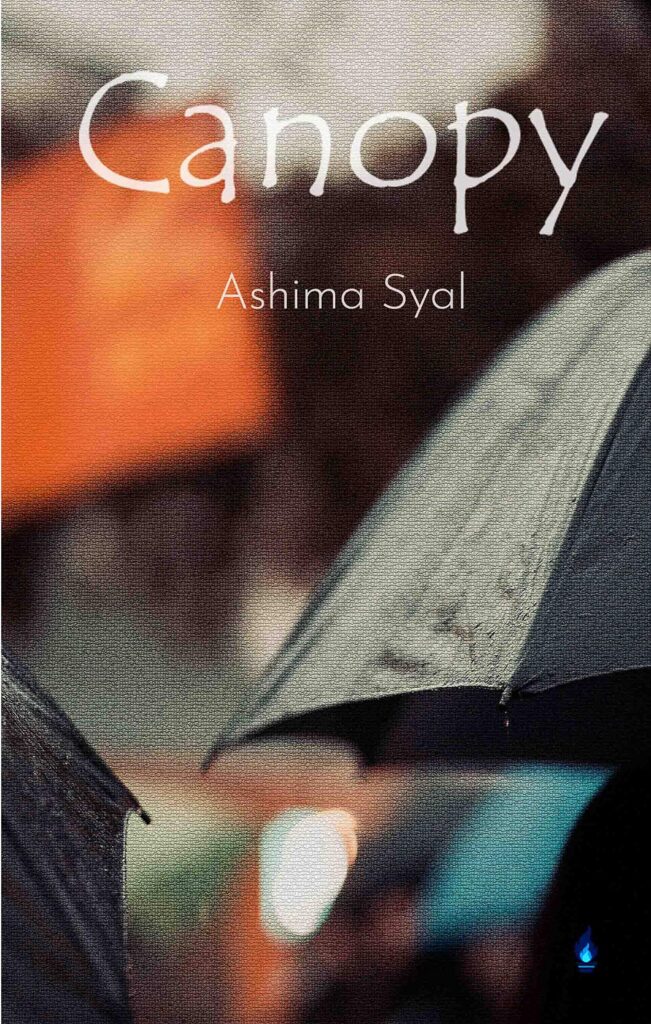 Total Page Visits: 318 - Today Page Visits: 1