About Archan:
Archan Thakar was born and brought up in the milk city Anand, Gujarat. He holds a degree in Business Management. He has worked with several reputed organizations in the past few years. He won Best Debut Author 2021 for Wheels Under Our Feet. He is fond of traveling, dogs, and good books.
LiFT: Tell us about your book, the journey of writing it and its content.
Archan: Wheels Under Our Feet is the story of three restless young people who junk the society's syllabus for finding love and decide to follow their hearts.
the journey of writing was a roller coaster ride because I wrote a script with the same story and characters in my mother tongue. so I approached one of the top regional directors with this script and he liked it but according to him the script was a little bold for the regional audience because of course it's a romantic comedy but still it deals with topics like child abuse, infidelity, and hypocrisy in society. later I translate the whole script into a novel and got published in 2021.
LiFT: Why you chose this title?
Archan: The book's title, Wheels Under Our Feet is the perfect representation of the three main characters. They were unusual, a little crazy, forever changing their minds and nobody can stop them.
LiFT: When did you realize that you want to be a writer/poet and what's your inspiration behind it?
Archan: Realization is a big word because, in the beginning, you don't know anything but you like writing and making characters. So that happened way back when I was in fourth grade. I used to be a big Cartoon Network (old one) fan and I watched some of the most amazing shows like Tom and Jerry, Pokemon, Ben 10, Dragon Tales, Popeye, Courage the Cowardly Dog, Scooby-doo, Franklin, Richie Rich, and the list goes on. So around that age, I made my first cartoon called "Dolphin Boy" and since then I'm writing.
LiFT: Where do you see yourself ten years down the line in the world of literature?
Archan: Become a successful author. but apart from that, I want to achieve these two things in life…
1. Mentally: I want to create my mind bubble, where no thought, no fear gets through me. (Practicing mindfulness mediation)
2. Emotionally : I want to grow into a person who looks good in every situation (Sounds too unrealistic sometimes) but it's the need for the hour.
LiFT: How much do you think marketing or quality of a book is necessary to promote a particular book and increase its readers?
Archan: I think it's the most challenging part because that time you have to speak and promote otherwise nobody will buy your book. It's necessary because you are not here for charity, you invest a certain amount so don't be shy and market your book as much as you can and secondly, use social media to attract readers.
LiFT: What is the message you want to spread among folks with your writings?
Archan: My message/point is that everyone is figuring things out for themselves and while social media might showcase a lot of people having their shit together, just remember all of this (social media) is just a highlight reel. I'm 22. All my friends are burnt out, so many of my friends are grappling with depression or anxiety in some form. Ambition is important and exciting but hustle culture romanticizes "Live fast, die young" people are burnt out at 22 and it's not normal. Slow down because life is not a race.
LiFT: What do you do apart from writing?
Archan: Study…Preparing for Post-graduation. I have daily online classes where I study mainly Quantitative Aptitude, Data Interpretation and Logical Reasoning, Verbal Ability, and Reading Comprehension, and apart from study, I follow a healthy routine that includes exercise, reading, praying/meditation, games (Badminton and Volleyball), spending some time in nature and trying to stay calm.
LiFT: What are the activities you resort to when you face a writer's block?
Archan: I go for long walks, a trail run, anything to physically get my brain loosened approachable once again. It may take a day or days. By the time I'm spontaneously writing scenes in my head as I move down the trail or that night before falling asleep. I'm ready and that's it.
LiFT: What if your story will be adopted as a movie? Whom would you want to work as a director or actors in it?
Archan: Wow…this question made me smile. Since I loved Alaipayuthey and Ok Kanmani cinematically, I choose this team…
Direction and Screenplay – Mani Ratnam
Cinematographer – P. C. Sreeram
Music – A.R.Rahman
Dialogues and Lyrics – Gulzar
Actors – Dulquer Salman as Ishaan, Nitya Menon as Sana, and Shobita as Anvita.
LiFT: Are you working on your next book? If yes, please tell us something about it.
Archan: Yes, The script is initially titled Jaffna after the northern Sri Lankan city. The story, set in India and Sri Lanka, is a political spy thriller with the backdrop of the Sri Lankan Civil War. Major Jahaan Vir Singh is an Indian Army Special Forces officer who is appointed by the intelligence agency Research and Analysis Wing to head covert operations in Jaffna shortly after the Indian peace-keeping force was forced to withdraw. As he journeys to Sri Lanka with the intention of disrupting the LTTE militants, he becomes entangled in military & politics.
LiFT: What are your suggestions to the budding writers/poets so that they could improve their writing skills?
Archan: Write like you talk, within reason. Your writing should sound natural and fluid. Unless you're communicating in a more formal context, write as though you're talking to a friend.
Write daily, Getting started on a big writing project can feel intimidating if you're not used to the act of writing. Practice this skill daily whether a short sentence or full paragraph to get accustomed to the mental and physical concept of writing.
Click here to order Archan's Book – Wheels Under Our Feet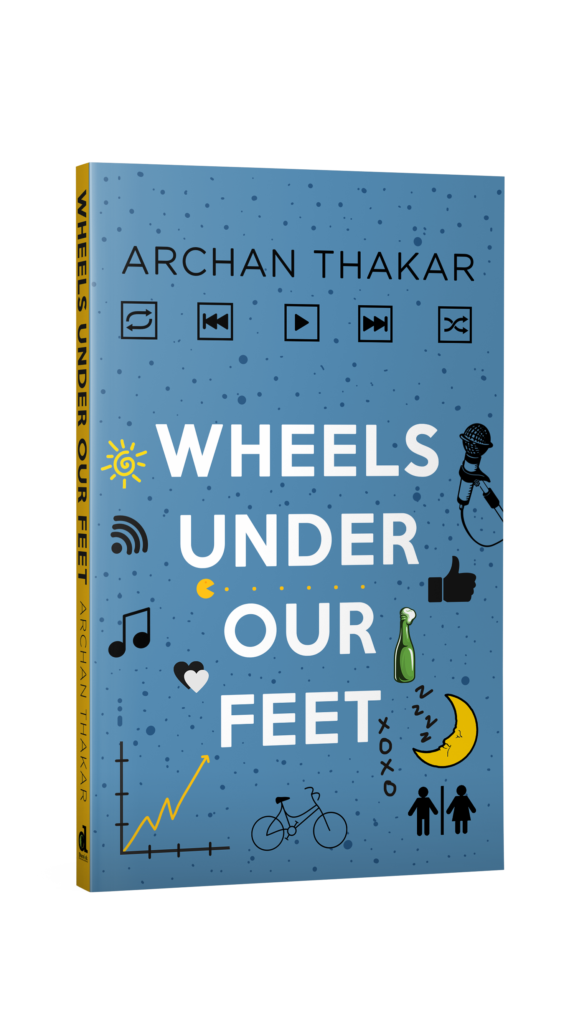 Total Page Visits: 467 - Today Page Visits: 1