About Aditya Ajor Azad:
Aditya is a Writer as well as a working professional in Technical Services of UP Police who is currently living in Lucknow, India. His interests range from writing to travel. He is also interested in photography, reading, music, singing, and animals.
He holds a Master Degree in Computer Application and certification in Ethical Hacking, along with this he has also a Bachelor Degree in English and Economics. His debut romantic suspense book is – 'A Loyal Bitch'. About which he says – 'Don't judge the book by its title.'
LiFT: Tell us about your book, the journey of writing it and its content.
Aditya: Love, deception and everything in between, that's all about this book. How a character gets ruined in love and how he overcame a misunderstanding. As the name of this book 'A Loyal Bitch – Love Beyond Social Directives', itself suggests that this story is not limited to just love and deception. To be deceived by love which is beyond the customs of the society is not worthy at all. But all these things are talking only about the main character of the story, but the truth is that the main character is only the main character because he has to tell a story of the heroine who loved truly but still got a badge of betrayal. Usually at first sight, we call a separation a deception because we do not want to understand the circumstances or rather do not understand at all. But the entire story seems to revolve around the heroine. However, the purpose of the story is to convey a message that it is not necessary that what you see is necessarily true. Often the truth is different from what it seems. This story is definitely centered on the suspense of love and deceit, but from beginning to end you will be bound by good friendship, better companions, true love and sweet nostalgia. Throughout the story, you will find some such morals through dialogues which may seem different from your opinion but not at all anything other than the truth. That's why it is important that the story is read completely and it is more important to get into the character. May be then you will probably be able to justify the characters of the story. Just one more thing I would like to mention that don't just go on the name of the book, often we are too hasty to judge anything. There will be many ups and downs, beyond your imagination. Maybe some people like the hero of the story and some like the heroine, but for me friendship was the most favorite thing in the story. When I started writing this story, the purpose was only to give a message to the people that everyone is not necessarily a cheater, people often say that 'Once you will face the betrayal, you will find the truth of life'. It is not that personally none of us has gone through this phase, but seeing history and imagining the future is not right from my point of view. Therefore, do not see only one side of a coin; who knows the truth. Even if we assume that there has been a deception, still who knows the circumstances. It is said that you can understand the situation of another only when you live his life which means you have to get into the character to justify him. But while writing the story, many such characters came forward who did not limit the story to just love. Rather, the friend and the life partner whose small characters were introduced are really commendable.
LiFT: Why you chose this title?
Aditya: It happened many a times that I got confused about the naming this novel. But the first name that came to my mind was 'A Loyal Bitch'. People asked me why not some other name, but the truth is that the above name did not make me think that this novel could have any other name. I also name this novel as 'A Loyal Bitch' because I wanted readers to question if the heroine is negative in the story, then how she could be loyal. Both things are not possible at the same time, that is, the whole story behind it is, that what we think differs from what the reality is.
LiFT: When did you realize that you want to be a writer and what's your inspiration behind it?
Aditya: See, becoming a writer or a poet is not a big deal. I think you are not a writer until you write. If I talk about myself, I was a child, if I remember correctly; I must have been in class 4-5 when I made a poem out of a scene while watching Ramayana. In which Angad challenges Ravana to lift his leg from land. I also showed my poem to my father. But father did not pay much attention considering it to be childish. Then maybe after a year or two, when I saw a boy in my class writing poetry and submitting it for the school magazine, the sleeping poet in me woke up. Since then I have written many poems on different issues, which may not be worthy enough to read but some of them may have been published in school magazines as well. After that I also started writing stories and this, for the first time I converted the story into a novel. I do not call myself a story writer, a writer, a poet; I can call myself a creator/ author, because I have done some compositions anyway.
LiFT: Where do you see yourself ten years down the line in the world of literature?
Aditya: Look, writing is my hobby, not that I want to achieve anything from it. Yes I would be proud enough to be known for my books. But writing is not my profession. I just want people to know the message I want to give to the world on the pretext of my book, about their life, friendship, relationship, love etc. I am not saying that I am very knowledgeable person, but it is not possible for one to know everything. If I could teach something to the world and learn something from the world, that would be enough. I just want to keep going like this.
LiFT: How much do you think marketing or quality of a book is necessary to promote a particular book and increase its readers?
Aditya: Publicity is very important to bring any book in front of the world. See, it is also said that what you see, sells. Unless people know that something exists in the world, how will they try to get it? Marketing is necessary not only for the book but for every single item or service. First people will know your product and then about you and then your next product. But if people already know you then people will know your product by your name. Somebody had already said that Books won't sell and make you famous; you have to be famous to your books.
LiFT: What is the message you want to spread among folks with your writings?
Aditya: I want to spread love, friendship, respect, understanding, maturity and positivity through my writings. I believe what's the use of your writing if it can't inspire anyone. Write to inspire. I believe that a book has the potential to change the world, make the world peaceful and that is the message I want to spread. I believe that if my writing can lead at least one person towards positivity, then I will take it as a win. People change, they just need the right direction to walk. Somebody has said- Be the change you wish to see in the world.
LiFT: What do you do apart from writing?
Aditya: Apart from writing, I am a government employee. I am working on CCTNS project under UP Police Technical Services. If you do not know about it, it means – Crime and Criminal Tracking Network and Systems. I was posted under this scheme a few years back.
LiFT: What are the activities you resort to when you face a writer's block?
Aditya: When life gives you experience, gain it. Take things positively.
LiFT: What if your story will be adopted as a movie? Whom would you want to work as a director or actors in it?
Aditya: It is a matter of pride for any writer to have his story portrayed because now his creation can be widely expanded. Writers like me will find this thing more important, who also want to give some message to the society through their creation. No one can feel your story and character more than a writer. But never thought of directing or acting who would be the best for my story. Only one who can fit into the character, not today's overacting stalwart. Anyway, let me tell you, Shahrukh is my favorite actor.
LiFT: Are you working on your next book? If yes, please tell us something about it.
Aditya: I am currently working on my two novels. I have a story in my own life, which I myself am not sure whether to write it or not. The second one is my most important or rather my dream book. I want every young man and girl to read this book. The story revolves around a girl and goes through the evil aspect of society that a girl has to face before she is born and even after she dies. A story depicts the aspect of society in which our society is frustrated. You can call me a little feminist because you can find it in my stories. The title is ready, the story is also ready but there is no time to put it on the page. The title of this book may be as controversial as my first book. What to do, the title should justify the story, and it will be so.
LiFT: What are your suggestions to the budding writers/poets so that they could improve their writing skills?
Aditya: I am not so qualified to give such advice; I too am in a learning process. But still my experience so far says that don't just write, live. Get into your character, live his life, see it, feel it. You will find that everything matters, every little thing. For example, when you are a storyteller, you would write – When I entered the room, my friend was sitting on the couch. But as a novelist you will write – when I entered the room the lights were dimmed, I could hear the fan swaying, the windows were open and it was dark outside. My friend sitting on the couch was in deep contemplation, perhaps sad. That's the difference when you look closely. So get into character, everyone takes the writing.
Click here to order Aditya's Book – A Loyal Bitch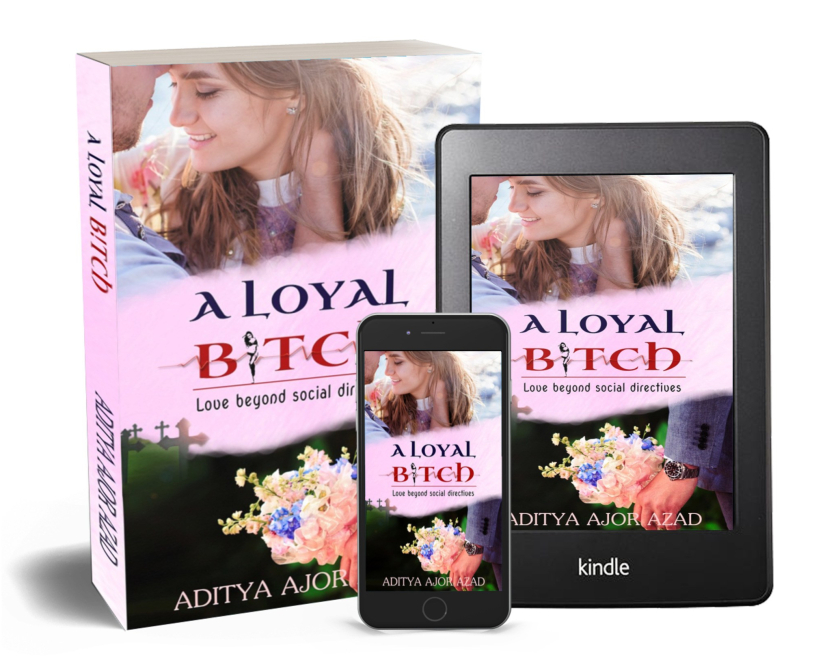 Total Page Visits: 309 - Today Page Visits: 1