About Vijaya Samundeswari:
Vijaya Samundeswari is an Author and a Poet who has published two books namely 'The Ordinary Tales' and 'Safed Kesh'. She belongs to Trichy, Tamilnadu, but have been living in several cities of India due to her father's occupation. Currently she is residing in Delhi. She has completed her MBA and is currently pursuing Masters in English Literature. She is working as freelance content writer and in social media marketing. She writes blogs to express her interests in History, culture, literature, lifestyles and Travelling.
LiFT: Tell us about your book, the journey of writing it and its content.
Vijaya: My book Safed Kesh is a contemporary fiction. It has been ranked at #1 in amazon bestselling category. I am watching my book growing each day. But when I saw this ranking I was overwhelmed.
This book is about a 51 year old widow, Sudha living in Australia with her son and his family. The story will speak about Sudha, a typically Gujarati woman who struggles to survive in a modern society. This is not just a common story of adapting modern lifestyle it is more than that. This story will break many stereotypes on woman. This story is mixture of struggle and fighting with yourself to find yourself.
I didn't plan to put this story out in book because this is a short story and I was thinking from reader's perspective that this might sound boring to them, there is no funk or fun in story. But I realised that as a writer I am here to express first then impress. And I knew that even it's short but the motto behind story is important which is self love. So, I thought to publish it.
As I always self published my books, I didn't approach to publishers. But also I used any self publishing platform. I wanted to do it myself from scratch. So, after completing my book, I started searching about how to print and put it out myself. I gathered all requirements like copyright, printing house. I remember I called my friend who is doing Law regarding some stuff. It was fun and exciting. But it took sometime to understand.
I also do digital drawing and designing bit so I designed the book cover by my own. I also made book trailers. The book trailer was loved by many people. I think that made my story more alive. And after a month I held my first copy of Safed Kesh. A dream came true. This time it was more exciting.
Once it was available to buying, I took help of my friend he is a book reviewers. He guided me for my book marketing. And within a week my eBook version of book got Amazon Bestseller in Contemporary Fiction category.
LiFT: Why you chose this title?
Vijaya: The title is Safed Kesh which means, White hair. As this story is of 51 year old widow Sudha, who has nothing to love except her long white hair. Also it represents that ageing will not stop you or set boundaries or limits to your happiness and capabilities.
LiFT: When did you realize that you want to be a writer/poet and what's your inspiration behind it?
Vijaya: I don't know when I decided it. As writing grew with me from childhood it seems. I always write whatever i couldn't share with anyone and that how I started writing. But with time and experiences, either good or bad, I started writing lessons learnt from them. I remember one incident, where I had an argument with my dad when I was in 8th standard. I just wrote everything which I wanted to tell my dad. But the fear of being caught by him made me to use silly metaphors to hide my actual words.
I think this is how without being aware of it I started writing and at a point of time many of my friends started liking my writing pieces. So, I began with a small chapbook of 8 poems. And I remember those poems where nothing apart from random experiences. At that point I realized I know I can do but I don't know how to do. So, I started learning on my own.
And Still I do. And amidst of this journey, I published my debut poetry book in English and it was something which motivated me to write more.
LiFT: How much do you think marketing or quality of a book is necessary to promote a particular book and increase its readers?
Vijaya: My experience with first book is something relatable to this question. I just published my first book which was English poetry. I was happy to see my book listed on amazon. And I posted some posts of my book but my books didn't reach to many people. It's not because my book was a failure its because my books didn't reach to reader's desk for being judged.
Yes, without marketing you can't reach your readers and without being read by them how you can decide your book is success or failure. So, initially I used to think that my poems were not good, or I was not famous writer. But after 4 -6 months I just started researching on my own about other writers. And then I realized that I was lacking marketing. And if today if my book is in amazon best selling, it is because of right marketing. So, marketing is must.
LiFT: What is the message you want to spread among folks with your writings?
Vijaya: My writings are always based on healing and self love. So, I would like to tell everyone that there is always hope and before you reach someone to dependent for anything just hold yourself with self love. I always write poems which talks about healing through nature. My personal experience in dealing with good and bad things is expressed through poem. And writing helped me to grow, learn and realize who am I and how I should be.
LiFT: What do you do apart from writing?
Vijaya: I express myself through writing but I do express myself with other stuffs like painting and dancing. I have learnt Indian classical dance Kathak for an year from my guru, Shefali Tayal ji. I am not any professional or skilled painter but I like to play with colors. Painting helps me to relax even though they look scary they make me feel calm. I usually draw and doodle. I like to doodle cartoons and I love mandala art.
LiFT: What are the activities you resort to when you face a writer's block?
Vijaya: Writer's block is something which can make me stuck for a month too. But I usually go out alone to get some fresh air. This might sound very common but I do. I will go to some calm places alone and just live that moment. I use other methods to express like painting and dancing to get relaxed. And this worked a lot.
Now a days when I face writer block I started reading books which will inspire me to write or I jump into my other plots. Where I do character development and research. It excites me to write more.
LiFT: Are you working on your next book? If yes, please tell us something about it.
Vijaya: Yes I would be happy to share about it. I am working on upcoming Novel in English. It will be a age of coming genre. The plot is 2 year old but finally I think I am ready to put it out as novel. I think either by March 2022 it will be out.
Click here to order Vijaya's Book – Safed Kesh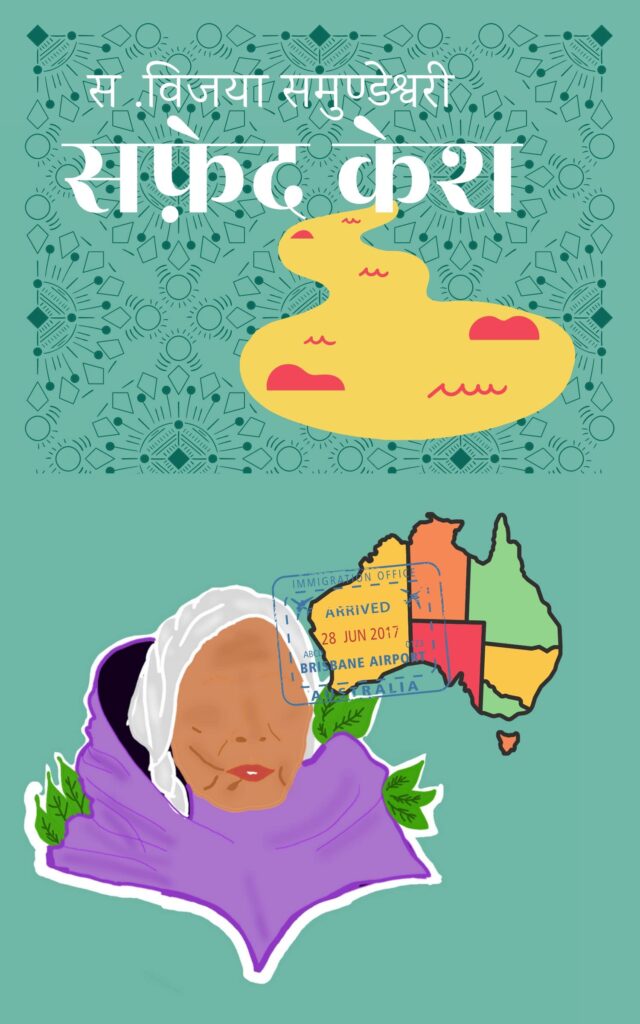 Total Page Visits: 572 - Today Page Visits: 2