About Uma Nagar:
Uma is the student of literature and is currently pursuing Masters in English to learn more about famous poets and their way of writing. For her, writing is an art through which she gives words to her emotions. As an aspiring writer, she wanted to people find peace and solace by reading her first Poetry book "Artistic Emotions" with which they can relate.
LiFT: Tell us about your book, the journey of writing it and its content.
Uma: Artistic Emotions is my first poetry book. This book is like an ode to all the emotions we feel, be it love, anger, pain or happiness. Writing is always an hobby for me. But during lockdown, writing become my daily routine and this routine created a beautiful document of poems. Those poems have been published in this book.
LiFT: Why you chose this title?
Uma: I have chosen this title because this book is all about emotions. The poems in this book is the art created by emotions. So, our emotions are the real artists according to me.
LiFT: When did you realize that you want to be a writer/poet and what's your inspiration behind it?
Uma: During my 12th standard, I started writing out of curiosity. My friends loved my writings. Their appreciation become my inspiration. I decided to continue it and enrolled myself in English Honors to learn more about literature and creative writing which helped me to explore my writings.
LiFT: Where do you see yourself ten years down the line in the world of literature?
Uma: Well, becoming a writer is not easy in today's time. One have to write authentically to stand apart and to get the attention of readers. So basically I am on first step and thinking about 10 years, I see myself as more creative and more experienced writer. But about becoming a successful writer, this depends on readers.
LiFT: How much do you think marketing or quality of a book is necessary to promote a particular book and increase its readers?
Uma: Today's world is a digital world. Social media has become an important part of everyone's life. Marketing of book showcase our book on social media which attracts readers. On the other hand, quality of book also matters because most of the people loves paperback. But in the end your content makes you win. Marketing and quality both work as a catalyst.
LiFT: What is the message you want to spread among folks with your writings?
Uma: Writing is my medium of expressing and through them, I want people to become more compassionate and kind. Thats what the world needs the most.
LiFT: What do you do apart from writing?
Uma: Apart from my writing, I am currently pursuing MA English Honors and doing my internship in content writing.
LiFT: What are the activities you resort to when you face a writer's block?
Uma: Reading is my most favourite way which helps me to deal with writer's block. Apart from that I love to watch TV shows their stories helps me to find my story or poetry.
LiFT: Are you working on your next book? If yes, please tell us something about it.
Uma: I am not working on next book for now.
LiFT: What are your suggestions to the budding writers/poets so that they could improve their writing skills?
Uma: Writing is like an ocean the more you write, the more you explore. To improve writing skills, you need to do a lot of practice and reading. Then make sure to ask for a feedback which will help you to write better.
Click here to order Uma's Book – Artistic Emotions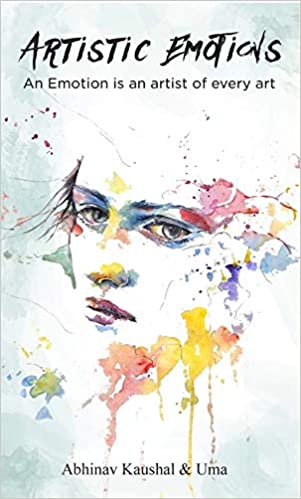 Total Page Visits: 554 - Today Page Visits: 2