About Thanishka Reddygari:
Thanishka Reddygari is a 15-year-old student studying in Hyderabad. She is an enthusiastic learner who is very sportive in nature. She doesn't give up easily on things and is always determined by what she does. She enjoys playing basketball and is a self-taught artist. She likes discovering and trying out new things by herself, which has led her to write. She has been very passionate about completing the story and planting a meaningful intake for readers.
During the time she was authoring this book, she was in her 9th grade and was learning as she wrote. She hopes to gain a perpetual amount of experience and knowledge as a writer.
LiFT: Tell us about your book, the journey of writing it and its content.
Thanishka: My book is about a 13-year- old girl who has Asthma but doesn't let it stand as a reason for her not being able to do something. She is the main protagonist in the story. Emma Richardson is an easy-going middle school pupil, but she discovers a lot about herself when she enters high school. With the personality test, she enhances herself to be who she is. She is naturally very curious in nature, leading her to find a mysterious symbol and engraves deep into it until she knows entirely about it which is a lot more significant than she expected. The story catches up its speed from then.
Many other side characters also have vital attributes in terms of personality. Emma in the story goes through various emotions like happiness, sorrow, excitement, pain, joy, and she learns many life lessons throughout the story.
LiFT: Why you chose this title?
Thanishka: The title 'Counting on Valiancy,' its simplest meaning is – 'relying on courage.' And the typical sense of it is – Emma had Asthma and was bound to a few things that she couldn't do. She wanted to prove she was strong, but somewhere in her, she felt weak because of her surroundings. Coming to the Liconite, she wanted to save people from its hypnotizing effect, and with that strong desire, she went along with her brother though she wasn't sure enough but was relying on her courage. This is understood better while reading the book.
LiFT: When did you realize that you want to be a writer and what's your inspiration behind it?
Thanishka: To be honest, I was not at all into writing before. Last year, when everything was virtual and when we had the Covid-19 pandemic all over the place, my school principal, Shailaja aunty, and other teachers of my school were urging us to do something new and pick up a new hobby as it was a lockdown and we had plenty of time. That's when I thought I could try out something new, and that's when I chose to write. I started writing in September and later was passionate to complete it, and now, after writing 200 pages, I can say– Writing is fun. I'm genuinely thankful to Shailaja aunty and other teachers for getting me into this.
LiFT: How much do you think marketing or quality of a book is necessary to promote a particular book and increase its readers?
Thanishka: Marketing and quality of the book are of paramount importance. Marketing lets people know about your book that your book exists, so it has to be done vastly. And its quality is equally important to sustain and engage more readers.
LiFT: What is the message you want to spread among folks with your writings?
Thanishka: The message I wanted to put forward is that when things are not in our favor, we tend to blame other things around us as a reason we couldn't do a particular task just to satisfy ourselves. I always wanted to convey some social message which would create awareness among the masses, and in this book, one can see how Emma conflicts with her inner self in terms of her actions. She confronts many issues, and when she thinks it is because of her asthma, when she blames her asthma, she gives herself a second thought. She didn't want to be weak or blame other things for not achieving something. She wanted to be strong and brave, and in fact, she is a very tenacious girl. She stands up strong and believes in herself.
As her qualities of courage are predominant than the other qualities of her's, she believes in herself and goes on a deadly mission with her brother and comes back with success. And that doesn't mean one has to go on a task like that to prove that they are courageous. The above I mentioned in the previous para is the take-in.
LiFT: What do you do apart from writing?
Thanishka: I'm a student, so of course, I am studying most of the time. But in my free time, I like to paint, sketch, and play basketball.
LiFT: What are the activities you resort to when you face a writer's block?
Thanishka: If I'm stuck in some part of the story and when I feel unmotivated or not being able to move forward, I just tend to take a short break and relax. In that process, something or the other would strike me, and then I would get back to writing.
LiFT: What if your story will be adopted as a movie? Whom would you want to work as a director or actors in it?
Thanishka: To be honest, I would totally be fine if it's anyone. I think all the directors and actors out there are pretty talented in adapting the characters in the story and putting out a beautiful version in front of the audience.
LiFT: Are you working on your next book? If yes, please tell us something about it.
Thanishka: Not at the moment. But I hope to in the future.
LiFT: What are your suggestions to the budding writers/poets so that they could improve their writing skills?
Thanishka: While writing, outline the complete story and keep track of the sequence. After completing each chapter, make sure you go through it perfectly and modify then itself if needed. Don't keep the modifications till the end. That is where I went wrong.
Click here to order Thanishka's Book – Counting on Valiancy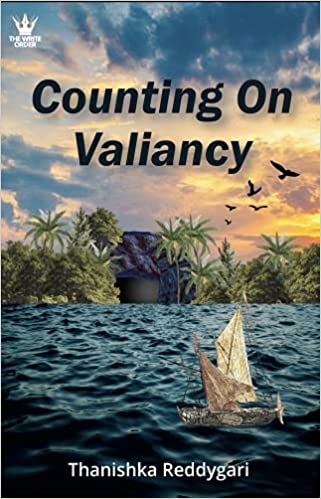 Total Page Visits: 568 - Today Page Visits: 1