About Tarun Dev Sharma:
Tarun Dev Sharma is a businessman with almost two decades of experience. Born and brought up in Delhi, he has travelled extensively both for business and pleasure. He is also a Triathlete, practising the sports of Swimming, Cycling and Running. He has finished an Ironman 70.3 challenge in Malaysia. He also won the Delhi International Swim-a-thon by swimming 10 kms non-stop.
Tarun Dev Sharma has been a keen observer of life. His critical stance and inquisitive mind have driven him to look for patterns and explore the origin of events on an impressive scale. He has shared these learnings and the curious ways of the world, with readers in his new book, Triumph Amidst Crisis. The observations he presents on world-scale and local events are unique. He views the world through the glasses of a businessman, political observer and moral thinker.
LiFT: Tell us about your book, the journey of writing it and its content.
Tarun Dev Sharma: Understanding how life works is a question for the ages. This book takes a unique approach in its attempt to answer it.
Through a discussion of the most beautiful, funny, memorable personal anecdotes and experiences, this book discusses those aspects of the world's political, cultural, military and geographical history that have affected Indian life and culture.
The stories of the author, his country and his entire planet weave in and out of each other and deliver a unique perspective to life. We follow the author's story, from loose upbringing and serious negotiations with his parents, through his life as a young businessman in other countries – trips that allow him to reflect on the similarities and differences between Indian culture on the one hand, and most significantly Chinese and Korean society on the other. Facing a series of crises since childhood, we see him transform to a successful adult who pursues his dreams of participating in an Ironman triathlon and flying a Fighter-jet. Also inside, is an ode to the love of cricket, which would bring smiles to everyone.
The author highlights trends, which are easy to miss out in daily lives. These entertaining anecdotes and their historical, economic and spiritual causes are blended into a personal history that covers not only the main aspects of Indian culture but ties them to political and economic developments on the world scale.
Throughout this book, therefore, what is shown is that all ordinary lives are significant and connected. It causes the reader to reflect on his own life and culture, revealing the ties that bind us all together.
LiFT: When did you realize that you want to be a writer and what's your inspiration behind it?
Tarun Dev Sharma: My maternal grandfather has been an author all his life. Having won many state and national awards for his contribution to the Punjabi language, he has written 100s of books over many decades. During my small but complex life, I was lucky enough to live with him for a few months. His dedication towards his craft and his philosophy of putting in honest hard work daily inspired me. This planted a seed inside me, which caused me to collect ideas over many years, and learning about this craft.
LiFT: What do think about the literary world and what are your expectations from it?
Tarun Dev Sharma: So far it looks like, writing is a difficult field to make a living out of. But let me tell all aspiring authors, there is no better feeling than to interact with a person who has read your book. When even one genuine reader is affected by your work, it makes all the pain and effort worthwhile.
LiFT: What is the message you want to spread among folks with your writings?
Tarun Dev Sharma: This book is an appeal for peace. In mapping histories marred with war, differences, and the tragedy of human lives, irrespective of geopolitical circumstances, I portray how none of us, truly, have the bad end of the bargain. The curve of history, tipping up and down at its fixed rhythm, ultimately rests on the shoulders of human intention. These are stories of the people, and how nations, ideologies, life, and history were made through those who did things, and those who received.
LiFT: What do you do apart from writing?
Tarun Dev Sharma: I am a Businessman and a fitness enthusiast. I am also an adventurous person by nature, having engaged in all forms of extreme activities, on Land, Air and Water. From racing cars, bikes, cycling, rock climbing, rappelling on Land, to scuba diving, snorkelling, boating and even submarining on the water I have enjoyed many activities. In the air I have flown a fighter-jet, paraglided, power parachuted etc. The one activity I have yet to do is Sky Diving. Hopefully, in the near future, I would muster up the courage to do it.
LiFT: What if your story will be adopted as a movie? Whom would you want to work as a director or actors in it?
Tarun Dev Sharma:The direction could be helmed by Anurag Kashyap in the style of Gangs of Wasseypur, with Kartik Aaryan as the protagonist. With perhaps Aamir khan providing background narration. This is probably not a good idea, but hey, you asked the question. Sometimes, dreams do come true. I do realise it would not be a run of the mill masala Bollywood pot boiler, but it could be an interesting coming of age story.
LiFT: What are your suggestions to the budding writers so that they could improve their writing skills?
Tarun Dev Sharma: Find some other passion.
Just kidding.
The message I would like to deliver to aspiring writers is simple. Do it for the right reasons. If your goal is monetary, there are easier and better-paying jobs than this one. If you are looking for fame, go create a youtube video or some other viral content.
But if you genuinely have something wonderful to share, give it your best shot. Make your product the best you can and then hope the right people look at it at the right time.
Click here to order Tarun Dev Sharma's Book – Triumph Amidst Crisis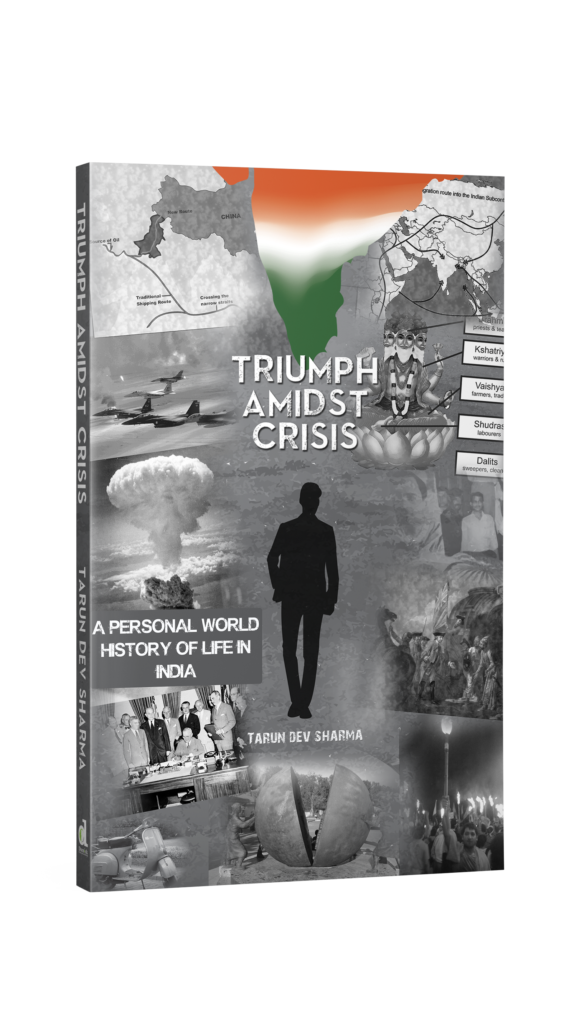 Total Page Visits: 5830 - Today Page Visits: 2