About Srisesha Varikheti:
Srisesha has been awarded as a "Humanitarian" by Teach for India-Delhi at the end of his fellowship journey when he taught in low income government school for the economically weaker section of the society. He has further made sure that his kids(students) excel in life by teaching them the process of – Design thinking to fight against bullying while they were in grades 4th and 5th. Apart, from this Srisesha still continuously is working towards creating safe spaces for children from the economically weaker section of the society and had obtained coach certifications for Life, Leadership, Organisation development and Emotional intelligence in order to do so. Combining his education experience as a Hotelier from IHM Shri Shakti Hyderabad, and his work experience from organisations such as AON, Gartner, NIIT, Teach for India he strives to deliver the programmes to train students and teachers and bring them on the same platform for excellent education and provide the underprivileged an access to global standards and guide them to use literature as one of their mentors for growth and learning.
LiFT: Tell us about your book, the journey of writing it and its content.
Srisesha: I wrote this book when I had to up-skill myself to understand the process of learning and that every individual has their own way. Just that they or the people around them are not aware of it. After getting my certifications as a Coach, I tested the new found skills as a program on my kids and to my surprise I was able to see change in them. This taught me to implement programmes that are currently being run in two states – Arunachal Pradesh and South Delhi government schools for developing a habit of reading through libraries with the help of Angelique foundation an organisation which implements libraries to create the habit of reading in students from low income government schools and these programmes have now made an impact on 100+ teachers, 600+ students across the two states. With the results I could see, I wrote this book to enable teachers and students to understand – how to take control of themselves and their mind and in the process enabling them to identify and develop their own way of learning which will give them access to world's knowledge. So, I worked almost two years penning down and testing my theories to be able to finally publish my book – A.L.L.I.E.D.
LiFT: Why you chose this title?
Srisesha: I chose A.L.L.I.E.D not to just use it as an abbreviation to a very long name for the book – Accelerated Learning Lessons In Education Development. However, to provide a hint to the audience that sticking to one pattern of brick and mortar learning process is not helpful nor will it enable those who seemed to have been blessed with challenges. Unfortunately our education process even after the pandemic is sticking and valuing the whole "logical way" of thinking and excellence, which is one of the ideas from the book that I am trying to convey that it won't work if we only use one part of our brain. Hence Allied made sense, to combine the new methods I write in this book with the current way of teaching and learning in India.
LiFT: When did you realize that you want to be a writer and what's your inspiration behind it?
Srisesha: I didn't actually plan to be a writer but seeing the change in my kids(students) and the schools where I have implemented the programmes in I couldn't just stop myself to spread awareness of these techniques and knowledge which will not only deliver results but will hopefully reach everyone in time to make the change, especially when the pandemic has impacted the students in ways we cannot imagine.
LiFT: Where do you see yourself ten years down the line in the world of literature?
Srisesha: I plan to read, learn and grow as much as I can and empower many by the help of the world of literature on the way. And will always strive towards providing access to the world of literature to those who are derived of it.
LiFT: How much do you think marketing or quality of a book is necessary to promote a particular book and increase its readers?
Srisesha: For me, it totally depends on what kind of a message or creativity you are trying to publish to your chosen tribe. Knowing, what this tribe of your choosing is currently doing, feeling, seeing and living one should definitely make the writing of your book which sits with them, no matter what the world says. As one progresses in their career with literature and try to bring the many worlds of their creativity for their chosen tribe, marketing and the quality of the book is quite important and should be as per the tribe they are trying to deliver their writing too and not the world beyond as people will always have something to say but if you know your tribe, you know your creation, you know your marketing and the feeling they would prefer with the book.
LiFT: What is the message you want to spread among folks with your writings?
Srisesha: The most important is that there is no failure, only feedback. While keeping this in mind, one should invest in learning as much as they can with whatever resources they have access to. All they need to know is – how they prefer to learn and what will help them in their own way of processing the chosen learning.
LiFT: What do you do apart from writing?
Srisesha: Apart from writing, I work with organisations and individuals to create and implement leadership learning development programmes. With this I also, coach individuals one- one to guide and empower them with their own strategy of a genius which will help them grow not just professionally but also enable them to tackle the challenges in their personal life.
LiFT: What are the activities you resort to when you face a writer's block?
Srisesha: When I have a writers block, I leave and seek inspiration from those who I have chosen as my mentors in my field and learn their process of what, how and why. I go to bed and not touch the book that I have worked on or working on. If, I have something in my head I make notes of it in my notes on my phone or a notebook and later I would know when I am ready to go back to writing again, I just sit and read all the things that I have either noted down or gathered and keep things that I find inspiring in front of me to bring all of my thoughts together with clarity. The second most thing which helps me is the timeline I set for myself to finish writing whether a book or a poem or anything else, I block my calendar for a particular day knowing my pattern and understanding the seriousness of my block, I get back on track after taking all the world's nap time, food time, drink time and motivation time.
LiFT: Are you working on your next book? If yes, please tell us something about it.
Srisesha: Currently, I am working on a new program and in the process to implement and see the actual results as I start writing my next book.
LiFT: What are your suggestions to the budding writers/poets so that they could improve their writing skills?
Srisesha: I feel I still am a budding writer! I also am improving as I learn and grow in the process of writing. All I would say is – believe in your thoughts, your ideas and the efforts that you put in to finish that creativity of yours as that is what is most important, people will take your creativity into a million different meanings and that is the beauty of it.
Click here to order Srisesha's Book – A.L.L.I.E.D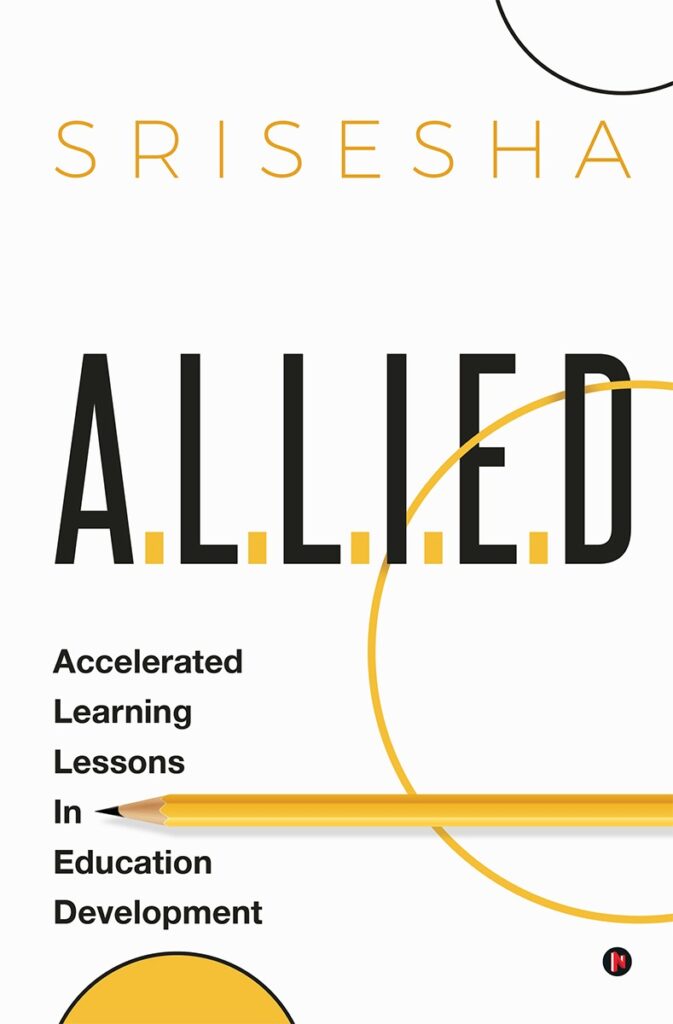 Total Page Visits: 500 - Today Page Visits: 1