About Shreesha Khare:
Treat Yourself as the person you want to be and you will become that person. I love writing on different topics which are close to my heart and which helps the society to grow. It gives me immense satisfaction that I am contributing to society with my experiences. Life is too short for grudges, we should always love people and be peaceful. I am #ENFJForever, Myers-Briggs personality type. A Philomath (lover of learning). I love personal development and have a keen desire to share success principles with people around me as much as possible. This keeps me motivated.
LiFT: Tell us about your book, the journey of writing it and its content.
Shreesha: Along the Way – As you unearth about Self-love and Relationships is extraordinary to me. When I was writing this I can clearly imagine things in front of me. Some of the parts are inspired by my experiences and some are fiction. The main focus behind writing it is to learn to love yourself. We humans always search for love, happiness and needs fulfillment in other people. We do business every day with other people in areas like relationships or love. This is not how the world works. Gandhiji rightly mentioned that Be the Change you want to see in the world. This line clicked me more when I focused on writing this.
Amelie (the protagonist of my book) was trying to search for her happiness and love in other people. She was jumping from one relationship to another (Steve and Peter) in search of the fulfillment of her needs. It is so easy to blame people in relationships, we make excuses for not working out in relationships, love. A relationship could be with anyone in the world, be it your family, friends, boyfriend or country. Knowing yourself is the most difficult journey, but it is divine, sitting with your own flaws is not an easy task but this way you get to know your inner deep feelings, your passion, your purpose. Excepting your own body scars, accepting your own limit, accepting the way you are is punishing but believe me that's mindfulness where you are aware of your surroundings and living and accepting things the way they are. So, unless and until you start accepting everything in you; you can't accept someone else.
Love the person for who they are, accept their flaws, give care and attention, I would say that undivided attention to them help them grow. Love means growth, care and nurturing it. Love means if the time comes to let go that person, you will allow yourself to let go. In my book, I said one thing beautifully which I believe summarises love and I realized this personally- If you love a flower don't pluck it, water it. I am sure people understand this.
I love this process of writing as we should focus on the process and we should not think about the end result. People won't believe it but I have written this book in my office environment where there is all the hassle and stress. I don't know how but all the ideas came spontaneously when I was in office. And I read a book called- 52 things to do in your lunch break by Laura Archer. I can credit this book for inspiring me to do something I love to and the result is the book in front of you.
LiFT: When did you realize that you want to be a writer and what's your inspiration behind it?
Shreesha: I remember when I discussed my blog writing in the year 2015 with one of my close friends. That time I had no idea I will be writing a book. I still clearly call to mind, my friend said – Shreesha let your writing be prime interest. The only rule to write successfully is, the more you enjoy your writing and telling others about your interests and experiences, the more people will be interested in reading it too. I took a risk in writing and thought to tell the world about my most second to none experience. He is an inspiration to me, he is my guide, my mentor and because of him, this book exists. I will surely tell the world who he is.

LiFT: What do think about the literary world and what are your expectations from it?
Shreesha: The first thing to avoid any complications in life is that never ever have expectations from anyone. I don't want to see anyone at that stage where they are cribbing or hurt. I am new to this world, I just pray that they respect the writer, give them a chance and acknowledge their work and honest in their workings.
LiFT: How much do you think marketing or quality of a book is necessary to promote a particular book and increase its readers?
Shreesha: Content is the king in the book world and it is supremely dominant that book should receive a launch like a movie. Keeping in mind that no one has lakhs of the amount to shower on lavish promotion. So, it is vital that a publisher should play a role in guiding the author.
LiFT: What is the message you want to spread among folks with your writings?
Shreesha: Experience teaches you so much than any college degree. As this is my first writing and I learned an extremely important lesson that Self-love is a powerful thing ever done by mankind. I want to spread this word that in this world the only things that exist is – Change and Love. Unless and until we focus on our inner beauty we will never be able to give compassion to someone else. In this world, everything works like a barter system but this is not true. Learn to be more giver in nature. Love the people for who they are, don't try to change them according to your time, needs. I want to spread love through my writings.

LiFT: What do you do apart from writing?
Shreesha: I work as an HR Analyst with IHS Markit in Gurgaon. This is my full-time work. I love exploring myself in every field, you never know what you learn. I read a lot. I maintain 5-Hour rule in my diary where either you read a book or learn some course. I write gratitude journal before sleeping or sometimes early morning and I maintain my daily journaling where learnings from life and things I did not like.
LiFT: What are the activities you resort to when you face a writer's block?
Shreesha: When I was writing my novel I had much procrastination phases but I decided to listen to music and resort to doing my work during that time. I had a time frame to finish every chapter. My mind, body and soul integration helped to focus on an idea of this book. I kept working on my novel along with activities such as meditation, cycling, and exercise. And as I said, journalling assisted me a lot in opening the blocks.
LiFT: What if your story will be adopted as a movie? Whom would you want to work as a director or actors in it?
Shreesha: Wow, this sounds so surreal. I wish this comes soon. I would love to work with Karan Johar as a director and actors in it – Ranveer Singh and Deepika Padukone. I can so relate to Naina character from Yeh Jawani Hai Dewani. I really want Deepika to play Amelie which is so unique, she has a great personality, ambitious lady and Ranveer to be Steve so vibrant, positive and strong personality. They both are different yet so like each other.
LiFT: What are your future plans?
Shreesha: Our present moment makes our future. I just want to focus on what I am doing presently. I keep journalling habit for over 5 years now. Every night I pen down a few sentences to recap my day, how I felt and thoughts. I keep a constant watch over myself and put each day for review. My daily diary is the mirror for my future, it shows me really what's going on in my life at this time. Let journalling decide my learning from today to inform tomorrow. If it is necessary to tell future plans then I will focus on short one that is to enjoy my passion for writing and work in a corporate world serve the people's development.
LiFT: What are your suggestions to the budding writers so that they could improve their writing skills?
Shreesha: Since childhood, I have learned one thing that the more you read and write you will improve your vocabulary and writing skills. No one is perfect, let your words out on paper. Don't think whether it is making sense or not; not when you are writing it. Later you can craft it with perfect grammar and structure. Let your thoughts flow in the form of words.

Amazon Link to buy Shreesha's Book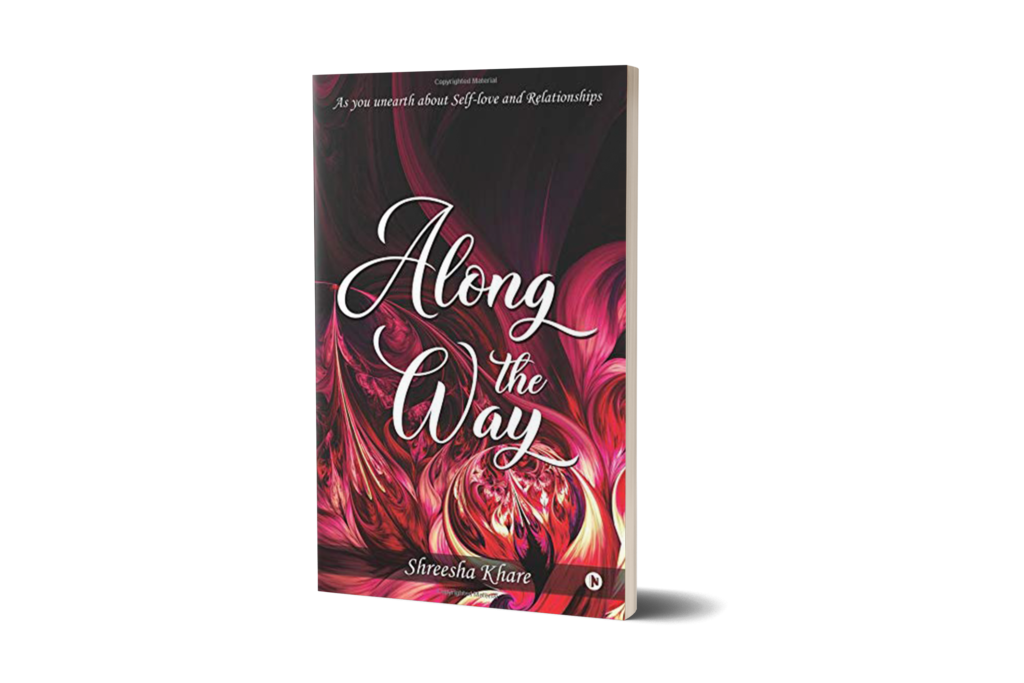 Total Page Visits: 7904 - Today Page Visits: 1