About Shital Srivastava:
Shital Srivastava hails from Patna, Bihar. She has done her graduation in Microbiology Hons. Recently she written a motivational book named "Chunotiya Jeevan Ka Dusra Nam". She has also been a co-author in several anthologies. She loves writing, podcasting, learning, reading and shopping. "Kaise likhun main apni prem kahani" is her first romance novel. This novel is based upon a triangle love story.
LiFT: Tell us about your book, the journey of writing it and its content.
Shital: My journey of writing started from my first motivational book named "Chunotiya Jeevan Ka Dusra Nam". Later I decided to write something very romantic and bold. Before starting to write this novel only one thing was in my mind "Log kya kahenge, mere teachers kya sochenge, itni sidhi sadhi ladki hoke romantic novel likhti hai". Actually I was little scared that after publishing my romantic novel my image of "sidhi sadhi ladki" will change. But I prepared myself emotionally that being a writer I am just doing my work with full dedication. Fortunately my teachers and family appreciated my hard work to write this novel.
My novel is based on a beautiful, interesting triangle love story. Main characters of this novel are Niharika, Anant and Shaurya. This story will surely touch your heart.
LiFT: Why you chose this title?
Shital: I wrote a romantic novel so I choose this title. This title sounds very romantic.
LiFT: When did you realize that you want to be a writer and what's your inspiration behind it?
Shital: I wrote for some anthologies and also did podcast episodes. At the beginning, I did all things for fun. But later I got engaged in love stories very deeply so I decided to write a beautiful love story which can spread love and happiness everywhere. My inspiration is Rabindranath Tagore.
LiFT: Where do you see yourself ten years down the line in the world of literature?
Shital: My only wish to win my readers heart now and after many years.
LiFT: How much do you think marketing or quality of a book is necessary to promote a particular book and increase its readers?
Shital: According to me every good thing comes to you at the correct time so we can work hard with patience. Hard work never goes waste, it will give you reward one day. Quality of book and marketing creates plus point in your writing journey.
LiFT: What is the message you want to spread among folks with your writings?
Shital: I only want to give one message that always spread love and happiness.
LiFT: What do you do apart from writing?
Shital: I study.
LiFT: What are the activities you resort to when you face a writer's block?
Shital: I never faced this situation.
LiFT: What if your story will be adopted as a movie? Whom would you want to work as a director or actors in it?
Shital: I would like to see Anurag Kasyap as a director if my story will be adopted as a movie.
LiFT: Are you working on your next book? If yes, please tell us something about it.
Shital: Actually I am busy in my studies so I am not working on my next book now but I hope I will decide to write if I get free.
LiFT: What are your suggestions to the budding writers/poets so that they could improve their writing skills?
Shital: Firstly I would like to say "All the best for your writing journey!" Secondly I want to say follow your heart, you will surely get your way.
Click here to order Shital's Book – Kaise Likhun Mai Apni Prem Kahani?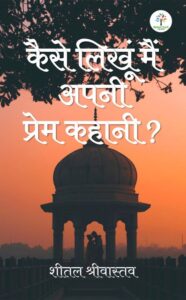 Total Page Visits: 541 - Today Page Visits: 1