About Sheetal Panwar Verma:
The author, Sheetal Panwar Verma, was born on 10 August, 1986, in the small city of Karnal, Haryana. She was brought up in Yamuna Vihar, East Delhi. She has done masters in Library Science, Education, PGDCA, and B.Ed. She has worked in many schools of Uttarakhand (Roorkee) and Faridabad. She now lives in Faridabad with her husband and two beautiful daughters. Writing and reading books is her favorite hobby apart from performing yoga and dancing. After spending several years in the mountains, she has developed a great attachment towards the natural beauty of the hills.
LiFT: Tell us about your book, the journey of writing it and its content.
Sheetal: Delivery Boy is a collection of 10 short moral stories. Stories about mountain life, Friendship, importance of nature etc. all stories are just my imagination and for entertainment purpose. Although all 10 stories are moral stories with some message. Languages is simple and easy to read and understand.
LiFT: Why you chose this title?
Sheetal: The title story 'Delivery Boy' is my favourite among all the 10 stories. So I decided to name my book with this title.
LiFT: When did you realize that you want to be a writer and what's your inspiration behind it?
Sheetal: I never imagined myself as a writer as I worked with many schools in library department and remained in touch with books a sudden interest develop for reading and writing in year 2015, I penned my first poem and a short story although my first book came in 2019 but journey was started from 2015.
LiFT: Where do you see yourself ten years down the line in the world of literature?
Sheetal: I want to write more everyday and in Each day, I want to come with improved me. So after 10 year from now I want to see myself with best of my writings and books.
LiFT: How much do you think marketing or quality of a book is necessary to promote a particular book and increase its readers?
Sheetal: Aah, there is lots of competition in every field and writing industry is not an exceptional. Every thing is important I think a good marketing strategy, good story and quality. Suppose if it's a children book. so it should be attractive and colourful along with good story.
LiFT: What is the message you want to spread among folks with your writings?
Sheetal: My motives behind writing is simply entertainment but yes if my stories or poetries are helping anyone in direct or indirect way I would be glad.
LiFT: What do you do apart from writing?
Sheetal: Reading and writing (poetry and stories) is my favorite hobby other than that i love dancing and listening to music and spending time with my daughters.
LiFT: Are you working on your next book? If yes, please tell us something about it.
Sheetal: Yes, it might be again a collection of English short stories for children.
LiFT: What are your suggestions to the budding writers/poets so that they could improve their writing skills?
Sheetal: Some new writers copy other famous authors. And forget their own writing style. Copying someone else will make you someone else's copy only. Don't do that. Read other writers and learn something from them but don't copy. Because the readers already have read the original work, they will be least interested in reading a duplicate work. So just stay you in your unique style. Trust yourself. And keep writing.
Click here to order Sheetal's Book – Delivery Boy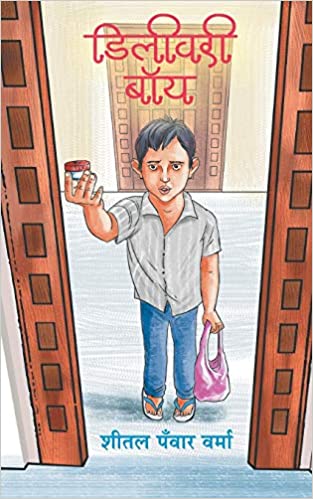 Total Page Visits: 776 - Today Page Visits: 1