About Sanatan Mishra:
Sanatan Mishra is an Ayurveda student and a traveler, blogger, dreamer, and believer. He wrote two books namely: "Malang" & "Sasti Kitab – Saste Logon Ke Mehnge Kisse". He has been invited for Story Narration at Amit youth festival, Delhi University and at many other prestigious platforms. He has also been invited by The social House at Delhi for narration.
LiFT: Tell us about your book, the journey of writing it and its content.
Sanatan: Sasti Kitab is a collection of 12 short Hindi stories that revolve around emotions, love, and humor. How much costly are you? 10 crore? 100 crore? I guess ZERO! Because once you die, you are worthless. You are just dust, the only thing that remains is your story, is your journey. And Sasti Kitab compiles such instances of your life that made you little rich. After the success of MALANG, I worked more on emotions, talked and observed hundreds of people and compiled them in my stories and brought it to you in Sasti Kitab.
LiFT: When did you realize that you want to be a writer and what's your inspiration behind it?
Sanatan: All my writing are based on observations. I read a little but work on my observations more. Travelling teaches me everything. One day I met a person on the train who was as interesting as any protagonist of the movie. He was narrating his office experiences to the strangers on the train. I wrote down his characteristic and fabricated a fictional story around him. I started loving doing this and there began my journey of observation and writing.
LiFT: What do think about the literary world and what are your expectations from it?
Sanatan: Human memory is seriously weak. Maybe that's why we started writing down the things over cave and stones. Writing makes things immortal. If you are doing it to express yourself, you will never be dissatisfied. I expect more experimental and realistic content from all over the world. As a reader, I want to explore the depths of my own emotions with the introduction of new contents in just a few pages.
LiFT: How much do you think marketing or quality of a book is necessary to promote a particular book and increase its readers?
Sanatan: Most of us are a thinker. Some of us are a writer and few of us are a successful published writer. The only difference I find among them is the quality of content and good marketing. I believe good marketing is as necessary as anything. Good stories get buried under poor marketing. I think if you are good at something people should definitely know about yourself. You don't know who you can inspire.
LiFT: What is the message you want to spread among folks with your writings?
Sanatan: Realism. I want to portray the characters and stories that are realistic. Because it is not necessary that every story must end with everybody smiling. It is not true in the real world. Most of us don't get our love. Most of us losses someone very close to the heart. Accidents happen and doctors are not able to save them. We have seen cliché stories so much that we have developed a pseudo positivity around us. In the real world, tears do exist and persist.
LiFT: What do you do apart from writing?
Sanatan: I keep myself very busy. This is only because if I am not doing anything productive it makes me anxious. You can find me mostly in botanical gardens sitting on a bench with my laptop over my lap. I am a movie – music buff. I like 'friends' TV series (completed watching it 10 times already).
LiFT: What are the activities you resort to when you face a writer's block?
Sanatan: A cup of tea. A cup of tea is all I need when I have a block and break. It rejuvenates me thoroughly and resumes my power button. When it is midnight and I am running out of milk, I often go for a long walk until I find a tea-shop.
LiFT: What if your story will be adopted as a movie? Whom would you want to work as a director or actors in it?
Sanatan: Since my childhood, I am very much fascinated toward ANURAG KASHYAP and his art. I find his style of narration matches mine. The way he portrays characters is realistically appealing. He does justice to the script and character. When it comes to acting, one should be as appealing and realistic as my stories and the only name that comes to my mind is Irrfan Khan. I like his work on 'Hasil' very much.
LiFT: What are your future plans?
Sanatan: Since I belong to Ayurveda medicine, I am into the serious lineage of life management and thus can't leave it at any point in my life. I see myself doing clinics at day and writing stories a night. The writing was my passion and is my passion, certainly will be my passion. I will continue delivering stories over various media platforms from time to time.
LiFT: What are your suggestions to the budding writers so that they could improve their writing skills?
Sanatan: Travelling. Young writers should move out of their room and board train. Travelling taught me many of my important lessons and introduced me to newer experience. I find reading a new book and going out to a new place similar. Good planning would cost them little in expenditure and they will be benefited with new stories and character.
Amazon Link to buy Sanatan's Book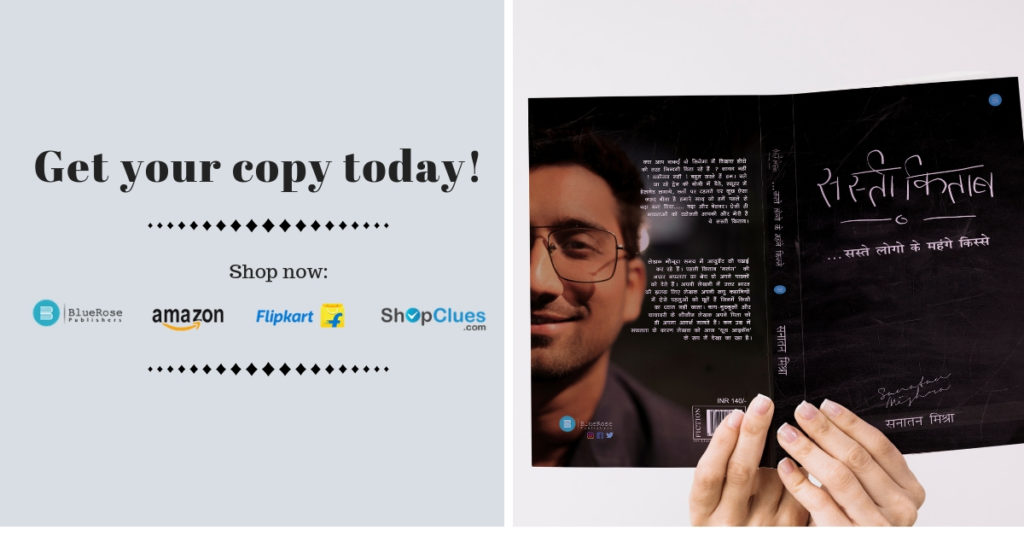 Total Page Visits: 3762 - Today Page Visits: 1