About Sahana Sundar:
Sahana Sundar is a woman of vision who uses every slim chance around her to instil positive changes in human life. She is a revolutionist who has penchant interest in serving society and loves to take up leadership roles. Hence she jumped into politics after she voluntarily retired from a Government job. She served as a class I gazetted officer and as an instructor in the National Cadet Corps, the largest youth organization of India for more than 32 years, where she imparted meaningful training to the youth of the country.
Her love for literature surfaced from her younger age when she developed a distinct prowess in storytelling which brings her in affinity with fiction writing. As a prolific writer, she has to her credit several published and unpublished articles, short stories and novels of different volumes.
Sahana's zeal for writing has led her into founding a writing guild called SPARK igniting minds where she has given a platform to the budding authors, who express themselves through words. To encourage writers, she started SPARK publications for the purpose of publishing books written by sparkians in the form of anthologies and also books written by individual authors. Her passion for writing was as well fuelled by her father who was a journalist. She feels writing is therapeutic as she gets immense satisfaction when she expresses herself through words.
Amongst her visions, the most practical to her is to spend her retired life writing books, publishing them while making a career in politics.
LiFT: Tell us about your book, the journey of writing it and its content.
Sahana: ANAND enchants us with tales of success and romance amid inevitable obstacles in the life of Anand Vikram Appaiah. In business, Anand is a champion of coffee production in India. In romance, he explores his youthfulness by getting entwined with the pangs of two beautiful women who lure him deeper into the depths of affection.
At the peak of his success, an unexpected ploy from his friends-turned-foes – the Minister of Mines and Geology, and the Chief Minister – blows Anand off his position and shakes his confidence. How does their game plan surface? How does Anand face the challenges thrown at him? What will he do to protect his passion for coffee? Will he be able to save the business he has built from scratch?
This book takes us through the captivating journey of Anand and his business journey that gets entwined with his personal life inextricably.
LiFT: Why you chose this title?
Sahana: Anand, means happiness in Sanskrit. Here the protagonist is named Anand, because he always chose to be happy inspite of all the trials, challenges and tribulations of his life. Anand, though had tasted the life of being the second richest man in the world eventually chose to serve the mentally and physically challenged children that gave him immense happiness. Being a man of virtue and principles, Anand found happiness in serving people rather than immersing himself in the pleasures of wealth.
LiFT: When did you realize that you want to be a writer and what's your inspiration behind it?
Sahana: My father, a writer and a journalist was a great inspiration. Though I was fascinated by his writings, I did not write till the age of 45 and when I wrote, I was really surprised of what came out of me. I could weave magic with words. My initial poems were well appreciated.
LiFT: Where do you see yourself ten years down the line in the world of literature?
Sahana: Ten years down the line, I would be well known as an Indian author of fiction among the masses. I would charm the literary world with my contributions of more than twenty books to my credit by then.
LiFT: How much do you think marketing or quality of a book is necessary to promote a particular book and increase its readers?
Sahana: For a good viewership, both the quality of the book and the promotion of the book play an important role. Digital marketing, social media marketing, influencer marketing, e mail marketing, interviews and advertisements in electronic and print media, hiring a publicist, ad campaigning, paid campaigns, blogging, branding, book signing and book reading, brick and mortar, vlogging and other marketing tools should be extensively used. Just writing a good book without marketing is like keeping heavy cash in the chest and forgetting all about it.
LiFT: What is the message you want to spread among folks with your writings?
Sahana: I want to portray real life characters with all its strengths and weaknesses in my fiction. The messages like Truth always triumphs, adversaries are opportunities, life is a challenge, humanity thrives over demoniac characters, be a universal man, raise above emotions and intelligence, try to be an intellect, there are good , bad and ugly things in the universe, death is certain, man is is a product of heredity and environment, crime thills but kills, universe is changing and evolving, there are 99% of the things which we are not aware of etc.
LiFT: What do you do apart from writing?
Sahana: I run a publishing house, I run a book store, I run Spark writers retreat every year and I am the founder of a writers' guild called Spark Igniting Minds
LiFT: What are the activities you resort to when you face a writer's block?
Sahana: I beat writers' block by reading books, by writing freely, by watching movies and series on Netflix, Amazon prime, I go on a vacation, I take a shower, I listen to music, I talk to people, go for a walk etc.
LiFT: What if your story will be adopted as a movie? Whom would you want to work as a director or actors in it?
Sahana: Anand is a perfect tale for a movie. If made into a movie, I strongly feel, many entrepreneurs will relate to the story and it moves the hearts of the masses. The star cast can be like Siddhart Malhotra Kabir Bedi, Radhika, Anil Kapoor, rashmika Nandana etc The movie can be directed by either by Anuraag Kashyap or Girish kasarvalli.
LiFT: Are you working on your next book? If yes, please tell us something about it.
Sahana: My next book encompasses the psychological aspects of a string woman who climbs the biggest peak of the world, facing the challenges of the societal inadequacies, despite being crippled.
LiFT: What are your suggestions to the budding writers/poets so that they could improve their writing skills?
Sahana: Be yourself and write all that you feel. You are unique and no body thinks like you. If you have a bouquet of impressive words. Keep it to yourself. Keep seeing picture books even if you feel you are old enough for that. You can write in any place, any time and in any way. There are no set rules for writing but write and rewrite. Kill your darlings, even if you feel that they are so very well woven. If you feel it does not add any value to take your story worward nip them out and proceed. Write regularly and constantly think of your writing as now you are a writing diva and has made up your mind to become an author.
Click here to order Sahana's Book – Anand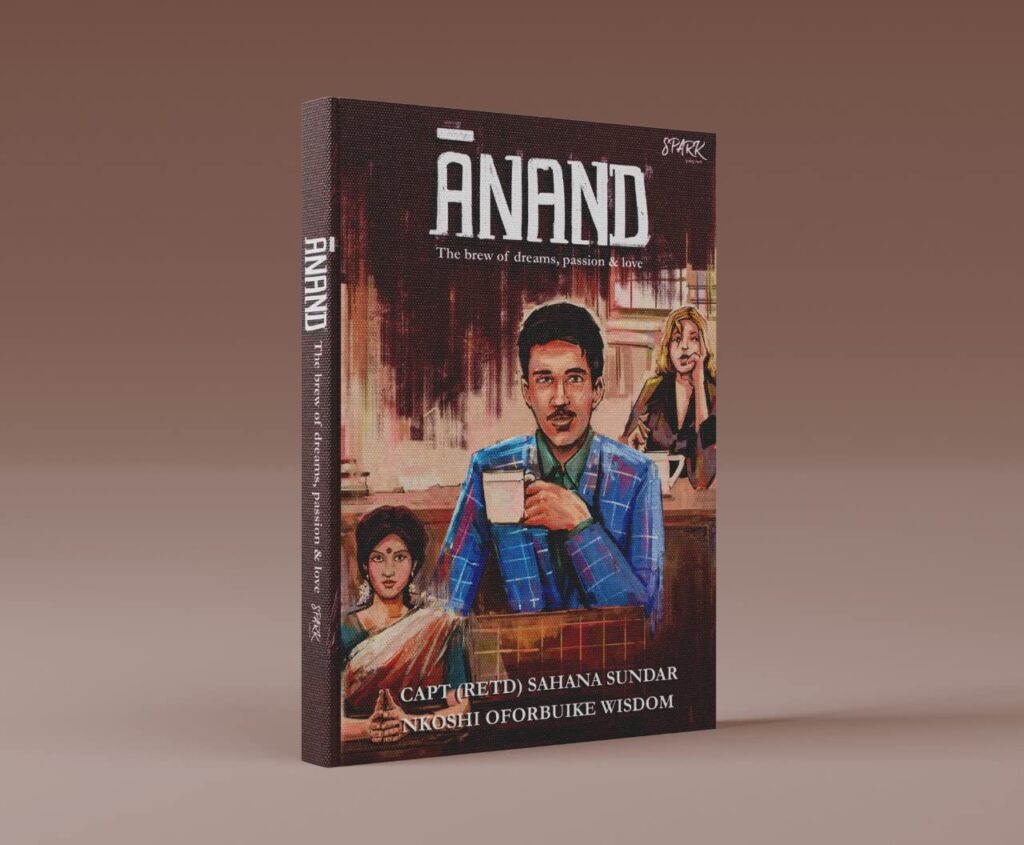 Total Page Visits: 327 - Today Page Visits: 1