About Saakal Ulysses Dewan:
Writer, columnist, and a social activist, Saakal Ulysses Dewan is a regular contributor to his hometown Darjeeling's online news portals, Darjeeling Chronicles and Darjeeling Times and local dailies on the contemporary issues of politics, social activism and environment. A navy veteran with keen interest in social work and environment, belongs to a rare breed of versatile writers who can get along with disparate thoughts with uncanny ease. And Quiet Flows the Teesta & Other Poems is his first work that deals with diverse experiences of his life over the years. When he is not writing, he spends his time promoting sports in his community.
LiFT: Tell us about your book, the journey of writing it and its content.
Saakal: And Quiet Flows the Teesta & Other Poems is a collection of poems that is based on themes as diverse as love, politics and science. As the title of anthology suggests, the book seeks to highlight the plight of river Teesta, which is culturally significant and a major river in the Sikkim-North Bengal riparian region of the Indian sub-continent. The river worshipped by the indigenous Lepcha community has been exploited for hydel power generation in the face of opposition by the peace loving community and environmental activists who are concerned by the ecological repercussions of the development. Drawing inspiration from Lepcha community myth, the book begins with stifled love between Teesta and Rangeet rivers and celebration of nature's beauty by the poet. The poems run through the entire spectrum of poet's experience affected by the events occurring around him, from the perspective of his personal love to the challenges posed by decadent politics, environment pollution and Corona pandemic. In his anthology, the poet weaves child's curiosity with lover's intense passion tempered by a philosopher's sagacity. Peppered with philosophical, satirical, romantic and imaginative elements, the anthology presents an eclectic feast of different shades of human emotion to be relished by the readers. I began to scribble poetry since my college days as I was fascinated by the beauty of words used by great English poets while expressing their feelings and portraying the nature in most sublime form.
LiFT: Why you chose this title?
Saakal: I chose the title to celebrate the myth surrounding our two holy rivers, Rangeet and Teesta, whose love story is legendary, and ingrained in the consciousness of our local people, especially Lepcha community. Sadly, both the rivers have been tamed today due to dam construction for hydel power generation. In the poem, I try to highlight their plight to the world brought by human intervention.
LiFT: When did you realize that you want to be a writer and what's your inspiration behind it?
Saakal: When I began to write poems inspired by great English poets like Keats, Shelley and Wordsworth, and shared them on social media, many of my friends advised me to publish them seeing the quality of work. Then I realised that it was time to go ahead with publication. However, always at the back of my mind was the inspirational story of a grass-cutter (ghasi in Nepali language) who, by constructing a drinking water well for use by his fellow beings, had inspired the first Nepali poet Adi Kavi Bhanunhakta Acharya to leave a legacy of virtue.
LiFT: Where do you see yourself ten years down the line in the world of literature?
Saakal: I expect to carve a separate niche for myself in the field of literature, may be a separate genre too. More importantly, I would like to honestly bring forth the truth for our society to savour through my pen.
LiFT: How much do you think marketing or quality of a book is necessary to promote a particular book and increase its readers?
Saakal: In today's globalised age, the role of marketing is of paramount importance and complements a quality work to a great extent. Marketing and quality work are complementary to each other in today's digital world.
LiFT: What is the message you want to spread among folks with your writings?
Saakal: I want to tell them to be honest with their feelings, cherish the beauty of nature and goodness of human life. I want to spread the message of love and creativity, which are unique qualities that God has bestowed upon us.
LiFT: What do you do apart from writing?
Saakal: Apart from writing, I am engaged in social work and promoting sports amongst youngsters.
LiFT: What are the activities you resort to when you face a writer's block?
Saakal: I just let mood to pass away by engaging in refreshing activities like sports and listening music. Also, i look for any source of inspiration that may cause me to hold pen in between.
LiFT: Are you working on your next book? If yes, please tell us something about it.
Saakal: Well, I am scribbling poetry at my leisure but it is yet to be completed for publication.
LiFT: What are your suggestions to the budding writers/poets so that they could improve their writing skills?
Saakal: One has to read a lot, get inspired by the writers and honestly put forth one's own feelings. Creativity is a unique gift to all of us, we just need to mine it effortlessly.
Click here to order Saakal's Book – And Quiet Flows the Teesta & Other Poems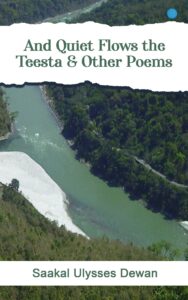 Total Page Visits: 896 - Today Page Visits: 2