About Roopal:
Roopal Arora has done her Engineering and Masters in Information Technology. She is an OCP and SAP professional. She has done two courses from British Council. She is a Microsoft Educator, Buncee Educator and Wakelet Educator. She is a Brainmaths professional. She has 6 years work experience in big IT firms like Wipro and CNEB network as IT professional. She is remotely working for Marucom private firm as Manager Technical. She loves listening music and reading books. She loves learning new things. She has keen interest in Maths, English and Computers. She values personal development and human ethics. She believes that success is an outcome of hardwork.
LiFT: When did you realize that you want to be a writer/poet and what's your inspiration behind it?
Roopal: Writing is a beautiful dream we hold in our hand. Writing relieves stress. It helps me to see parts of life that are beautiful. I write because it gives me hope and happiness. It allows me to express my thoughts. It provides me the best form of release. My mind starts to forget about the problems and relieves my tensions. It is soothing and nourishing for my mind.
It is an amazing form to express myself and my opinions. I am able to translate everything into meaningful thoughts. It sharpens my mind and helps me learn new things in life. I find inspiration in stories. It allows me to express observations about nature, feelings and reflect on life experiences.
LiFT: Where do you see yourself ten years down the line in the world of literature?
Roopal: I see myself actively involved in Anthologies and inspirational writings that will motivate many in their path.
LiFT: How much do you think marketing or quality of a book is necessary to promote a particular book and increase its readers?
Roopal: Marketing is essential for the greater reach of the book. It broadens appeal of the book. Writers get lot of happiness and contentment from responses. To have their ideas heard and known is what matters to them a lot. It will help their book become visible to everyone. It helps create a positive interest and impact about the book. It is essential to collaborate with others to increase reach of the book and writer.
LiFT: What do you do apart from writing?
Roopal: I am remotely working for company as Manager Technical. Apart from that in my free time I love listening to music.
LiFT: What are the activities you resort to when you face a writer's block?
Roopal: I love reading things that motivate a lot in my writing. I like reading stories that connects me with others.
LiFT: Are you working on your next book?
Roopal: Yes. I am working on another inspirational ebook.
LiFT: What are your suggestions to the budding writers/poets so that they could improve their writing skills?
Roopal: They must set writing goals for themselves. They must write daily on things that motivate them the best. They must write things with lot of love and compassion. Write and put everything in the right order. We all have our writing struggles. Keep a check of mistakes that you make often in writing. Think about things that motivate you a lot in your writing and connects you with others. Keep reading, learning and writing. Make sure you are clear about things that you are writing about. Have a clear purpose and stick to your purpose.
Click here to order Roopal's Book – Life is Beautiful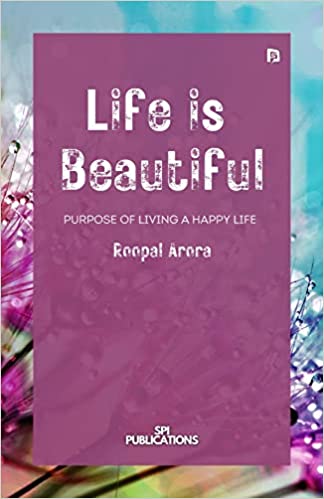 Total Page Visits: 551 - Today Page Visits: 1