About Rezina Denis:
Rezina Denis is an Author, a corporate professional, an ICF certified Life, Business, Organizational Excellence Coach, and Neuro-Linguistic Practitioner. She is also a book writing coach and a parenting expert. As a professional, she works for the Financial Industry in a Digital Business role. She not only writes books but also mentors and coaches kids and adults to write their first book through her exclusively budding authors program. Rezina has 10+ titles published as author/co-author available across Amazon and Flipkart platforms. She also coaches career professionals, entrepreneurs, and women to have a successful career & entrepreneurial stint. Rezina believes that books are friends for life and have the power to transform and make you smile. She wants to continue writing forever and contribute to this transformation and smiles on her readers.
LiFT: Tell us about your book, the journey of writing it and its content.
Rezina: My book is about Parenting through this new digital and pandemic age that teaches the readers to use scientific and neurolinguistic language for effective parenting. It helps parents to identify the root cause of why children behave in a certain way and how one can handle each and every aspect simply tapping their child's brain. It offers both art and science of effective, easy, and simple parenting.
LiFT: Why you chose this title?
Rezina: The title of my book totally resonates with what parents want today, easy, simple ways to parent their children and also deliver awesome results.
LiFT: When did you realize that you want to be a writer/poet and what's your inspiration behind it?
Rezina: Writing was a childhood passion and it was a childhood dream to transfer writings into a book. The inspiration behind my writing and publishing 10+books comes from my daughter as I began writing children's stories for her and eventually published it for her. I also dedicate my inspiration to my mentor and coach Sufi.
LiFT: Where do you see yourself ten years down the line in the world of literature?
Rezina: I see myself as one of the favorite authors amongst children like Sudha Murty and Enid Blyton. And I also aspire to coach and mentor many children and adults who want to write and publish their books through my budding- authors coaching program.
LiFT: How much do you think marketing or quality of a book is necessary to promote a particular book and increase its readers?
Rezina: It's highly important as marketing is the heart of every product, even books. It's important to reach out to readers and marketing your books gives you that tool and makes it easier to promote your book. But it's important to start marketing prior to the book launch rather than post publishing.
LiFT: What is the message you want to spread among folks with your writings?
Rezina: My aim is to entertain children with deep-rooted Indian stories and bring them closer to our culture and tradition.
Not only children, but I also aim to share my experiences, knowledge as a certified life coach, with career professionals and women through self-help books like parenting, family, and relationships.
LiFT: What do you do apart from writing?
Rezina: I am a corporate professional and an ICF certified, Life and Business Coach, Organisational excellence coach, NeuroLinguistics Practitioner, and A book writing coach and A Parenting Expert.
LiFT: What are the activities you resort to when you face a writer's block?
Rezina: Writer's block is a reality and it is something that every writer goes through. I handle it slightly differently, whenever I face this block I switch over to another genre of writing (I always write two books at a time 🙂) And take short holiday breaks by completing shutting off the writing.
LiFT: What if your story will be adopted as a movie? Whom would you want to work as a director or actors in it?
Rezina: Yay!!! Movie, now that's my other childhood dream. I would choose to be a director as I am a character's personality. The way I love building up characters in my book will do so in the movie through the actors.
LiFT: Are you working on your next book? If yes, please tell us something about it.
Rezina: Yes once a writer always a writer. I am working on a book exclusively for women and their career lifecycle, challenges they face, and how to overcome them. "Because when you have more and more women in the organization especially at the top you actually empower the entire organization."
Click here to order Rezina's Book – Easy, Simple & Awesome Parenting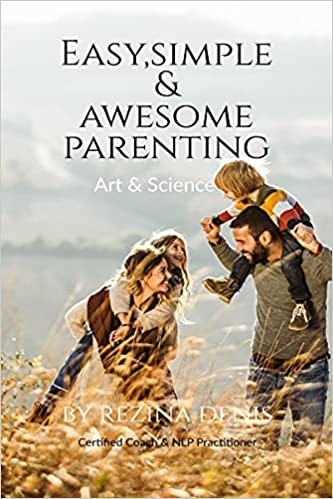 Total Page Visits: 374 - Today Page Visits: 2