About Reshma Budhia:
Reshma Budhia is a Certified Design Thinking Specialist from Emeritus MIT Sloan School of Management and has completed her PG Diploma in Innovation & Design Thinking. She has been in the domain of marketing for the past 16 years. She works with companies to conceptualize and build marketing roadmap using emerging technology solutions. Her key role includes brand & strategy consulting, content creation, UX/UI consulting and growth strategy planning & execution.
She believes that this framework for problem solving must be taught to all; children and adults alike. In this first book of hers she questions the very definition often associated with the word – Creativity. She throws light on the fact that creativity is not a form of doing, but a form of being. "I am" was not born as an impulsive, spur-of-the-moment story. It is her own journey to discovering that she is creative!
LiFT: Tell us about your book, the journey of writing it and its content.
Reshma: Do you think you are creative? Have you always equated "being creative" with "being artistic"? When two kids take up the challenge of creating the perfect gift for their Art Teacher, it takes them on a journey of discovering the real meaning of being creative. This illustrated picture book questions the stereotype associated with creativity. From adults to children, everyone is going to find a piece of themselves when they read the book.
"I am" was not born as an impulsive, spur-of-the-moment story. It is my own journey to discovering that I am creative! Most of my adult life I believed I wasn't creative because I was not an artist. However, I always loved to ideate and build multiple options to day to day challenges. The, I decided to enrol for a PGD in Design Thinking. This is a framework for problem solving. Going through this course taught me that – problem solving is creativity. I was stunned at how such a simple redefinition changed the way I perceived myself.
The book takes its inspiration from the core principle of design thinking – if you can solve a problem, you are creative. It takes the reader through the journey of Empathy – Define – Ideate – Prototype – Test to demonstrate a simple method to solve a seemingly complex problem.
This simple illustrated book makes for a fantastic gift for young adults, professionals, and parents. It's a keepsake that opens up a new dimension each time you read it.
The illustrations in this book were visualised by me. Although I am not an artist, I realised that the illustrations were key to moving the story forward. So, I decided to get my two kids to pose and then traced out the illustrations to see if they worked for the book or not. After that I got my illustrator, Bhavani Sitaraman, to illustrate them using my initial drafts as reference.
LiFT: Why you chose this title?
Reshma: I AM – this is the most profound and real statement for us. In this world where we are all struggling to understand ourselves, the easiest to do and yet toughest to apply is to believe – I AM. This book is a happy book. It does not talk about rivalry. It does not focus on negatives. It is an emotional journey of a boy and how is brother encourages him through the journey.
I needed the title of the book to be positive and affirmative. There, I AM.
Also, I intend this book to be the first of many. The title allowed me to create a series.
LiFT: When did you realize that you want to be a writer and what's your inspiration behind it?
Reshma: I have always loved to write. As a career also, content writing was my calling. The impact words can have is phenomenal and I wanted to master it. After I became a mother, I was exposed to some amazing Indian and International authors who used minimum words to express profound messages. Somewhere they became a founding stone for me.
Design Thinking is a complex subject. However, Albert Einstein said – if you cannot explain it to a 6 year old then you have not learnt it at all. which is why I challenged myself to explain the subject of Creativity using Design Thinking in its simplest form – illustrated book.
I hope to change the life of just one parent, one teacher, one professional, one child, one adults, and hope for the ripple effect 🙂
LiFT: Where do you see yourself ten years down the line in the world of literature?
Reshma: I am going to continue writing. Will it be illustrated book or will it be a novel? Who knows! It is important for me to use my words to become a guiding light to many, and I intend to do everything in my capacity to enable that.
LiFT: How much do you think marketing or quality of a book is necessary to promote a particular book and increase its readers?
Reshma: I am a marketing consultant! I imagine, you know what my response will be 🙂
having a great product with poor marketing is like cooking some great dishes, clicking a picture, and then trashing it. Readers need to find the book, they need to know about it, and they need to be given the option to pick it. That's marketing!
As for printing quality, I hope you can get a hand to my book – you will see that I have attempted to use the richest quality of paper and printing because the book needs to do justice to a serious subject like Creativity.
LiFT: What is the message you want to spread among folks with your writings?
Reshma: I want my readers to understand that Creativity is not a form of doing, it is a form of being. When we assume that it is a form of doing than we focus more on finding the right solution that is accepted. However, creativity is not about that. It's not about finding the one right solution – instead it's about finding multiple ways of doing the same thing.
Creativity is a mindset – you need to be creative, not necessarily do creative.
LiFT: What do you do apart from writing?
Reshma: I am Marketing Consultant and a Design Thinking specialist. I work with B2B technology companies to help them with their branding, marketing and content strategy. I am the co-founder of TOSS the COIN (www.tossthe.co.in)
LiFT: What are the activities you resort to when you face a writer's block?
Reshma: I zone out. I get away from the screen and go and spend time with my family. Most of my inspiration has hit me when I am with them – watching them and immersing myself in their activities.
LiFT: Are you working on your next book? If yes, please tell us something about it.
Reshma: I am working on the next one. It is within the realm of Design Thinking and touches on Empathy.
LiFT: What are your suggestions to the budding writers/poets so that they could improve their writing skills?
Reshma: It is important to allow your story or your content to brew for a while. Let it sit after you complete it. When you zone out, you allow yourself to subconsciously measure the content against different scenarios and that could open a whole new aspect for you.
Click here to order Reshma's Book – I Am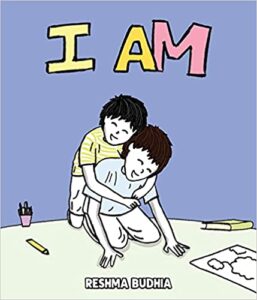 Total Page Visits: 474 - Today Page Visits: 1