About Purnima:
Purnima, a writer by heart… with thoughts in mind and words on paper, inking emotions. She is a writer with passion for simplicity, who loves to express her emotions, experiences, and opinions about anything that fascinates her. The world of writing inspires & interests her to paint pictures with words. A literature post-graduate, she has always been an avid reader, which inspired her to create her own world with her words of thought and to follow her passion as writer.
Initially she started off by writing reviews of a few of her fav TV episodes on India-forums, WordPress, further moved on to write stories, fan fictions, where she found fun developing characters desired & giving stories the endings they deserved. Gradually she developed interest in writing poems, few of them feature in this book. It's been 5+yrs she got addicted to writing and desire to continue writing for many more years to come.
LiFT: Tell us about your book, the journey of writing it and its content.
Purnima: This book has a collection of around 21 self composed poems in hindi. Poems which I have written over the years.
LiFT: Why you chose this title?
Purnima: I specifically chose this title, as all the poems in this book, revolve around Love and different emotions we experience in Love, being in love and feeling of being Loved… It touches every aspect and shade of Love… Unrequited Love, First Love, Loving Life. Its all about Love.
LiFT: When did you realize that you want to be a writer/poet and what's your inspiration behind it?
Purnima: I have been writing since 2015-16, but it was only for my personal notes and diary. It was in 2017 when I was inclined towards writing too seriously and found my deep interest in writing stories, poems or just simply writing a blog post. Gradually I started participating in Anthologies, writing competitions and there was no looking back.
LiFT: Where do you see yourself ten years down the line in the world of literature?
Purnima: Writing as an art is so vast and constantly evolving with emerging writers joining world of writing. With time I see myself as a more matured & experienced writer who touches hearts of many more readers. I would like to see myself as constantly evolving writer, enriching and enhancing my abilities not only as writer, but also as Reader I would like to read more and more.
LiFT: How much do you think marketing or quality of a book is necessary to promote a particular book and increase its readers?
Purnima: A good writing, with a strong content always find takers. But still marketing and quality of book do adds on benefits while promoting Book. A proper market strategy ensures that your book reaches out to maximum readers and well planned marketing also inquisits readers and instills interest, which makes it important that a book is marketed well, and book is of good quality, which is possible through strong and good marketing.
LiFT: What is the message you want to spread among folks with your writings?
Purnima: In this digital era, where everything is available on click of your mouse and a swipe of your smart phone and you have everything available on Google, internet social media apps, Blogs etc… you have so much to read. The more we read, more we are inspired to write, with my writings I want to inspire my readers also to be interested in penning their own thoughts and enter the magical world of Words.
LiFT: What do you do apart from writing?
Purnima: I am a Literature post graduate, apart from writing for personal books and pieces. I am freelance writer, content writer, proof reader. Also preparing for my UGC NET exam and looking forward to be a Assistant Professor. In my free time I am an avid reader, fond of listening good music and love to cook, trying out new recipes.
LiFT: What are the activities you resort to when you face a writer's block?
Purnima: One of biggest help while facing writers block is definitely Reading. I try to read books or quotes even blog posts related to thoughts that go in my mind. Like example if I am writing a romantic story, and I am confused how to develop situations, I try to read few romantic stories, or romantic quotes…or just simply watch a romantic film.
Also I make sure, whenever I have a thought in mind which I feel I can continue or develop it in a story or poem I always note them down. So when I experience writers block, I go back to my notes and get ideas.
LiFT: Are you working on your next book? If yes, please tell us something about it.
Purnima: Yes, I am planning to publish my second book, which also gonna be a collection of self composed poems, this time in English. Also, I have few short stories collection too, which I would like to either publish them as a single novel or just a collection of short stories.
LiFT: What are your suggestions to the budding writers/poets so that they could improve their writing skills?
Purnima: Reading is the best suggestion for any and every budding writer and poets. Read good book from best writers, of genres you are interested in. Nothing enhances your writing better than your reading experiences.
Also as writer, always observe surroundings learn from experiences, whenever you feel like something has touched your heart, or a thought that struck you, or an emotion that you felt, just note it down somewhere. So you can always go back and develop it as a poem or a story.
There is no better teacher and inspiration as Writer than having conversations with people in writing field. Be part of writing groups, post your work receive feedback and work on your strengths and weaknesses.
Click here to order Purnima's Book – Pyaar ki Baatein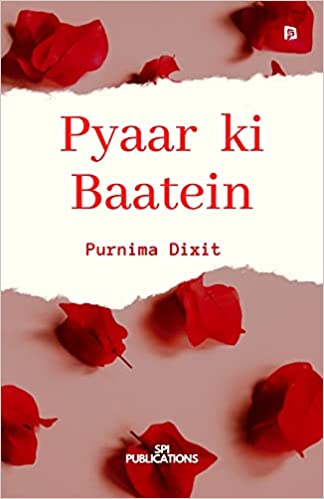 Total Page Visits: 509 - Today Page Visits: 1