About Prateep Roy:
Prateep Roy is an Anthropologist by education. He has spent 30 years working in the social development sector and as a market researcher. Having met millions of people during his journey as a researcher, he has accumulated millions of stories about people, places and lives.
Having played the first innings of his life as a researcher, he decided to play his second innings as a storyteller to concoct stories out of those million stories that he has accumulated. But above all, he is intrigued by the past, always. Imagining walking next to a Neandarthal man or riding besides King Ashoka, the Great or just be a commoner in the land of Chanakya has always been a fun. 'If only I could be there a thousand years in the past and watch them,' was always that he strived for.
The Curse of Kukkutarma is his first novel on time travel interwoven with Indus Valley Civilization. Earlier, he had written a novella on KDP called The First Empress, 60,000 years ago, concocting a story around the Out of Africa migration theory.
LiFT: Tell us about your book, the journey of writing it and its content.
Prateep: The premise of the story is on time travel and is interwoven with the Indus Valley Civilisation. The primary trigger for writing this book is my fascination for time travel as a concept and obviously prehistory, as I am an Anthropologist. So I thought of concocting a story marrying the two. The journey of writing this book was as romantic as the story itself.
LiFT: Why you chose this title?
Prateep: The reason for my picking up Indus Valley Civilisation is to familiarise the various sites of the civilisation on the Indian side to the readers that most have not heard about and we take pride in our civilisation being 5000 years old without knowing much about it. It is an attempt to narrate the 'story' of Indus Valley Civilisation in a subtle way.
LiFT: When did you realize that you want to be a writer/poet and what's your inspiration behind it?
Prateep: I really can't recollect the day, but I used to concoct stories in my own mind when I would be free (do it even now). It is like daydreaming. It would occur the most when I am travelling in a bus, train or flight. I would just start concocting a story. It could be a thriller, where I am the protagonist like Sherlock Holmes or an officer from the crime branch. I may then become a romantic hero rescuing a hapless lady and so on and so forth. When I started writing somewhere in 2018, I just started writing and the flow was automatic. I never plan my story, it comes as I keep writing. I just keep concocting.
LiFT: Where do you see yourself ten years down the line in the world of literature?
Prateep: I really don't know. everybody wants to make a place for himself/herself, I will also want to make a place in the world of literature. But I just don't want to be famous, I want to be known for my work, which should be unique and should be able to spread some knowledge or message to the society and mankind.
LiFT: How much do you think marketing or quality of a book is necessary to promote a particular book and increase its readers?
Prateep: Marketing is the pillar for making a book popular. It should be kept in mind that the moment we talk about selling our book we are talking about marketing, which is related to 4Ps, i.e. Product (the book), price, positioning (target audience) and promotion. Hence, all rules of marketing holds true for making a book, and hence the author popular.
LiFT: What is the message you want to spread among folks with your writings?
Prateep: My current work is aimed at spreading the message that "if you say you proud of your glorious past and proud of being the oldest civilisation in the world", you should put efforts to know about it. Else, you may read my book.
LiFT: What do you do apart from writing?
Prateep: I am an Anthropologist. I have co-founded (with my wife) a research agency, which is into its 25th year of existence. We conduct market research for major brands in the market and conduct evaluation studies for projects in the social development sector in India for international and national philanthropic organisations.
LiFT: What are the activities you resort to when you face a writer's block?
Prateep: I go to bed and think of 'that section of the story'. I start 'daydreaming' about 'what should happen next' and go to sleep. Next morning I wake up and write down what I had seen in my daydream at night. The daydreaming is like I am watching a movie, and I write exactly what I 'saw'.
LiFT: What if your story will be adopted as a movie? Whom would you want to work as a director or actors in it?
Prateep: Well. I surely want to be part of the director's team, as I think I can contribute a lot in it. I would love to see it on OTT. I can't name a director.
LiFT: Are you working on your next book? If yes, please tell us something about it.
Prateep: Yes. It will also be on the premise of 'time travel' and somewhat related to the boon of Ichhamrityu (self-desire to die) that Bhisma had in Mahabharata. It will be called the 'The Boon of Bhisma'.
LiFT: What are your suggestions to the budding writers/poets so that they could improve their writing skills?
Prateep: Have a lot of patience and do your research to understand the dynamics of the industry. Don't shy away from understanding the marketing tricks of the industry. Start making your network with authors, book clubs etc. as you start writing.
Click here to order Prateep Roy's Book – The Curse of Kukkutarma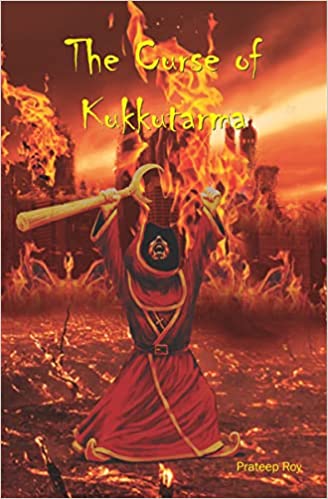 Total Page Visits: 692 - Today Page Visits: 1