About Pranav Rao:
Pranav Rao is a curious soul who is not afraid to question the traditional ways in order to find better ones. He often finds himself oscillating between free will and determinism. He studies people and situations and has an uncanny knack of finding stories around him or better still, within him. He can often be found reading a book, usually non-fiction, while he is stuck in traffic. Just like cooking, which he enjoys, he uses ingredients of experience, observation, imagination & inspiration to weave his stories. You can find him unwinding with his friends at a local joint over the weekends. He has authored two novels thus far.
LiFT: Tell us about your book, the journey of writing it and its content.
Pranav: Well… A Tale of Arranged Marriage is a funny and satirical take on the process of arranged marriage in urban India. The book focuses on how marriage is perceived across two generations, the difference of opinions and certain toxic traits of society. It showcases a typical authoritative, overprotective Indian mother, Rukmini, who wants to get her son, Ayaan, married because he is 'of the age' being in his late twenties and Ayaan's thoughts on marriage and his constant inner battle. What ensues is a fun drama as Ayaan dodges the 'rishtas' set up by his mother. He is forced into meeting various types of girls which end up in rather funny encounters. To find out whether Rukmini succeeds in her mission to get Ayaan married or is there something else in store for our protagonist, you must grab your copy today!
LiFT: Why you chose this title?
Pranav: It seemed apt given the content of the novel. Judging from the feedback I have received from the many people who have already read this novel, I think I made the right choice with the title.
LiFT: When did you realize that you want to be a writer and what's your inspiration behind it?
Pranav: I used to write poetry as a child. A few of those were even published in the school's annual magazines. So I guess I always had that knack but writing my first novel was just chance. I woke up one Sunday afternoon and sat with my laptop. A few months later, I had my first novel.
As for the inspiration behind it, well I used to follow this series called 'Californication', when I was in college, in which the protagonist is a writer. I found the portrayal of that character quite interesting at that age and used to think that it could be cool to be a writer. So I guess the credit should go to my younger naïve self who dreamed of becoming a writer simply because he found a character in a series interesting.
LiFT: Where do you see yourself ten years down the line in the world of literature?
Pranav: I am hoping to write a few more novels across different genres with messages for the people to ponder upon. Hopefully the right thoughts or messages get across to people which would benefit the society at large. I would be happy if I could do my tiny bit in changing the society for the better through my writing in the next ten years.
LiFT: How much do you think marketing or quality of a book is necessary to promote a particular book and increase its readers?
Pranav: In today's world of social media, marketing has become an integral part of anything and everything. It is absolutely necessary for promoting a book just as marketing is necessary for promoting a soap perhaps. Having said that, no amount of marketing will help if the quality of the content is not up to the mark. I am quite old school and still believe that word-of-mouth is the best way a book gets promoted because there is a level of personal assurance linked to that. You cannot put a price on that.
LiFT: What is the message you want to spread among folks with your writings?
Pranav: Ahh… the answer to that would take a lot of time. Someday I could tell you that in detail over a drink! But in a gist, I want to imbibe a sense of questioning things amongst the folks, be it age old norms, religious practices, various discriminations and biases and all that jazz. One should not simply accept things because it is widely popular. I believe every individual has a good sense of what is right or wrong, so why not question?
LiFT: What do you do apart from writing?
Pranav: I am a real estate developer and an educationist. I also do some farming and enjoy cooking. On my best days, I absolutely love doing nothing!
LiFT: What are the activities you resort to when you face a writer's block?
Pranav: I go out with my friends and grab a drink
LiFT: What if your story will be adopted as a movie? Whom would you want to work as a director or actors in it?
Pranav: It would be awesome if that happens. As a director from Bollywood, I would love to have Tigmanshu Dhulia or Imtiaz Ali or Anurag Kashyap, in no particular order. As for the actors, well these directors that I have named definitely have a better eye for that.
LiFT: Are you working on your next book? If yes, please tell us something about it.
Pranav: Yes I am. I am trying out a short story and a few poems currently but I also have a plot for my next novel cooking at the back of my mind as we speak. I will get in the details of the same at a later time.
LiFT: What are your suggestions to the budding writers/poets so that they could improve their writing skills?
Pranav: Don't pretend. Believe in yourself and stick to your personality. Let your thoughts and personality get reflected through your writing. There is no point in copying someone else's writing style nor is there a point in trying to force fit
fancy words just for the heck of it. Enjoy the entire process of writing because once your words are out there in the world, you have no control over the reactions they will receive. For me, it is all about the process of writing. I make the most of it because during that time, my words are only mine. At such times, do not let doubts creep into your mind about your writing! Let the various publishing houses decide whether your writing is good enough or not after you have finished.
Click here to order Pranav's Book – A Tale of Arranged Marriage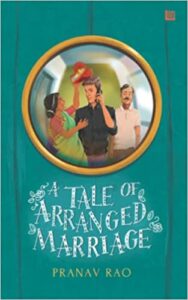 Total Page Visits: 725 - Today Page Visits: 1