About Prado:
Prado is an author who loves to explore historic fiction in terms of different fantasies. He has grown amidst multifarious cultures and countries, which triggered his interests towards exploring different things in life. He believes that there's no perfect way to live life and explores every single opportunity that comes his way. In one such journey, he crossed paths with a renowned Australian author who later happened to become his mentor. This experience led him to begin his writing journey for his love for historic fiction and fantasies.
Prado is an avid reader and works as a manager in a leading MNC. Prado loves trekking, is a big-time foodie and overall, a nomad who sees the whole world as his home to travel and evolve, his zeal for life is infectious. He is currently working on different genres of fiction to take his readers into a whole different imaginative world.
LiFT: Tell us about your book, the journey of writing it and its content.
Prado: I started writing this book 3 years back, Started as a hobby and turned out to be a passion last year, I took a break and went to Nepal, I was in the Foothills of the solukumbu region, That's when I wrote most of the book.
LiFT: Why you chose this title?
Prado: The Character in my book is a Famous Nazi Scientist and his nickname was The Angel of Death, That's the inspiration behind the name
LiFT: When did you realize that you want to be a writer and what's your inspiration behind it?
Prado: I don't really know, I have been writing stuff since I don't know when.
LiFT: Where do you see yourself ten years down the line in the world of literature?
Prado: My dreams are not planned for so long, I go with the flow of thought and a dream a day.
LiFT: How much do you think marketing or quality of a book is necessary to promote a particular book and increase its readers?
Prado: Book marketing will help the book become visible in the literary world. Marketing or publicizing the book helps increase the sphere of influence. Therefore, there is a handsome chance to attain popularity on a global scale.
LiFT: What is the message you want to spread among folks with your writings?
Prado: Its a Fiction, Hope It entertains them.
LiFT: What do you do apart from writing?
Prado: I am a Project Manager in an MNC based in the Kingdom of Bahrain.
LiFT: What are the activities you resort to when you face a writer's block?
Prado: I take a break, Watch Movies or even go for a walk. Somedays I have just written two lines and deleted them the next day.
LiFT: What if your story will be adopted as a movie? Whom would you want to work as a director or actors in it?
Prado: The books have been sent to a few Directors in India and also to Netflix and Amazon for review, I don't see the chance yet but it is okay to dream.
LiFT: Are you working on your next book? If yes, please tell us something about it.
Prado: Yes, The book is based on a so-called Ashram, Non-political and Non-Religious.
It's a journey of three boys growing up in an Ashram and how they saw the world when they were out of the Ashram.
LiFT: What are your suggestions to the budding writers/poets so that they could improve their writing skills?
Prado: Take your time, Writing a book is not easy nor Difficulty all it needs is Patience.
Click here to order Prado's Book – The Angel of Death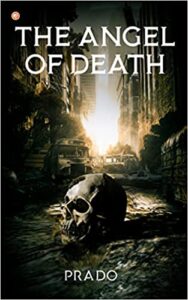 Total Page Visits: 664 - Today Page Visits: 1