About Pradeep Kumar Yadav:
Shri Pradeep Kumar Yadav holds 3rd DAN Black Belt in Karate conferred in 2019 from the World Karate Federation, Spain. Sh. Yadav who is an Official of Rajya Sabha Secretariat, Parliament of India, has more than 20 years of experience in learning and teaching Karate. He has been honored by the Hon'ble Vice-President of India Shri M Venkaiah Naidu Sir and Hon'ble Speaker Lok Sabha Shri Om Birla Sir.
LiFT: Tell us about your book, the journey of writing it and its content.
Pradeep: I started learning Karate in 9th class where I used to be in Kendriya Vidyalaya where I used to live in the hostel that was situated in the school campus. After 20 years of experience in learning and teaching Karate, I thought that I must write a Karate book, so that all generations can take benefit of it.
LiFT: Why you chose this title?
Pradeep: It's a unique title and I told all the glossaries in the book to earn a Black Belt.
LiFT: When did you realize that you want to be a writer and what's your inspiration behind it?
Pradeep: My daughter is my inspiration and in Karate Academy I used to tell glossaries in writing on paper. So, I skip this procedure and wrote the book.
LiFT: Where do you see yourself ten years down the line in the world of literature?
Pradeep: It would be more important for the Karate enthusiasts if more and more karate books will be available to read.
LiFT: What is the message you want to spread among folks with your writings?
Pradeep: Every body is unique with unique quality, so everybody must write a book of his/her own skills.
LiFT: What do you do apart from writing?
Pradeep: Giving coaching of Karate classes.
LiFT: What are the activities you resort to when you face a writer's block?
Pradeep: Go for walk and try to get the best resolution.
LiFT: What if your story will be adopted as a movie? Whom would you want to work as a director or actors in it?
Pradeep: Akshay Kumar as he is perfect hero as well as a Black Beltians.
LiFT: Are you working on your next book? If yes, please tell us something about it.
Pradeep: Audio book will be coming shortly.
LiFT: What are your suggestions to the budding writers/poets so that they could improve their writing skills?
Pradeep: Research with the Google possibilities of writing skills.
Click here to order Pradeep's Book – Shotokan Karate: Easiest Way to get Black Belt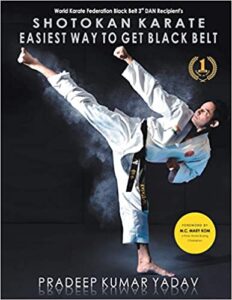 Total Page Visits: 467 - Today Page Visits: 1